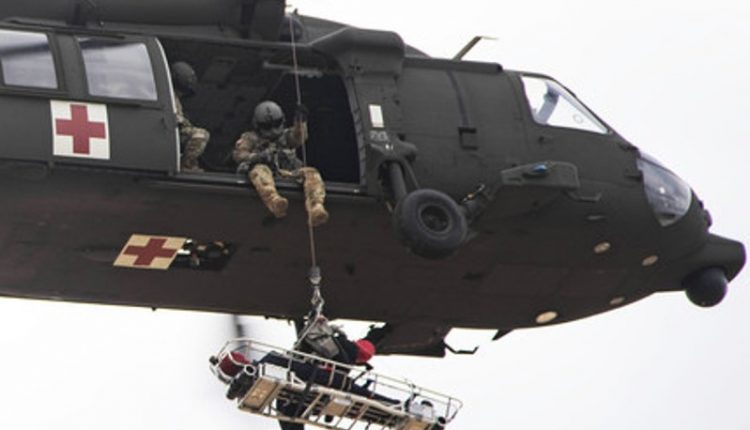 Ukraine emergency: from the USA, the innovative HEMS Vita Rescue System for the rapid evacuation of injured people
Innovative system for the rapid evacuation of injured persons brought to Ukraine from the USA: the Vita Rescue System
Innovative Vita Rescue System, worth over $500,000, brought to Ukraine from the USA
It enables faster and safer evacuation by air, even from the battlefield.
With this system, it takes two minutes instead of 20 to remove the wounded by helicopter.
Caleb Carr, CEO of Vita Inclinata Technologies, spoke about it at a briefing on 12 April at the Ukraine Media Center.
According to Carr, with the help of this development, removing injured people from helicopters takes two minutes instead of the usual 20: the system, installed on a helicopter, helps stabilise the medical stretcher attached to the aircraft.
Ukrainian Mi-8 helicopter to be equipped with Vita Rescue system
And tomorrow, 13 April, there will be a training course for SES employees.
The training will last from 4 to 6 hours, because, according to the developer, the use of the Vita Rescue System is extremely simple.
Caleb Carr said he lost a friend once because the rescue was not performed correctly.
This prompted him to work in the field of medical evacuation: hence the Vita Rescue System
When war broke out in Ukraine, he couldn't step aside.
"When we saw what was happening here, we were deeply moved, because our company's mission is to save lives.
So we want to use our tools where life is most in need of saving.
In Ukraine, we have been working to help the wounded since the beginning of the war and we will continue to work until the end," said Caleb Carr.
The businessman added that he communicates with the Ukrainian government and is constantly working on innovative solutions in various fields, because he wants Ukraine to be the first to receive developments that will not be close to Russia.
The Vita Rescue System is now in service with the United States Air Force.
Read Also:
Emergency Live Even More…Live: Download The New Free App Of Your Newspaper For IOS And Android
When Rescue Comes From Above: What Is The Difference Between HEMS And MEDEVAC?
MEDEVAC With Italian Army Helicopters
HEMS And Bird Strike, Helicopter Hit By Crow In UK. Emergency Landing: Windscreen And Rotor Blade Damaged
A Train Leaves Prato With Humanitarian Aid From The Italian Civil Protection For Ukraine
Ukraine Emergency: 100 Ukrainian Patients Received In Italy, Patient Transfers Managed By CROSS Through MedEvac
Ukraine: The First RescEU Medical Evacuation Plane Enters Into Service To Help Transfer Ukrainian Patients
UNICEF Transfers Ambulances To Eight Regions In Ukraine: 5 Are In Children's Hospitals In Lviv
Source: