 Airbus Helicopters in Emergency Medical Services
With more than 40 years of experience in Emergency Medical Service (EMS), Airbus Helicopters currently offers the widest and best adapted range of helicopters for EMS missions, leading that segment. Today every 4th EMS helicopter is currently an H135 followed by H145 family. In matured markets such as Europe and the USA, there are up to three EMS helicopters per one million inhabitants. That means every second somewhere around the globe a person is rescued with the help of one of our helicopters.
Characteristics of our EMS helicopters
Reliability and availability: EMS crews and helicopters are in service 24/7
Large cabins, designed and certified according to medical and cleaning standards, carrying injured persons, EMS crews and equipment for immediate in-flight treatment
Sliding doors on the sides and rear clamshell doors to quickly bring patients onboard
Safety in all environments to protect crew and passengers during the flight as well as landings or take-offs in confined areas
Modern night vision technology allows operating safely at night
Lowest noise level – an advantage not only in urban areas
Lowest direct maintenance costs and highest availability in this class
The market
Airbus Helicopters reaches a market share of more than 60 percent and provides the top 10 operators in the world with the aircraft tailored to their needs. More than 300 customers are operating Airbus Helicopters rotorcraft for EMS missions.
Worldwide, there are about 2,000 helicopters deployed for EMS assignments, among them about 1,100 in North America and around 600 in Europe.
Airbus Helicopters sees the worldwide EMS fleet doubling for the next 20-30 year, especially in the emerging markets.
Prospective markets for EMS helicopters are China, India, Asia-Pacific, Latin America and Eastern Europe. Japan, Australia and New Zealand, for example, have had long-established helicopter emergency services, while China and India are just starting to build their EMS operations and networks.
Support and Services
The availability, reliability and safety of their helicopters are fundamental to operators providing helicopter emergency services. Accordingly, our customers rely on fast and efficient maintenance. Airbus Helicopters offers a range of support and services including maintenance repair and overhaul, along with training for pilots and technicians. Service contracts like the Parts-by-the-Hour package may include technical services adapted to the operator's requirements and are provided at fixed costs. With the new HCare Customer Service Programme, Airbus Helicopters offers unique options to accompany the customers on their missions.
The H135 at a glance
With nearly 1,200 aircraft in service worldwide and a combined total of around 3 million recorded flight hours the H135 is the unbeaten market leader within the field of light twin-engine multi-purpose helicopters and one of the most successful models made by Airbus Helicopters.
The H135 is the latest upgrade version of its family. The new model's improved features include increased flight performance in hot and high environments, at sea level, during CAT A missions and in OEI (One Engine Inoperative) situations. This was achieved by enlarging the rotor, modifying the air intake, modernizing the FADEC flight control software and adding new features to the cockpit. The Maximum Take-Off Weight (MTOW) is increased by 30 kg to 2,980 kg. These measures dramatically improve flight performance, power reserves and safety margins.
The resulting scope of possible operations includes Police and Emergency Medical Services, the transport of private or business travelers, as well as advanced military training, maintenance of wind energy plants and transport flights for offshore platforms.
The H135 received EASA certification in October 2014. It is the reference helicopter for emergency medical services, thanks to its performance, unique safety features such as the fenestron® rear rotor, its cabin flexibility and overall capabilities.

H135 Performance Data
The H135 offers significant performance improvements compared to the previous version EC135 T2e/P2e
Significant hot & high improvement
+ 240 kg / 529 lbs HOGE MTOW @ 7000 ft in ISA+20
+ 1000 m / 3300 fts in HOGE MTOW at ISA+20
Improved Cat-A performances (Cat-A VTOL at MTOW, ISA, SL è +70kg)
Improved OEI HOGE performance
HOGE OEI, 30sec, SL, ISA: plus 105 kg payload
HOGE OEI, 2min, SL, ISA: plus 90 kg payload
Improved rate of climb performance
Speed to be equivalent or slightly better compared to EC135 T2e/P2e
Increased power reserves at all conditions (flight safety), e.g. higher torque margin at SL take-off
Reduced fuel consumption at same mission weight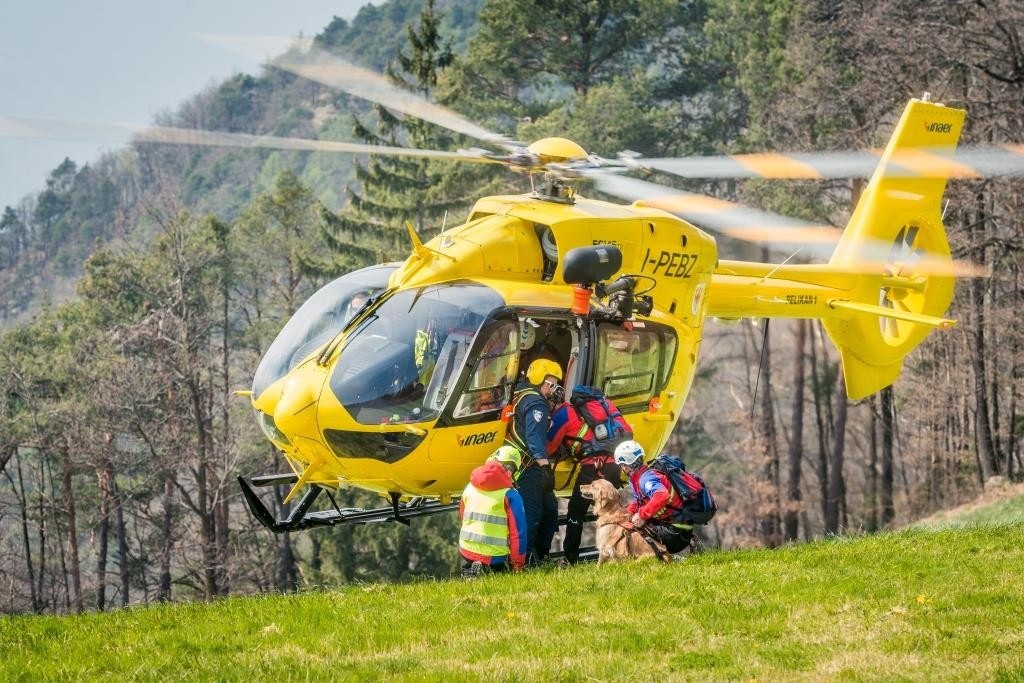 General Information on H145
The H145 is already one of the most successful EMS helicopter in the world, now being further improved with the latest version which was introduced to the market in summer 2014. A wide range of different EMS mission equipment can be offered for the H145. It is particularly adapted to primary and secondary EMS missions. It is also an ideal platform for intensive care missions. Due to its extremely low noise level, operation over cities and landing in the hospital area is supported. With its high set main rotor and Fenestron® anti-torque easy loading and unloading of patients from side or rear of the aircraft is provided even with rotors turning.
Moreover, the H145 offers excellent ergonomics for doctors + crew (e.g. loading heights, EMS cabin concept). The two large rear clam-shell doors enable quick, easy and safe patient loading. The Fenestron® and the high set tail boom without endplates allow an upright access. In addition, the spacious and unobstructed cabin allows all the necessary medical life-saving treatment to patients during flight.
Key factors
Significantly improved CAT A / OEI performances: Cat A VTOL @ SL, ISA+20 = MTOW (3,650 kg) (

+ 450kg

at ISA+20 compared to EC145 throughout the altitude range)
Increased safety in flight and on ground thanks to new modern and powerful engine with dual channel FADEC, Fenestron® tail rotor, innovative HMI (human machine interface through Helionix®), a 4-axis autopilot, compact external design and 360 degree approachability, excellent field of view for the pilot
Best cabin volume in its class; ideal for EMS
Very low external sound level: -8,5 dB below ICAO Limit
Additional Features
is in compliance with EMS norm EN13718 providing efficient access to the patient's head (e.g. for emergency treatments), enough clearance between the stretcher and cabin ceiling allowing efficient access to the patient for emergency treatments such as CPR (Cardiopulmonary resuscitation)
includes new innovative HEMS equipment (e.g. an easily accessible backpack holder, new stretchers etc.)
offers EMS fixed provisions which provide a standardized interface for customized EMS equipment. By including electrical and mechanical provisions the installation effort for the EMS equipment is minimized (e.g. trunk underneath the floor, where space is reserved for EMS power distribution/converters or other equipment)
offers different solutions from various EMS suppliers, including revolutionary concepts in regards to functionality and ergonomics (defined in cooperations with leading EMS operators)
provides an external hoist system with movable arm (capacity: 270 kg)
is NVG certified
has a landing gear ideal for hoist operations thanks to boarding step
About Airbus Helicopters
Airbus Helicopters is a division of Airbus Group. The company provides the most efficient civil and military helicopters solutions to its customers that serve, protect and save lives, flying more than 3 million hours per year in highly demanding environments. The company's fleet in service includes some 12,000 helicopters operated by more than 3,000 customers in more than 152 countries. Airbus Helicopters employs more than 23,000 people worldwide and in 2014 generated revenues of Euros 6.5 billion.
In line with the company's new identity, fully integrated in Airbus Group, Airbus Helicopters has renamed its product range replacing the former "EC" designation by an "H".