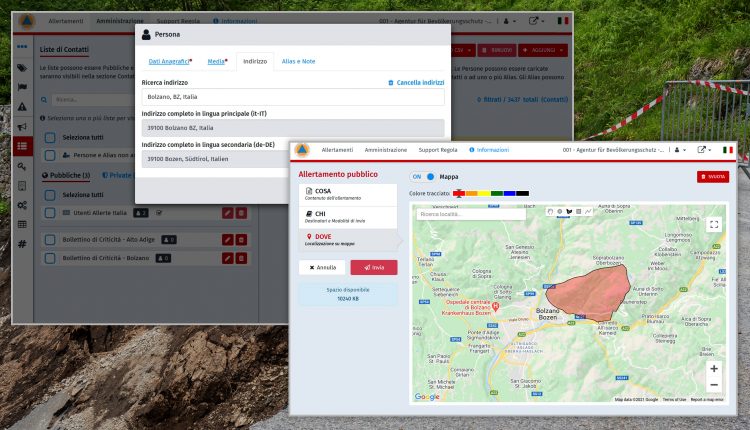 Disaster Manager, the future is in the information networking, and in a command line always "open"
A webinar on disaster management in the Civil Protection, with qualified participants, the one proposed by ASSODIMA. A title that looks ahead, "The future of emergency technology"
The webinar concluded the cycle of meetings that the National Association of Disaster Managers (ASSODIMA) has dedicated to the major issues for big emergencies
Guests of the event, coordinated by Sergio Achille and conducted by Massimiliano Palma (Regola S.r.l.):
– Giulio Bernardini, coordinator of C.O. 118 / Elisoccorso of the Homogeneous Area Emilia Ovest;
– Roberto Riva Cambrino, Commander of the Local Police of Parma;
– Matteo Vischi, Civil Protection Agency / Functional Centre of the Autonomous Province of Bolzano.
"A cycle that ends beautifully – says Sergio Achille in his presentation of the event – because we close with an important parterre, and we close with those who have supported us in this cycle of webinars and this path that we had to undertake to somehow make up for our meetings in person and at the meetings".
Already, the Covid emergency has resulted in an upheaval of communication and training methods, among other things.
A new challenge, certainly faced by drawing on new technologies, but on innovative tools such as FlagMiiFlagMii EMI, too, within which Assodima has been inserted.
FlagMii  EML is not a simple platform for alert management: it is instead a real integrated communication system for choral and live response in emergency and rescue, networking every response protagonist, whether institutional or an operations center or a team of rescuers.
A platform that collects the guidelines and best practices and integrates them to offer, in a single "virtual place", everything involved in emergency management, especially of Civil Protection.

Disaster manager, the opportunities offered by FlagMii EML and Notwice:
Quoted, Massimiliano Palma, general manager of Regola, spoke.
"A cycle of very useful webinars – he says -, the one organized by the National Association of Disaster Managers (ASSODIMA), and I can assure you that we took a lot of notes.
One of our goals was to learn because, as you know, we "technologists" tend to look very far ahead, and instead, it is essential to stay very close to emergency professionals.
Thinking about this webinar, I was reminded of an old adage that says "in the multitude of advisors there is success" to underline how never before as today professionals dealing with emergencies can all together, cooperating, contribute to success. Therefore, to the safety of people and things.
In this sense, Regola has always tried to give its small contribution: we have been working in the emergency context for a long time.
We have a mood, in Regola, which allows us to work in a very careful way: we firmly believe that simplifying technologies for public safety is fundamental so that people can make informed decisions.
And we're referring to both the emergency professional and also the citizen.
With our guests, in this webinar, we will have the opportunity to see different emergency contexts but with technologies that in a certain sense are common".

Giulio Bernardini, coordinator of the C.O. 118 / Elisoccorso of the Homogeneous Area Emilia Ovest: "the technological quality has allowed us to improve the IPAs"
"The use of this technological platform allows us a tangible improvement in what is the quality of life-saving maneuvers.
We began using the platform at the end of April 2020. To date, we have carried out more than 1000 interventions, which have allowed us to generate about 450 relocations, with video call interventions in about 300 cases.
A result is a multifunctional approach that has produced for the 118 operations center manager an effective gain in contextualization terms of the caller's needs through a very simple video screening.
But what has really made the difference, what we have particularly appreciated, is the technical quality that this system has allowed to improve the Ipa, the pre-arrival instructions.
We have taken an extra step in the homogeneous area of Emilia West: we have shared the use of this platform with the local Fire Department.
It allows us to add what we call an external consultant, namely the local Fire Department.
And it has allowed the use of the technical expertise of the Fire Department, which has, therefore, anticipated the arrival of their vehicles with the choice of the most targeted technical support.
We are pleased that the local police of Parma is also preparing to use this platform: this will further improve collaboration between operations centers that are close to each other.

Roberto Riva Cambrino, Commander of the Parma Local Police: a disaster manager who is not interested in "it's always been done this way"
"From small to large municipalities, emergencies never occur in a pure state: there is always a need for different knowledge and approaches to arrive at a solution.
It really takes a cultural hybridization of emergency responders.
We need to pay attention to going beyond the usual, to the "it's always been done this way" or to the "it's not within our competence": in an emergency, we need to arrive prepared, we need to have done our homework.

As the good disaster managers used to teach us, in times of peace, we prepare for times of war in terms of planning, culture and training.
Clearly, we can't improvise.
As we realized with FlagMii EML, and thanks to the Emilia-Romagna Region, which every year launches calls for tenders for technological innovation, we thought, together with my collaborators, to involve 118 in a somewhat ambitious project: increasing the culture of emergency and rescue among local police officers.
It's not unusual for people to arrive, by chance, first at an accident and there's that waiting time when you need to move the front line of the rescue as much as possible.
With this project, therefore, we wanted to think about integration between the operations centers and to apply it in our operations.
Let's think about the gates, which read license plates, but also read the tables with Kemler codes, and can therefore be useful to recognize dangerous vehicles approaching an accident area.
The platform allows us to send expert personnel and above all to have a faithful description of what is happening to the operators at the station.
However, the technology becomes important only if the staff does not live it as a gadget, but as a tool that they have metabolized.
Only if you are able to share the data can you get the best results.
Personally, I think that technology should become the tool to cover all phases of Civil Protection activities.
Flag Mii EML is the system that convinced us to embrace this project, which, as I said, is intended to be both the acquisition of a tool for sharing data, but above all a spur to a different culture.
And in fact, we have organized a training course for personnel with elements of tactical medicine on the one hand, and on the other to equip some of our new vehicles with equipment for organ transport".

Matteo Vischi, Civil Protection Agency / Functional Center of the Autonomous Province of Bolzano: the Notwice and the extraordinary possibilities of the cloud
"New technologies are a challenge for people working in Civil Protection, and it is very important for us to exploit solutions that are easy to use for the end-user.
Until the Abruzzo earthquake, it was a dream to be able to talk about the Cloud or the use of smartphones: just going back a few years, it would have seemed like science fiction.
We in Bolzano, therefore, in a relatively small reality, have not adopted the Augustus coordination model but a model widely used in Germany, borrowed from the German Directive 100.
This model consists of only six support functions, and this makes it possible for us to have a very lean and fast command system.
This model adapts well to the emergencies that occur in our country, which, fortunately for us, are usually of high impact but relatively short duration.
Up until a few years ago, this model was the key because it allowed us to manage the entire emergency even in the absence of technology, power or internet.
But over time, we realized that the technological element was not the limit of those models.
So we implemented it with digitization.
So we wanted to free people from too many procedures, to give them time to think: those who manage emergencies, in my opinion, must be able to balance the chk list approach of the plane with a freer and more connected approach of thinking.
Hence the need to integrate tools that are in place, because sirens are maintained, but, for example, the ability to quickly disseminate the same emergency information through social media or other channels.
It also guarantees the management of correct information to institutions and citizens.
Also in this sense, we have been very happy to experiment with the Notwice platform, which has allowed us to integrate in a very effective way what are the processes of alerting communication and functional communication for coordination, especially bringing the discussion to a distributed management approach.
For us, it is a great workload all that is behind the management of communication, such as, for example, the address books: through the Notice we were able to build a sort of pyramid of information sharing so that the single subject (for example the mayor) manages its own contacts.
These tools allow us to save time and energy and to concentrate on the content. And above all to make a network".
Networking of knowledge, documentation and alerts directly from the Cloud, "proximity" functions in the management of health or civil protection emergencies: the disaster manager becomes the inclusive role of many innovations and of a world that, also in rescue, is rapidly changing.
Read Also:
Earthquake Bag, The Essential Emergency Kit In Case Of Disasters: VIDEO
Natural Disasters And Major Emergencies: NEC With The "SARDO" Drone System Locates Missing Persons
Source: