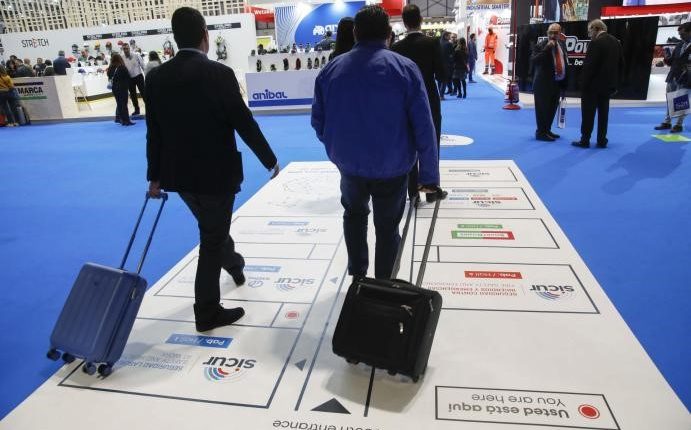 SICUR 2022, what the Madrid security fair will be about
SICUR 2022 will showcase the latest technological developments and innovations in the security sector. Next February 22-25, 2022, the major international security exhibition will bring together the proposals of more than 500 companies from 20 countries and IFEMA MADRID
The SICUR FORUM conference programme will look at the latest developments in the sector and, to complete this edition's wide-ranging offer, the INNOVATION GALLERY and the SICUR RESILIENCE, SICUR CIBER and SICUR START UPS areas will be presented.
THE BEST COMPANIES IN THE EMERGENCY AND RESCUE SECTOR? VISIT THE EMERGENCY EXPO
SICUR 2022 will once again summon the professional world of global security from 22 to 25 February at IFEMA MADRID
A particularly significant edition for the meeting of all the players who are part of this sector and with the aim of contributing to dynamise and strongly strengthen the activity of the sector.
To date, a total of 529 companies from 20 countries have confirmed their participation – Germany, Australia, Belgium, Czech Republic, Chile, China, Denmark, United Arab Emirates, United States, France, Ireland, Italy, Lithuania, Luxembourg, Mexico, Netherlands, Pakistan, Poland, Portugal and United Kingdom, as well as Spain – who will present their latest innovations and technological developments in the three main areas in which, as usual, the SICUR offer is divided.
On the one hand, the Fire and Emergency Safety sector, which will echo all the products and solutions aimed at passive and active protection against fire, and the world of the fire brigade; Safety at Work, with the latest innovations in Personal Protective Equipment (PPE), as well as in what relates to the prevention of occupational risks and new occupational health proposals; and Security , which will present advances in electronic security, physical security and security services for the protection of property and lives.
This edition will also include a space dedicated to cybersecurity, SICUR CYBER
A space focused on solutions and tools for protecting information, systems and corporate data from cyber threats, and which this year will be co-organised with Red Security & Security. SICUR CYBER will offer a programme of conferences, workshops and commercial presentations aimed at spreading the knowledge and culture of cybersecurity in the security world and giving voice to the needs of the security industry and its progress in this respect.
Alongside the commercial offering, another of SICUR's main axes lies in its potential as a knowledge hub.
In this sense, the FORO SICUR conference programme will examine some of the most topical issues relating to all the segments covered by SICUR.In advance, and on the subject of fire safety, there will be discussions on Operational and Fire Safety, and the regulatory framework, at the hands of ASELF; lessons learned at the CEPREVEN/APTB conference, and innovation and new challenges, in the session organised by APICI/TECNIFUEGO.

With regard to occupational safety, there will be a conference on public health and occupational health skills in pandemic control, organised by ANEPA, ASPREN and AESPLA; New challenges in occupational risk prevention will be discussed: Mental health/Telework/Digitisation, by FUNDACIÓN MAPFRE and AESPLA, and SDGs and Occupational safety, health and well-being, at the conference prepared by ASEPAL and the MAPFRE FOUNDATION. SICUR FORUM will also feature a conference organised by AES on Safety.
In addition, the SICUR RESILIENCE space, co-organised with PESI – the Spanish Technological Platform for Industrial Safety – will have an exhibition area
It will bring together a wide range of PESI's partner companies and organisations, who will showcase their technological advances and development in security and resilience. It will host the biennial S2R (Safety Security & Resilience Research) Congress and the S2R Innovation and Women and Security Management Awards.
As in every edition, the SICUR INNOVATION GALLERY will provide a preview of the lines of research and development in which companies are working.
On this occasion, 100 candidates will be presented, which the jury will evaluate next January; the SICUR START UPS space will be dedicated to supporting and giving visibility to new projects and entrepreneurial enterprises, and there will also be demonstrations by the State Security Forces and Corps, Fire Brigade and EMU, which, as always, will offer participants the opportunity to enjoy their spectacular nature and learn from the best practices of great professionals.
Read Also:
Emergency Live Even More…Live: Download The New Free App Of Your Newspaper For IOS And Android
Drones And Firefighters: Fotokite Partners With ITURRI Group To Bring Easy Aerial Situational Awareness To Firefighters In Spain And Portugal
Spain, Urgent Transport Of Medical Equipment, Blood And Dae With Drones: Babcock Gets The Go-Ahead
Source: