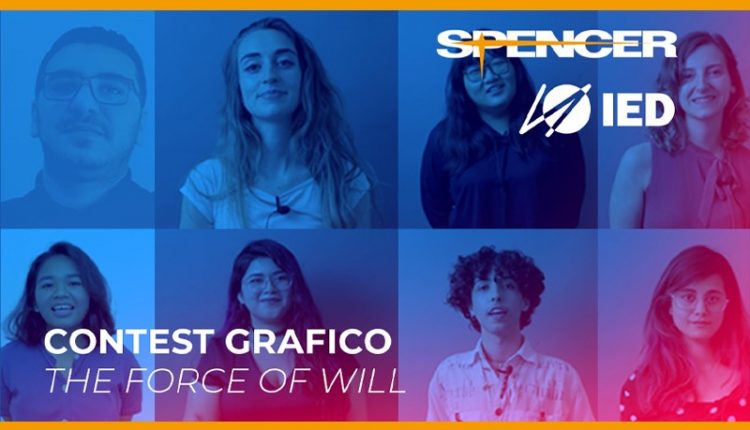 Spencer "The Force of Will": last days to vote!
The Force of Will", the contest to award the students of the IED of Florence promoted by the company of Sala Baganza (PR), continues until tomorrow, November the 12th
The chance to vote for the work you like best in "The Force of Will" contest will continue until November the 12th to determine the winner. He will be awarded a prize on December the 5th. His work will be given to the volunteers of ANPAS, the National Confederation of the Misericordie d'Italia and the Italian Red Cross.
The Force of Will: each competitor produced 3 entries for a total of 21 posters, all of which were decidedly creative and fascinating
VISIT SPENCER'S "THE FORCE OF WLL" BOOTH AT THE EMERGENCY EXPO
Here are the names of the seven artists:
Agnese Carlotti
Amr Sobhi
Ellie Chammaa
Giulia Li Vigni
Jocel Renée Flores
Sangeeta Kalsi
Wang Wan
In order to get to know them a little better and to understand what stimulated their imagination in the elaboration of their paintings, it is enough to go to the Spencer stand "The force of Will" and click on the voting banner.
Inside the voting page, you will be able to watch a short interview with each of them while you observe the results of their work.
Then all you have to do is decide which is your favourite.
There are only a few days left before the voting for The Force of Will closes, so hurry up
It's just a few minutes and a few clicks, but it's very important, both for the work of these guys and, above all, to honour those who, with their commitment, ensured the safety of everyone at a time without historical precedent in the contemporary age.

Something that Spencer, with its commitment to improving rescuers equipment, could not ignore, as his goal was the same as theirs.
The result has been this splendid initiative, which once again underlines the capacity and sensitivity of the company in this sector, whose qualitative results perfectly explain its values.
So don't waste any more time, visit "The Force of Will" stand in Emergency Expo and VOTE!
Add that the award ceremony will take place on December the 5th in Florence.
Read Also:
Emergency Expo Welcomes The Spencer Contest "The Force Of Will": Vote For The Poster That Most Impressed You Among Those Created By The Students
Stretchers, Lung Ventilators, Evacuation Chairs: Spencer Products In The Booth Stand At Emergency Expo
Patient And Rescuer Safety, With 10G Sharp Sensor Lock From No Risks In The Ambulance
Source: