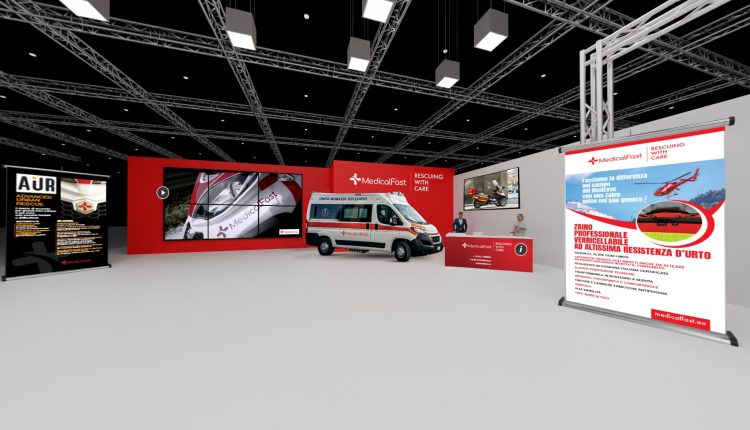 Technological and innovative rescue solutions: MedicalFast at Emergency Expo
It is with pride that Emergency Expo, Roberts' online exhibition, welcomes the arrival of MedicalFast among its exhibitors
MedicalFast, excellence at the service of rescue: here are its products
The courage to help, but also the courage to put oneself at the service of those who help: in 2020, at the height of the pandemic, MedicalFast was born.
The company was founded with the precise aim of providing the most appropriate solutions for customers in the medical and health sector, with specific products for rescue organisations.
It means ANPAS, the Red Cross, the Misericordie, the police force and the fire brigade.
We have two new products to launch on the market," says sole director Umberto Grazzini.
INNOVATION AND TECHNOLOGY AT THE SERVICE OF EMERGENCY-URGENCY: VISIT THE MEDICALFAST STAND AT EMERGENCY EXPO

Sanyfast and Neusteril, two excellences by MedicalFast
The first one is called Sanityfast and is a steam generator already classified as an "innovation for first aid and individual protection".
Sanityfast makes it possible to carry out a deep sanitisation of rooms, and surfaces, through the conveyance of sanitisers or disinfectants, approved by us, using dry steam at low temperature: a solution that, thanks to a droplet of only 4 microns, does not wet the surfaces and does not ruin them as happens with many devices on the market, which attack surfaces and electronic devices with high temperatures, crystallizing the plastics".
Medicalfast", he continues, "proposes this product in combination with a sanitiser with high disinfecting power, currently being approved as a PCP, for which we hold the economic exploitation of the patent.
The name is Neusteril and it is able to defeat super-bacteria resistant to antibodies thanks to a physical-chemical principle, also patented, based on colloidal silver and copper: it has been successfully tested even against Anthrax and various types of viruses (including Coronavirus).
The colloidal structure allows the creation of a protective barrier on the treated surfaces that remains active for at least 48 hours and can eliminate bacteria and viruses deposited between treatments.

"These are two revolutionary products that can embrace not only the natural market of hospitals and nursing homes but also multiple applications in industry, air, rail and sea transport, hotels and restaurants, as well as in offices open to the public and schools/universities.
For example, Neusteril can be used in ventilation ducts to kill harmful bacteria such as legionella.
Far from speculating on what has happened in these years of the pandemic, it should be noted, however, that our ambulances and the scenarios in which rescuers operate (above all the operational centres) are in dire need of quality and effectiveness in sanitation.
So, welcome to Medicalfast!
Read Also:
Emergency Live Even More…Live: Download The New Free App Of Your Newspaper For IOS And Android
MERS, 5 New Cases In Saudi Arabia: Food Hygiene Practices Should Be Observed
5 May, Global Hand Hygiene Day
Scotland, University Of Edinburgh Researchers Develop Microwave Ambulance Sterilisation Process
MRSA Infection On Ambulances? Maybe It's A Matter Of Disinfection Before The Refilling Process.
Source: