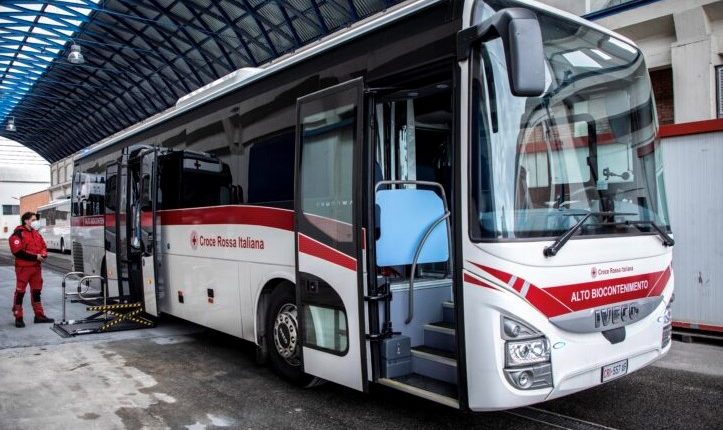 A bus for high-biocontainment, a special vehicle unique in the world: it belongs to the Red Cross
High-biocontainment bus: a unique vehicle capable of transporting up to 41 potentially infectious people and 6 crew members in total safety
HIGH BIOCONTAINMENT TRANSPORT: VISIT THE ISOVAC STAND AT EMERGENCY EXPO

The Italian Red Cross expands its fleet with a new bus, a special high-biocontainment vehicle
Already used for some urgent transports in Calabria, the 12-metre long Iveco Crossway coach, with an 8,700cm3 diesel engine and 360hp, has been configured by the CRI, transforming it from a commercial vehicle into an essential vehicle for dealing with health emergencies.
Inside the vehicle there is a negative pressure chamber, a special transparent envelope that surrounds the passenger compartment, in which a difference in pressure with respect to the outside is generated that does not allow the air to escape without first passing through the filters.
The three filtration motors, located in the luggage compartment, are capable of sucking in a volume of air of more than 450m3 per hour.
They are equipped with a particulate filter, active carbon filter, ULPA filter (Ultra-Low Penetration Air), HEPA filter (High Efficiency Particulate Air) and plasma filter.
The whole system can be activated from the driver's console and through a digital interface the crew can monitor in real time, even remotely, the pressure inside the chamber, the CO2 saturation, the temperature and the status of the filters.

High-biocontainment coaches: safety does not compromise passenger comfort
Air conditioning, night lighting, sound diffusion, tinted windows and even a purpose-built bathroom for long journeys, included in the bio-containment chamber.
In addition, to ensure effective sanitation, the original upholstery has been covered with waterproof, non-porous material, while the interior has been covered with transparent PVC.
Passengers enter through the central door, where an electro-hydraulic wheelchair lift is installed, while the crew can enter the chamber through a front entrance.
Read Also:
Emergency Live Even More…Live: Download The New Free App Of Your Newspaper For IOS And Android
Chemical/Biological/Radioactive Insulation, The Excellence Of ISOVAC Products On The Emergency Expo Stand
COVID-19, Patient In Serious Condition Transported In Biocontainment By An Air Force HH-101 Helicopter PHOTOGALLERY
Source: