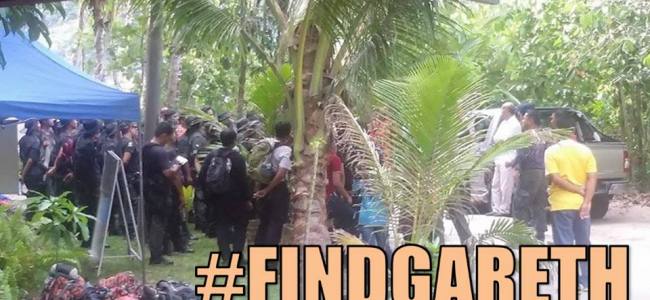 Briton missed in Tioman Island, a professional search team at work in Malaysia
A professional rescue team are working about missing Briton Gareth David Huntely, disappeared on a solo waterfall trek on Malaysia's scenic Tioman Island. The team including 5 police officiers, 3 canine guides with 2 dogs, 3 civil defence officier and a 10 paramilitary commandos, are working with a 8-strong fire rescue team, 2 marine patrol boats and one helicopter. The local brtish diplomat Karen Song are coordinating the rescue effort from the ground. The family of missing Gareth David Huntley have expressed their sincere thanks to British Prime Minister David Cameron and Defence Secretary Philip Hammond for responding to their campaign seeking to "intensify" the search mission.
The family also thanked the Malaysian government for their efforts to find the Briton, who has been missing since Tuesday.
Huntley, 34, went on a trek into the jungle to visit a waterfall in Tioman Island, Malaysia, on the morning of May 27.
He told friends at a nearby charity project office where he was working that he would return by 2pm the same day but has not been seen since.
#FINDGARETH Pressrelease
In less than one hour, the search team will wake up in Tioman and get ready for another day of jungle exploration to locate our friend Gareth. The Press Releaseon.fb.me/1iL54Pv shared today on behalf of Gaz's family has provided a comprehensive snapshot of the situation which has now reached an impressive volume of intensity, led by a group of experienced coordinators, officers and police forces.

That being said, it is clear that the situation is now very critical. Gareth is now gone missing since 6 days and anxiety is extremely stifling. The core remote team (Sophie, Jon, Charlotte, Mark, Natasha, Jody, Chris, Jo, and so many more people) is delivering an incredible job behind the scenes but is also very tense and tired.
What this means for all of us is that we must remain confident, calm and supportive, especially for all our people on the ground who are doing everything they can to #findgareth dealing with an enormous amount of stress and fatigue in a surrealistic environment. It is hard to imagine what they are going through over there and this must give us strength to continue what we are doing here.
To all of you (friends, colleagues, relatives, strangers) following the search, giving advice, combining efforts remotely, a big Thank You. The #findgareth campaign reached 78,502 twitter users; the search and rescue team has collected 1,902 votes of thanks and support on Twitter.
We need to keep this number high in order to keep the morale of the troops high. There has been criticism about how the response had been lagging at the beginning (I was first to complain) but those guys are doing an invaluable job and from what we heard, they are really putting their souls into it and risking their lives to #findgareth.
So this one is for all the Malaysian officers and troops involved in the search of our friend Gareth Huntley. A second post in Malaysian will be shared below this one and we would like ALL OF YOU to share it across Facebook, Twitter and any other available social media channels. You can refer to this posthttp://on.fb.me/1o0eCM7 to mention local influencers on Twitter in Malaysia and show your love and support.
United we stand. Hang in there buddy, they're coming for you.