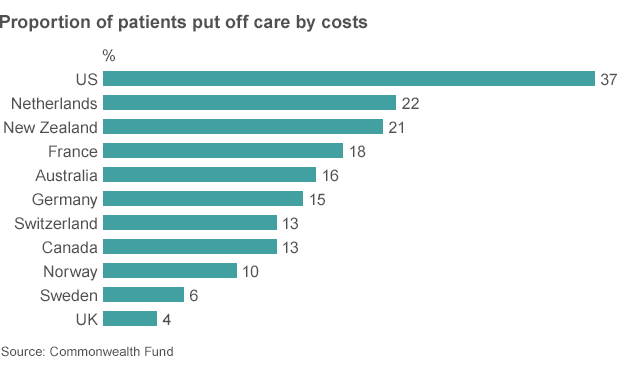 Could more charges be the answer to today's NHS financial problems?
BBC – Why not introduce more NHS charges?
NHS dentistry cost £2.9bn in 2012-13, of which £650m was raised in charges.
Prescription charges raise only about £450m of the £9bn spent on prescription drugs.
Exemptions to prescription charges are so wide-ranging that only about 10% of items are paid for.
Scotland introduced free eye tests in 2006. Research suggests they are worth £440m a year in terms of improving quality of life and early detection – more than the cost of paying for them.
In the early 1950s, the NHS was going through a tough period. Money was tight and demand was rising. So ministers came up with a radical plan – they introduced charges for dentistry, prescriptions and spectacles. The move in 1952 was controversial, but did enough to get the NHS out of a tricky hole. With the finances tight again, should extending charges be under consideration now? It is a question that has been asked several times in recent years. Research in 2013 by Reform, a centre-right think-tank, found a £10 charge for GP consultations could raise £1.2bn a year even with exemptions for age and income. The issue was also discussed at British Medical Association and Royal College of Nursing conferences last year, although at both the motions drawn up calling on more charging to be introduced were not passed.

When it comes to charging, there are several options that could be pursued. As Reform suggested, a charge for seeing a GP could be a valuable source of income.
There are an estimated 340m consultations annually, so the potential to raise money is obvious. But with the move towards email and telephone consultations and the increasing use of practice nurses to deliver them, a flat fee might not work.