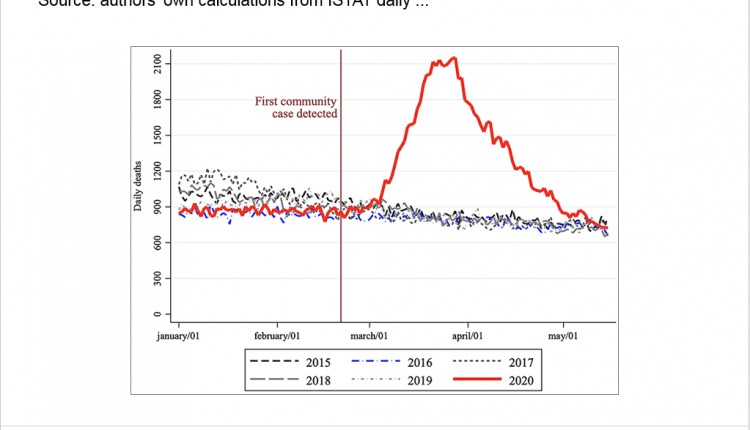 COVID-19 in Italy, Oxford University issued a study on the real number of deaths
COVID-19 in Italy. For weeks now, we have been debating the real numbers related to coronavirus deaths. It is clear to everyone that from their analysis there is also a possibility to trace the way forward. In the Journal of Public Health Oxford University publishes an interesting study by Gabriele Ciminelli and Silvia Garcia-Mandico'.
COVID-19 IN ITALY, THE STUDY PROPOSED BY OXFORD UNIVERSITY ANALYZES THE DATA OF THE REGISTER OF DEATHS
The spread of COVID-19 contagions still lends itself today to many question marks and wide debates. The speed of the first months, the priority need to save as many lives as possible, has prevented an in-depth analysis of the exact mortality rate and the speed of spread of the coronavirus, and this complicates the possibility of designing appropriate response strategies.
The study refers to the death data of 4,100 municipalities in northern Italy and addresses them on a mathematical basis, using regression models to analyze the mortality induced by COVID-19.
Using data from the Italian statistical agency's daily death registry, the study first quantifies the death toll from and to COVID-19 and shows that many deaths have not been recorded in official statistics.
COVID-19 was responsible for the deaths of about 45,000 people, more than 0.15% of the local population, during the first wave of the epidemic (mid-February to mid-May 2020).
"Its mortality – say the two authors of the analysis – is largely underestimated in the official statistics. A plausible estimate suggests that the real deaths from COVID-19 could have been 60% higher than officially reported. At the peak of the epidemic, one additional death was not detected for every officially reported COVID-19 mortality".
THE RESULTS OF THE STUDY ON COVID-19 DEATHS IN ITALY
"We discover – it can be read in the study – that COVID-19 killed more than 0.15% of the local population during the first wave of the epidemic. It is also noted that official statistics largely underestimate this number of victims, by about 60%.
Subsequently, we discover the dramatic effects of the epidemic on residents of nursing homes in the epicenter of the epidemic: in municipalities with a high percentage of elderly people living in nursing homes, the mortality rate for COVID-19 was about double that of those without built-in nursing homes".
CONCLUSIONS OF THE DATA ANALYSIS STUDY ON COVID-19 IN ITALY
"A proactive approach to epidemic management is essential to reduce mortality from COVID-19. Authorities should increase testing capacity and increase contact tracing capabilities. Appropriate protective equipment should be provided to residents and nursing home personnel".
READ THE ITALIAN ARTICLE
BELOW THE COMPLETE SHEET FROM OXFORD UNIVERSITY
oxford_univesity_registry_data_covid