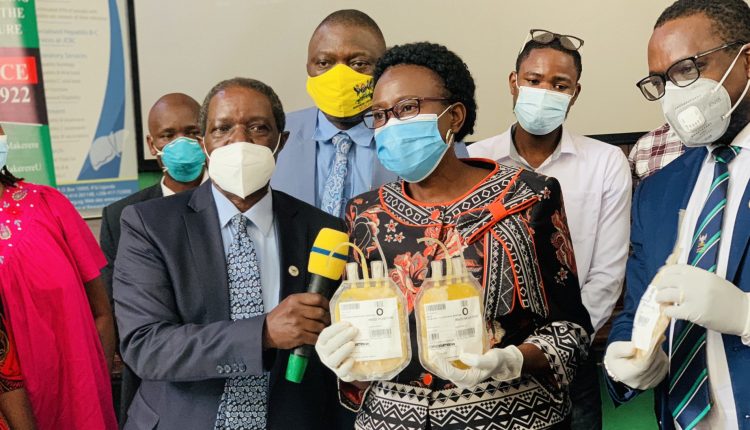 COVID-19 in Uganda: Ministry of Health announced randomized trial to use plasma in patients treatment
Today, the Ministry of Health in Uganda approved the randomized clinical trial to use plasma to treat COVID-19.
Clinical trials to use plasma will start on Thursday at Mulago National Referral Hospital. The Uganda Health Minister, Dr Jane Ruth Aceng unveiled the new development at Makerere University.
Plasma trial in Uganda to treat COVID-19
According to the principal investigator in the use of COVID-19 Convalescent Plasma (CCP), Dr Bruce Kirenga,  they were able to collect 162 units of plasma but only 127 are available and will be used during the first trial. He also declared that each COVID-19 patient needs two units of plasma.
On Twitter, the Minister of Health of Uganda wrote joyfully on this new path of the African nation. Uganda is day by day, acquiring importance in the healthcare field.
The calling of Uganda for new donations of plasma to treat COVID-19
Therefore, they are calling upon more recovered patients to show up and donate. Uganda becomes the third country in Africa to use plasma in COVID-19 treatment. The other two are South Africa and Ghana. Other developed countries like the US are already using it.
Upon recovery, people affected by COVID-19 will develop antibodies, who will be used to treat other people sick. When the plasma is administered to a COVID-19 patient, it blocks the progression of the disease to the severe form.
The Minister for Health @JaneRuth_Aceng launches the randomized clinical trial for use of convalescent plasma for treatment of COVID-19 in Uganda. #STAYSAFEUG pic.twitter.com/bAvZ91B8Aa

— Ministry of Health- Uganda (@MinofHealthUG) September 16, 2020