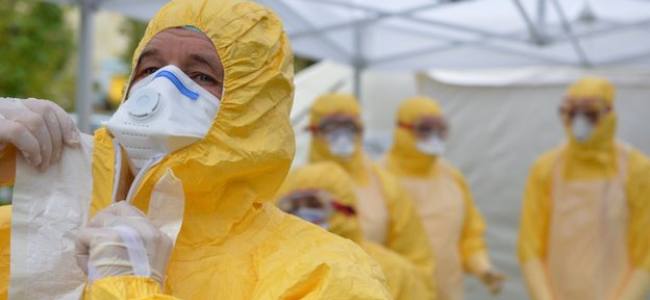 Ebola outbreak: MSF says new Liberia tactics needed
New rapid response tactics are needed to defeat the Ebola virus in Liberia, according to the charity Medecins Sans Frontieres (MSF).

More than 6,600 people have been infected in the country, but figures suggest the number of new infections has started to fall.
MSF says it now has more hospital capacity than patients and called for a shift in tactics.
It wants rapid response teams to tackle Ebola hotspots when they flare up.
Liberia has been the worst-hit country in the Ebola epidemic with nearly half of all cases.
However, it is the first to begin to turn around its fortunes – the rate of new infections is continuing to increase in Guinea and Sierra Leone.
The World Health Organization said it was feeling confident that it was getting the upper hand on the virus in Liberia.
MSF said that its treatment centre in the capital Monrovia had 250 beds but was treating just 50 patients.
Meanwhile a site in Foya, in the north of the country, has not had a single patient since 30 October.
MSF's head of operations in Liberia, Fasil Tezera, said: "The international response is finally getting off the ground.
"Isolation units in Monrovia and some other parts of the country now have adequate capacity and we must adapt the strategy if we want to stay ahead of the curve and beat the epidemic."
Sudden outbreaks of Ebola will continue to emerge in towns and villages in Liberia as the epidemic progresses.
Mr Tezera said: "Priority should be given to a more flexible approach that allows a rapid response to new outbreaks and gets the regular healthcare system safely up and running again."
Such teams would specialise in isolating patients, tracing those who came into contact with the sick, organising safe burials, decontamination and mobilising local communities.
US, Britain and other countries have been building treatment centres and training healthcare workers in the affected countries.
Alongside these teams, MSF called for efforts to support the few remaining hospitals in the country.
It is setting up Ebola screening points next to hospitals so that fear of Ebola does not force them to close.
In order to achieve their new strategy, MSF is calling on governments to be more flexible with the money they pledge to tackling Ebola.
Dr Nico Heijenberg, the MSF emergency coordinator, said: "Much of the international aid funding for the Ebola response is earmarked for specific projects.
"Instead, international donors and implementing organisations should deploy their resources with flexibility so that they can be used where they are needed most."
However, there remains concern that the number of cases could go up again in Liberia. There have already been false dawns in Guinea, where the number of patients increased following earlier drops in hospital admissions.
Meanwhile in Liberia, President Ellen Johnson Sirleaf says four soldiers and their commanding officer will be punished after a boy was killed during protests against quarantine measures in Monrovia.
The boy was shot and others were injured in the incident in August.
A disciplinary board found the soldiers were "guilty of indiscretion and exhibited indiscipline".