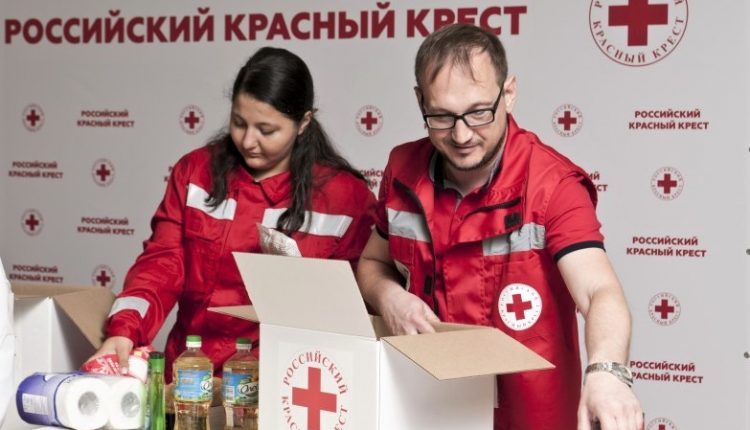 Humanitarian aid for displaced persons from Donbass: the Russian Red Cross (RKK) has opened 42 collection points
Humanitarian aid for internally displaced persons from Donbass: RKK has opened aid collection points in regional departments
42 regional branches of the Russian Red Cross (RKK) are involved in helping IDPs from the LPR and DPR as part of the work of the #MYVMESTE volunteer office.
RKK, 36 Red Cross offices act as collection points for humanitarian aid
Regional offices meet and accompany arrivals, provide psychosocial support, consult on migration legislation and visit temporary reception centres to assess the needs of arrivals.
In addition, IDPs from LPRs and DPRs can apply for the re-establishment of family ties.
And in 36 regions of Russia, collection points for humanitarian aid have been organised on the basis of regional branches.
"Half of the regional branches of the Russian Red Cross are already actively involved in helping the evacuated population from LPR and DPR.
They not only collect humanitarian aid but also accompany arrivals, provide psychological support and monitor the needs of people in temporary accommodation.
Humanitarian aid can be brought to 36 of our regional departments and Unified Assistance Centres have been organised in 17 of them.
They accumulate all the humanitarian aid that arrives at all the collection points.
I am sure that we will be able to provide people with everything they need and meet all their needs and requirements," said Pavel Savchuk , President of the Russian Red Cross .
The unified assistance centres are located in the regions of St. Petersburg, Sevastopol, Belgorod, Saratov, Tula and Pskov, in the republics of Khakassia and Tyva, as well as in the Novosibirsk and Oryol regions and the Altai territory.
In addition, the Russian Red Cross (RKK) has opened an account to collect donations to help internally displaced persons
You can make a donation using the link .
The spending report will be published monthly on the Russian Red Cross website.
Anyone can provide humanitarian assistance.
The Russian Red Cross (RKK), within the framework of the #MYVMESTE project, has prepared a memo on collecting things for people arriving from Donbass
You can bring things to the regional branches of the Russian Red Cross. Their addresses are listed below.
In order to provide comprehensive support to citizens who have arrived on the territory of the Russian Federation, a #MYVMESTE volunteer office has been established.
Assistance to IDPs is carried out by volunteers from the #MYVMESTE office, volunteer resource centres, All-Russian Student Rescue Corps, ONF Youth, representatives of the Russian Red Cross, RNO, Medical Volunteers and other voluntary associations.
The #MYVMESTE volunteer corps works around the clock and coordinates the collection and distribution of humanitarian aid, including from other regions, the meeting of Donbass refugees, the organisation of living conditions and psychological support.
Many of the needs that RKK employees register directly in the temporary accommodation centres on a daily basis are related to the needs of children.
On Thursday 24 February, the central #MYVMESTE warehouse received 1,500 children's pots.
The day before, a truck with stationery – colouring books, pencils, markers, erasers and more – arrived in the region, totalling 43,500 units.
In the coming days, the RKK will send new batches of humanitarian aid to other regions where internally displaced persons have been placed
The needs of the displaced people will be constantly monitored and humanitarian assistance will be provided in coordination with regional administrations, the International Federation of Red Cross and Red Crescent Societies (IFRC) and the International Committee of the Red Cross (ICRC).
Addresses to which assistance for IDPs should be sent
Arkhangelsk Region: Arkhangelsk, North Dvina Embankment, 98
Belgorod Region: Belgorod, Bogdan Khmelnitsky avenue, 181
Volgograd Region: Volgograd, st. Lenina, d.9, di. 24
Kaluga Region: Kaluga, st. Lenina, 93
Kirov region: Kirov, st. Roza Luxemburg, 59, apt. 29
Krasnoyarsk region: Krasnoyarsk, St. Yeniseiskaya, 1
Region of Lipetsk: Lipetsk, st. Polina Osipenko, 18
Region of Murmansk: Murmansk, st. Kirova, dead 62nd

Nenets Autonomous Okrug: Naryan-Mar, st. Rabochaya, d. 17a, office 14
Nizhny Novgorod Region: Nizhny Novgorod, st. Bolshaya Pokrovskaya, 27
Novgorod region: Veliky Novgorod, st. Bolshaya St. Petersburg, 44
Novosibirsk Region: Novosibirsk, st. Pisareva, 4
Omsk Region: Omsk, st. Red Street, 9
Orel region: Orel, st. Polesska Str., 53
Perm region: Perm, st. Lenina, 15
Pskov Region: Pskov, st. Sovetskaya, died 85
Republic of Adygea: Maykop, st. Maykopskaya, 36
Republic of Dagestan: Makhachkala, st. V. Emir, m 8
Republic of Karachay-Cherkessia: Cherkessk, st. Lenina, 144
Republic of Crimea: Simferopol, Kirov Ave., 1
Republic of Sakha (Yakutia): Yakutsk, st. Ordzhonikidze St., 10, 2nd Floor, Classroom
Republic of North Ossetia – Alania: Vladikavkaz, st. Gappo Baeva, 25
Republic of Tyva: Kyzyl, st. Lenina, 60-59
Republic of Udmurtia: Izhevsk, st. Gertsena, m 6
Republic of Khakassia: Abakan, st. Marshal Zhukov, 7
Rostov Region: Rostov-on-Don, st. Shapovalova, d.2.
Samara Region: Samara, st. Dzerzhinsky, 31 (Samara State College of Service Technologies and Design)
St. Petersburg: st. Bolshaya Monetnaya, 30
Saratov Region: Saratov, st. Chapaeva, d.68-70
Sverdlovsk Region: Ekaterinburg, Krylova St., 2
Sevastopol Region: st. Gogol, 34, di. 3
Tver region: Tver, Krylova St., 28
Tula Region: Tula, st. Gogolevskaya St., 84
Ulyanovsk region: Ulyanovsk, st. Gagarina, d.1
Territory of Khabarovsk: Khabarovsk, st. Frunze, 71, office 003
Chelyabinsk region: Chelyabinsk, st. Marchenko, 11-B
Read Also:
Emergency Live Even More…Live: Download The New Free App Of Your Newspaper For IOS And Android
Russia, The International Red Cross And Red Crescent And The Ministry Of Emergencies Discussed Cooperation
Crisis In Ukraine: Civil Defence Of 43 Russian Regions Ready To Receive Migrants From Donbass
Ukrainian Crisis: Russian Red Cross Launches Humanitarian Mission For Internally Displaced People From Donbass
Source: