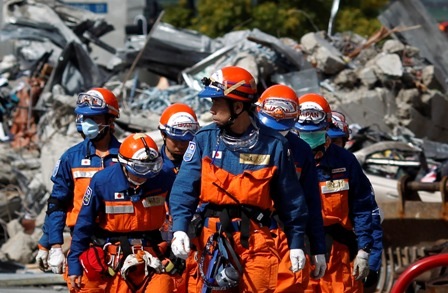 Latest humanitarian snapshot highlights flooding in Myanmar and China and volcanic activity in Indonesia
RELIEFWEB.INT -July 27, 2015 at 10:50AM
Source: UN Office for the Coordination of Humanitarian Affairs
Country: Bangladesh, China, Fiji, Indonesia, Japan, Myanmar, Thailand

In Indonesia, ongoing volcanic activity of several volcanoes have triggered evacuations and impacted air traffic over the past few weeks.
MYANMAR
Heavy seasonal rainfall on 14-19 Jul caused flooding in Sagaing Region.
On 23 Jul, the Government's Relief and Resettlement Department (RRD) reported that some 70,000 people were affected by the floods in 11 townships, with nine fatalities and over 12,000 houses damaged.
Local authorities, Union Government, the military, the Myanmar Red Cross Society (MRCS) and local civil society are providing food, water and other basic services. A joint team of RRD, MRCS, INGOs and UN visited the worst-affected areas on 24-26 July to assess the situation.
Further flooding is also reported in other parts of the country, including in Mandalay Region and Kachin State.1
CHINA
Media reports heavy rain and strong winds affecting over 200,000 people, killing two with 3 missing, over 8,000 evacuated and over 400 homes damaged in the provinces of Fujian, Guangdong, Guangxi and Hainan in southern China.
Media also reported over 110,000 people affected, five dead, one missing, 200 evacuated and over 100 damaged homes in northern China in the provinces of Hubei, Inner Mongolia, Shaanxi and Gansu. Local authorities are responding accordingly.
National authorities are respoinding to the floods in Anhui and Fujian provinces. Local authorities in Anhui and Fijian have granted a total of more than 10 million yuan (US$1.6 million) for disaster relief and reduction.
JAPAN
Typhoon Halola made landfall on the western island of Kyushu on 26 Jul with heavy rain and high winds, reported the Japan Meteorological Agency (JMA). JMA warned of strong winds and high waves although the storm was expected to lose strength later today, 27 Jul. There are no reports of injuries or damage to houses
INDONESIA
Ongoing volcanic activity of several volcanoes in Indonesia triggered further evacuations and impacted air traffic over the past few weeks.
In Sumatra, Mount Sinabung showed signs of elevated activity over 18-21 Jul. The Sinubang alert status remains 4 (maximum level). Over 10 000 people remain displaced as of 21 Jul.
In Maluku Islands, the volcanoes Gamalama on Ternate Island and Dukono on Halmahera have increased their activity. Over 1,500 people are displaced on the island.
In Eastern Java there have been ongoing explosions from mount Raung since 29 Jun.
Ash has fallen over several districts of the island, causing damage to plantations. No evacuations are reported, as of 22 Jul
FIJI
The developing El Niño event continues to intensify exacerbating drought conditions in Pacific countries.
In Fiji, sugar cane crops are reduced by around 25 per cent according to farmers in the country's west. Emergency water deliveries have also begun to the Yasawa Islands and to villages between Nadi and Sigatoka. Water temperatures in all of the key El Niño ocean monitoring areas are more than 1°C above average for 10 successive weeks – two weeks longer than the previous record set in 1997.5
from ReliefWeb Headlines
via IFTTT