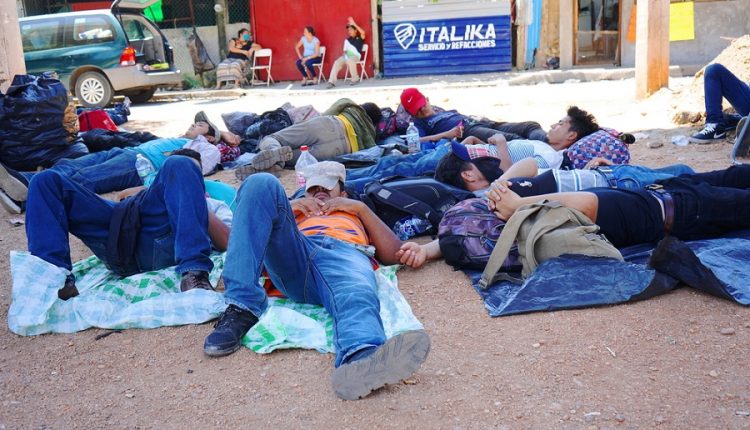 Migrants, Médecins Sans Frontières: "At the US-Mexico border mass raids, rejections".
Migrants between the US and Mexico, Médecins Sans Frontières: "The new agreement between the United States, Mexico, Honduras and Guatemala that strengthens the militarization of the borders will lead to further criminalization of migrants and refugees, who are left increasingly exposed to the violence of organized crime and the Covid-19 pandemic".
Médecins Sans Frontières' note on border migrants and mass raids
This is what Médecins Sans Frontières (Médecins Sans Frontières – MSF) warned in a note, reporting that its staff had repeatedly witnessed 'mass raids' even 'in areas with a high concentration of migrants and asylum seekers, including those near the organization's health centers.
Several incidents took place in Coatzacoalcos, in the state of Veracruz, in the south of the country, a railway junction very frequented by people on the move'.
Operators also denounced 'cases of arbitrary detention at Mexico's southern border' and 'the expulsion of asylum seekers from the United States under 'Title 42".
This measure, issued following the Covid-19 pandemic, 'provides for the immediate mass deportation of migrants on specious public health grounds, effectively blocking the right to seek asylum in the US', says Médecins Sans Frontières
Martina Marchiò, who recently returned from a six-month mission in Mexico as medical director for MSF, said: "People are abandoned without any information on the repatriation process, most of them do not have the opportunity to contact their families and remain in open spaces sometimes for days before they have the opportunity to access shelters, often full, or return to their country of origin.
In fact," continues Marchiò, "men, women, and children risk being kidnapped every day or becoming victims of sexual violence at the hands of organized crime.
The situation is really difficult, the institutions are absent.
"Last week there were several raids in Coatzacoalcos along the railway lines and about 50 migrants, including families with children, were arbitrarily detained," says Caradonna of MSF Doctors Without Borders
"They were sleeping near the reception centers because they were denied accommodation, for alleged reasons related to the pandemic."
Many centers in Mexico have closed or reduced capacity because of the pandemic. Antonino Caradonna, MSF's project leader in Mexico added: "All this is happening on the southern and northern borders of Mexico.

While the US is blocking and expelling new arrivals en masse, Mexico is repressing and detaining them en masse."
He notes that police action near centers or places where migrants receive medical and humanitarian assistance "pushes people to hide more, to choose more dangerous routes, to be more vulnerable to organized crime and extortion.
We must denounce the enormous lack of protection for these people".
MSF concludes by appealing to the US, Mexico, and other governments in the region to 'put an end to these repressive migration policies.
Asylum seekers and migrants must be guaranteed protection and adequate humanitarian assistance by national and international laws and standards.
Furthermore, in the context of a global pandemic, all possible efforts must be made to protect those fleeing by providing sufficient shelters and safe spaces".
Per approfondire:
Rescue Drone, New Projects Are Close To The Reality For Rescue Migrants And Organs Transportation
Migrants From Guatemala And Honduras Assisted By The Red Cross
Migrants, Alarm Phone: "480 Deaths In A Week Off The Coast Of Senegal"
Fonte dell'articolo: