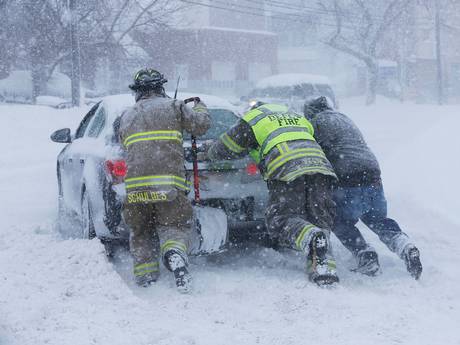 New artic blasts will hit US this week
MLIVE – Two arctic blasts of air are slated to hit Michigan this week. The air could be cold enough to break some record low temperatures for this time in February. The first batch of bitterly cold arctic air will move in Thursday, and make for a very cold Friday morning across all of Michigan. All of the data I look at is very consistent in forecasting low temperatures Friday morning to drop below zero. Most of the inland areas of Lower Michigan should drop to five to 10 below zero. A straight north wind is expected Thursday night, meaning even the Lakeshore areas in West Michigan won't get much of a warming help from wind off Lake Michigan. The shoreline areas may hover just above zero.
There will be a stiff wind with both arctic outbreaks also. So the wind chill Friday morning should drop to between 15 and 30 degrees below zero. The second blast of cold looks five degrees colder than the Thursday-Friday blast of cold. The second blast comes in behind another vigorous Alberta Clipper type snow system Saturday. So Sunday could be a very cold day in all of Michigan. I'm not talking just your ordinary cold Michigan winter day. I'm talking low temperatures of 10 to 20 below zero with wind chills of 30 to 40 below.
Record low temperatures late in the week vary between seven and 15 degrees below zero. Some record low temperatures will likely be broken.
What about snow?
Each arctic blast will be preceded by a snow system, and some lake effect snow. These snow systems will be what we call "Alberta Clippers." This means the storm moves quickly out of Alberta, Canada and drops southward into the Great Lakes. These storms usually don't have a lot of moisture, and don't make a lot of snow. However, after the storms pass there is usually a nasty period of wind blown snow in the lake effect areas.

So the first snow is Tuesday night and Wednesday. The snow forecast graphic above shows the amounts expected Tuesday night into Wednesday. Amounts should be light in southern Lower Michigan. I'll have to keep you updated on Thursday's lake effect. Right now it looks like a straight north wind, which could make heavy snow and a real mess in northern Indiana Thursday. So if you are planning to drive to Chicago Thursday, you may have dangerous conditions. But I'll have to watch that for a few days and update you.
[weather_chart width="full" height="370″ city="Chicago" units="metric" type="daily"]
[weather_map width="full" height="370″ city="Michigan" layer="snow"]