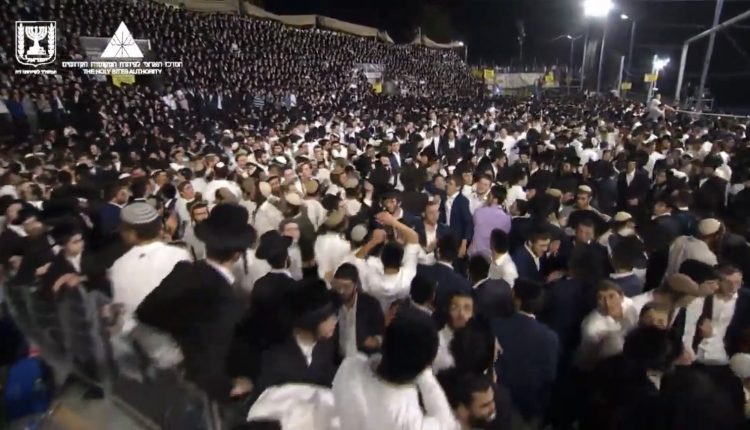 Pilgrimage on Mount Meron in Israel, at least 44 victims: video of rescuers from Magen David Adom
Israel, tragedy during a pilgrimage to Mount Meron: more than a hundred people injured, dozens of them in serious condition. The tragedy occurred during the Jewish celebrations of Lag BàOmer
Israel, the dynamics of a tragedy: how 44 people died on Mount Meron
At least 44 dead and more than a hundred injured, dozens of them in serious condition: this is the still provisional toll of a stampede that broke out last night during the Jewish celebrations of Lag BàOmer, at the foot of Mount Meron, in the northeast of the country.
"We are struggling to save the lives of dozens of injured people and we will not stop until we have brought the last survivor to safety," Magen David Adom, a national rescue service, reported on its social profiles.
According to reconstructions relayed by the local press, the celebrations were attended by thousands of people in what was the best-attended mass event in Israel since the start of the Covid-19 pandemic.
On the same subject: On target in 4 minutes: Israel and the motorbike ambulance solution
Israel, Prime Minister Benjamin Natanyahu spoke of 'huge disaster'
The causes of the accident are still to be clarified.
Agreed sources, pending confirmation, report a slippery walkway.
Many of the victims are said to have been crushed or trampled to death by worshippers trying to escape.

On Lag Bàomer day, celebrated yesterday and marked by the lifting of a number of prohibitions, many families traditionally gather for picnics and festivities.
At 1,208 metres above sea level, Mount Meron, or Har Meron, is the highest point in Israel.
Located in the Galilee, it is home to one of the country's largest nature reserves.
Tragedy in Meron: MDA is fighting for the lives of dozens wounded, and will not give up until the last victim is evacuated.

38 are in critical condition and still in the field
6 in critical condition who were evacuated 
18 injured severely
 2 moderately
39 lightly pic.twitter.com/xUWStFYqQh

— Magen David Adom (@Mdais) April 30, 2021
Read Also:
COVID-19 In Israel, Emergency Rapid Response Is Made In Italy: The Experience With MP3 Piaggio Motorcycle Ambulance
Covid, Israel To Stop Wearing Masks Outdoors From Sunday
Source: