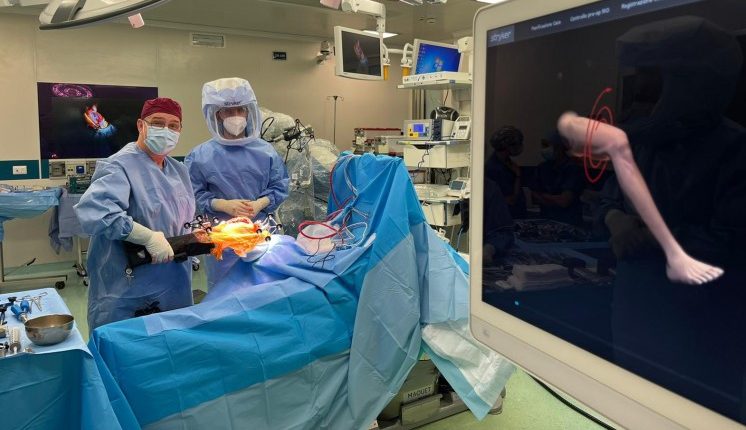 Ravenna, Italy: two prostheses implanted with Mako robotic surgery
The 'Mako' system, tested by two doctors from Forlì, is now available to all surgeons in Ausl Romagna
Robotised surgery, the Mako system used in Forlì
A few days ago, Dr. Roberto Casadei, director of the Operative Unit of Orthopaedics and Traumatology of Forlì, and Dr. Marcello Lughi, surgeon at the same facility, carried out two sessions, implanting two knee prostheses with robot-assisted technique in the operating rooms of the hospital of Ravenna, where the Mako Robotized system is available to the surgeons of the operating units belonging to the Osteo-articular Department of Ausl Romagna.
Surgery with the Mako system: the operations are perfectly successful
"Until March," explains Dr. Casadei, "the use of robotics in prosthetic surgery was only for patients in the province of Ravenna, following experimentation initiated by Dr. Alberto Belluati, director of the Osteoarticular Department of Ausl Romagna.
Since September 2021, following the acquisition by Ausl Romagna of the robotic system Mako, a project of surgical extension was started, involving patients belonging to all the other Operating Units of Romagna.
We welcomed with great enthusiasm this possibility, which was offered to our patients, with the aim of offering a higher quality standard, ensuring a level of care in line with the most modern criteria of knee prosthetic surgery".
"With this project, our patients who are candidates for knee prosthesis surgery – continues the director of the Forlì Orthopaedics Department – undergo pre-operative preparation in our hospital, according to shared protocols.
On the fixed date, the patient is admitted directly to the Orthopaedics and Traumatology Unit of the Ravenna hospital, the day before surgery.
We performed the operation the next day in the operating theatres of Ravenna hospital.
After the first two postoperative days, the patient is then transferred by ambulance to our department to continue his rehabilitation and all subsequent checks".

Mako system, surgeons' satisfaction
"We are very happy – explains Dr. Lughi, who performed the knee prostheses, on the occasion of the first surgical session – that the patients of Forlì can also benefit from this advanced technology.
Robot-assisted surgery certainly implements the experience of the surgeon, allowing a more accurate planning of the operation, making it more 'personalised and tailor-made' for the patient.
It is a surgery that is more accurate in the positioning of the prosthesis, less invasive for the patient, with a reduction in bleeding and post-operative pain and also with a rapid functional recovery."
It should also be remembered," conclude the two Forlì orthopaedists, "that functional recovery in the shortest possible time has been a fundamental objective of Forlì Orthopaedics for some months now, as it strives to achieve the best possible functional result in the shortest possible time.
Read Also:
Emergency Live Even More…Live: Download The New Free App Of Your Newspaper For IOS And Android
Implantable Robots And Magnetic Capsules: The New Frontier Of Insulin Infusion In Diabetics
Intraperitoneal Chemotherapy: Effectiveness For Certain Intestinal And Gynaecological Cancers
What Is Transoral Robotic Surgery (TORS)?
Source: