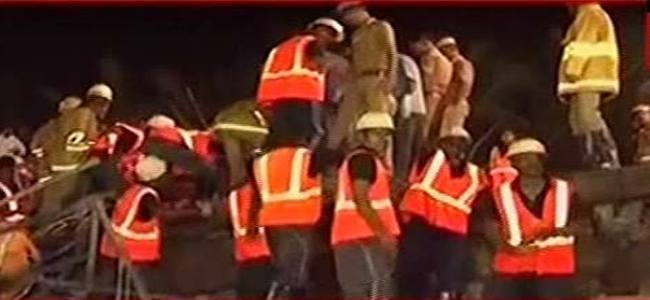 Rescue operation for a building collapsed in Chennai: 23 pulled off alive
A building collapsed in Chennai, National Disaster Responce FOrce (NDRF) said on Saturday. The death toll in the collapse of an under-construction building near suburban Porur rose to 18. 23 people were rescued from the debris, National Disaster Response Force (NDRF) SP Selvan, said. Rescue operations were on in full swing though there were intermittent rains. Meanwhile, a woman was pulled out alive this morning from under the debris of the collapsed structure. The building had collapsed on Saturday evening, with about 50 people feared trapped inside. Six persons, including two owners and two engineers, had been arrested under various sections of the IPC.

NDRF Press Release – The Search and Rescue work of NDRF along with Fire Service and Tamil Nadu Police at the collapsed site of under construction multi storey building at Mouli vakkam on Kundrathur main Road, Chennai is in progress. 10 Urban Search and Rescue Teams (USAR) of National Disaster Response Force (NDRF) comprising of more than 400rescuers, equipped with state-of-the art equipment are carrying out search and rescue operation for last 40 hrs. The NDRF is displaying its true grit and courage and leaving no stone unturned to save lives of the victims who are trapped under the debris by making best use of the latest sophisticated equipment. NDRF teams have rescued 07 live and extricated 14 bodies of dead victims from the debris so far. The operation is still going on.