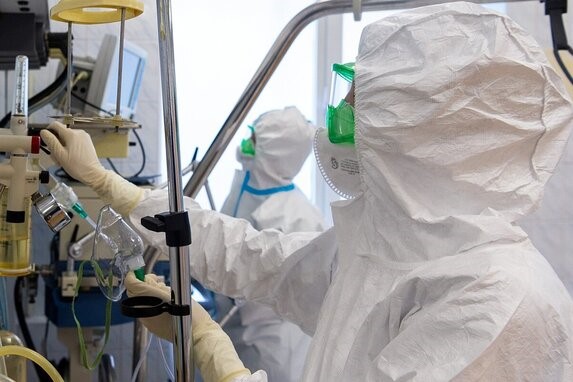 Russia, doctors detect mucormycosis in Covid-19 patients: what causes the fungal infection?
Doctors in Tyumen, Siberian Russia, have treated eight Covid-19 patients who developed a rare complication in the form of mucormycosis or 'black mould' as a result of the disease
This was reported by the press service of the regional clinical hospital.
The infection manifests itself in the form of nasal congestion, so the symptom is accompanied by an unpleasant putrefactive odour from the nasal cavity.
Russia, mucormycosis in Covid-19 patients, doctors' analysis
As the head of the department of otolaryngology Alexander Rudzevich said, mucormycosis can pass to bone and cartilage structures of the face.
He added that some patients have required surgery by neurosurgeons and ophthalmologists.
According to the specialist, the disease can develop if the fungus enters the skin through a scratch, cut or burn, as well as after contact with fungal spores in the environment.
After mucormycosis, you can lose your eyesight, Pavel Popov, head of the radiology department at the Ilyinsky Hospital near Moscow, said earlier.
According to Popov, similar cases have already been identified by other doctors in Russia
One of the patients with this diagnosis first complained of a seal in the left half of her nose and then stopped seeing with her left eye.

The woman also noticed profuse tearing.
On her forehead and cheekbones, she began to be disturbed by tingling, discomfort.
Earlier, immunologist, medical science candidate Nikolai Kryuchkov , said that currently in Russia there is a decline in the incidence of coronavirus, but there is a risk of a new surge.
He also noted that vaccination affects the level of collective immunity, so, according to the doctor, the time of the drop in the incidence of COVID-19 should be used for revaccination.
Read Also:
Emergency Live Even More…Live: Download The New Free App Of Your Newspaper For IOS And Android
What Heart And Stroke Patients Need To Know About COVID-19 In 2022
COVID-19 Infections Increase Risk Of Heart Conditions Up To A Year Later
Children Under Bombs: St Petersburg Paediatricians Help Colleagues In Donbass
Source: