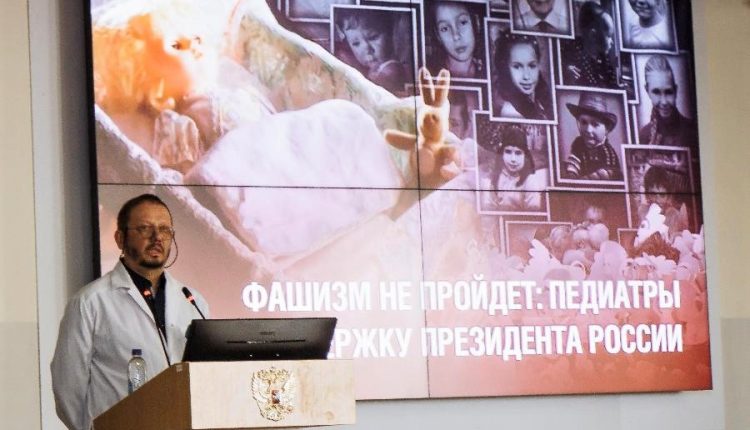 Children under bombs: St Petersburg paediatricians help colleagues in Donbass
It is a fact that the conflict between Russia and Ukraine also involves and sometimes kills children. Concrete help, as well as solidarity, for paediatricians in the Donbass area has come from Russia, from St Petersburg
At a recent meeting held at the St Petersburg State University of Paediatric Medicine (SPbSPMU), doctors and students from the university expressed their solidarity with their colleagues in Donetsk and Luhansk.
And the hope that the hostilities in Ukraine will end as soon as possible.
Treating children under the bombs: the testimony of paediatricians from Donbass
In an emotional link, paediatricians from the Leningrad oblast got in touch with the head of the regional maternity and childcare centre in Donetsk, Volodymyr Chaika: "During the eight years of war, we learned to give birth even under the bombing, in the basement", he said.
In agreement with him is Olga Dolgoshapko, a professor at the Donetsk National Medical University. M. Gorkij. "A deep bow to Peter and a big thank you to all the caring people," he said.
"This help is invaluable and is especially needed now. And we know it is already on its way," he concluded.

Not only today's bombs: St Petersburg's health facilities have been welcoming and treating children from Donbass for many years
Neonatologist and resuscitator Alexei Yakovlev, who himself has repeatedly taken part in rescuing children from the conflict region, said: 'In recent years, thanks to the joint efforts of doctors in St Petersburg and Donbass, several dozen girls and boys have been saved'.
According to the doctor, they began being treated in St Petersburg soon after Kiev stopped accepting young patients from eastern Ukraine into its clinics in 2014.
And children with serious illnesses, including those with heart defects, were left without qualified help.
Rescued the injured.

"The worst thing is that for many years children have been suffering because of the conflict in eastern Ukraine," he said.
We systematically brought them here, to St Petersburg, providing them with all the surgery and heart surgery they needed.
This is still happening: we still have children from Donetsk and Luhansk .
And the doctor of medical sciences at the Perinatal Centre of the Paediatric University Vladimir Vetrov expressed great respect to his colleagues in Donetsk for 'courageously continuing their noble work even under the bombardment'.
The Hippocratic Oath has no colour or nationality, and ultimately, as this meeting showed, a sick child is a fragile being that needs to be cared for and protected.
Read Also:
Emergency Live Even More…Live: Download The New Free App Of Your Newspaper For IOS And Android
Crisis In Ukraine: Civil Defence Of 43 Russian Regions Ready To Receive Migrants From Donbass
Ukrainian Crisis: Russian Red Cross Launches Humanitarian Mission For Internally Displaced People From Donbass
Humanitarian Aid For Displaced Persons From Donbass: The Russian Red Cross (RKK) Has Opened 42 Collection Points
Russian Red Cross To Bring 8 Tons Of Humanitarian Aid To Voronezh Region For LDNR Refugees
Ukraine, Salesian Priest's Mission: "We Bring Medicines To Donbass"
Source: