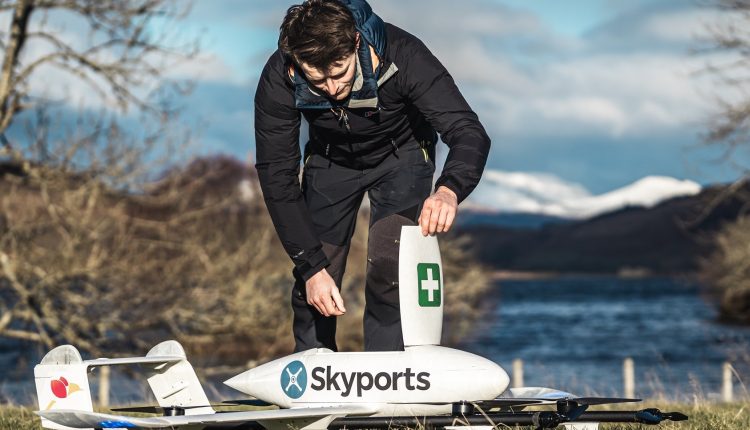 Scotland starts testing drones for transporting medical devices and samples
Scotland – Mercury Drone Ports programme, which aims to develop the drone industry in Angus, will begin trials of medical logistics in partnership with the UK's National Health Service (NHS) from next month
The programme, which is a partnership between drone technology start-up DTLX and Angus Council, will run the trials from its drone port in the town of Montrose.
Scotland drone will transport samples and medical equipment between Angus and Dundee
The operator will transport medical equipment and samples to and from various health facilities between Angus and the city of Dundee, to help with the response to the Covid-19 pandemic.
Speaking to The Daily Scotsman, Angus Council's Chief Councillor David Fairweather, said: 'This level of improvement could potentially allow life-saving treatment to begin sooner by reducing testing times, speeding up diagnoses for patients, all at a reduced cost to the NHS by reducing reliance on the expensive taxi transport that currently exists.
"As significant demand for Covid-19 testing continues, we are delighted to lead the way through innovative technologies to increase connectivity with our rural facilities at a time when the NHS requires more support."
Programme could offer significant improvements to connectivity in Scotland
Drone logistics technology could provide a significant boost to connectivity across Scotland, a country known for its rugged terrain and sparsely populated northern regions.
The programme is receiving funding under the UK government's £26.5m Angus Fund, as part of the Tay Cities regional deal.
It is hoped that the programme will encourage innovation in cities and stimulate employment in Scotland's technology sector.

"Drones have huge potential in Scotland, from linking health services to remote communities, to maintaining renewable energy installations, to assisting with Scottish aquaculture and environmental monitoring," said Scottish Government Minister for Scotland Iain Stewart.
Drone projects for medical logistics have become more common in recent years as the technology has been trialled in remote regions of the world, including the US , Peru , Nigeria and the Ivory Coast.
Read Also:
Emergency Live Even More…Live: Download The New Free App Of Your Newspaper For IOS And Android
Mozambique, UN Project To Use Drones For Post-Disaster Search And Rescue
Botswana, Drones To Deliver Essential And Emergency Medical Supplies
UK, Tests Complete: Tethered Drones To Aid Rescuers For Full View Of Scenarios
Nigeria: Delivery Of Drugs And Medical Supplies To Be Carried Out Using Zipline Drones
Source: