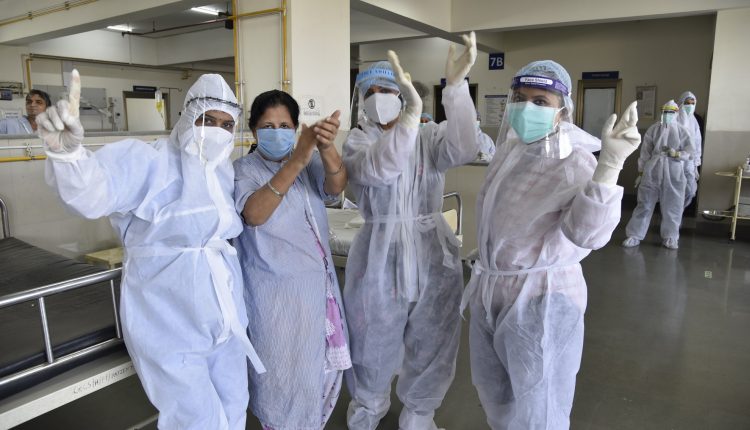 Ahmedabad (India): GCS Hospital Celebrates International Nurses Day with COVID patients
Ahmedabad (India): The International Nurses Day is celebrated every year on May 12th to commemorate Florence Nightingale on her birthday
Ahmedabad (India): Right now, nurses and other health workers are making a significant contribution as Corona warriors to save lives without worrying about own health or their family
GCS Hospital's Nurses celebrated this International Nurses Day with the COVID patients. Antakshari, Garba, Pranayama, and Yoga were organized in the COVID wards to encourage the Nurses as well as to help the COVID patients stay stress-free.
GCS Hospital (Ahmedabad – India)The patients also participated along with the nurses in these celebrations
Patients were overjoyed by taking part in these and watching the enthusiasm of the nursing team. Patients who could not play also enjoyed watching the program.
This special effort was made by the Nurses to make the patients forget their pain during this tough time.
Nurses are a very important link between the patient and the doctor, who are at the service of the patients round-the-clock.
The patients also thanked the nurses for their compassionate service as nurses take care of the COVID patients like a relative when there are no relatives around or beside the patient.
India: more than 285 nurses at GCS Hospital have performed their duties in COVID Wards, where more than 7000 COVID patients were treated successfully
GCS Hospital is NABH Accredited (Pre-Entry Level) 1000-bed Multi Speciality Hospital which offers a spectrum of services – all medical and surgical care under one roof.

GCS Hospital today serves patients from all walks of life at nominal cost with the highest standard of services developed on the strong the foundation of the state-of-the-art facilities, best medical expertise, research, education, and charitable endeavors.

Read Also:
Covid, UK Sends Life-Saving Medical Equipment To India
India, A Crisis: 300,000 Covid Cases In 24 Hours, The Army Intervenes. Lung Ventilators And Medical Equipment From Italy
WHO: 'Indian Variant Of Covid Is Present In 44 Countries Worldwide'.
Source: