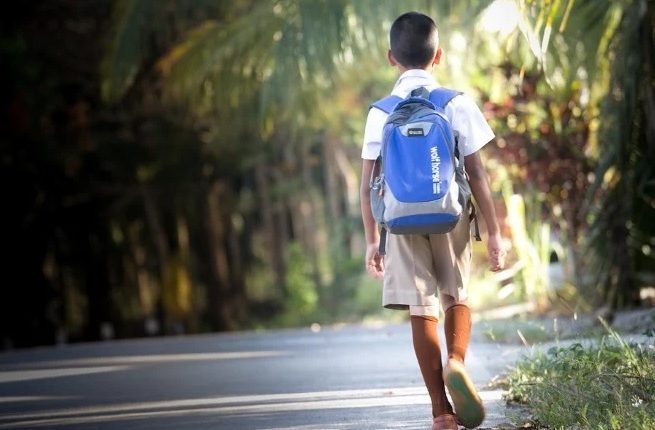 Back to school, how to choose an anti-lumbago backpack? Advice from orthopaedists
Back to school backpack: lightweight frame, wide and padded shoulder straps, rigid back, waist belt. These are the main features that a school backpack should have
Cosimo Gigante, president of the Italian Society of Paediatric Orthopaedics and Traumatology (Sitop), lists the characteristics of a backpack for the return to school.
"The backpack should be compact, to facilitate a good organisation of the books inside, and preferably equipped with wheels – explains Gigante – so that it can be dragged, instead of carried on the shoulders, in case it should be too heavy".
But how much should a backpack weigh?
"The literature does not agree on this – underlines the paediatric orthopaedist – but the generally accepted tolerance limit is between 5% and 15% of the growing child's body weight.
So if we look at an adolescent or pre-adolescent weighing 40-50 kg, the backpack should not weigh more than 7-8 kg," Gigante points out, "but sometimes we hear from parents that their children's backpacks can weigh more than 15 kg.
CAN A SCHOOL BACKPACK THAT IS TOO HEAVY CAUSE SPINAL PROBLEMS?
One of the most frequent questions asked by families is whether using backpacks that are too heavy can affect spinal deformities, for example by promoting scoliosis.
From this point of view, we can reassure parents," says Gigante, "in the sense that scoliosis is a disease that is characterised by a rigidly structured deformity of an evolutionary nature which, apart from particular situations, is mainly genetically determined and therefore cannot be promoted by exposure to excessive loads such as those of a backpack.
On the contrary, 'the most common problem that can be linked to a backpack that is too heavy,' explains Sitop, 'is lower back pain.
Normally we are used to the idea that this type of disorder can affect the mature or elderly population, but in reality the incidence of low back pain, understood as at least one episode in a year, affects a percentage of young people ranging from 17% to 50-60% and increases with age until it reaches its peak during adolescence", Gigante explains.
The Sitop president explains that lumbago "is more frequent in women and in subjects with hyper ligamentous laxity, and some studies also tell us that it may be linked to particular personality profiles and to smoking abuse.
But we often do not even know why these disorders occur,' the doctor points out, 'and most of the time they are transitory or recede with the administration of an analgesic'.
Therefore, 'we cannot exclude that a backpack that is too heavy induces a condition of functional overload, so that there is a physiological limit of fatigue that is exceeded and therefore this can generate pain,' Gigante explains.

The problem is not just weight. "Some studies tell us that it's not so much the weight that's important in the onset of low back pain as it is the exposure time,' Gigante explains.
Beyond this time limit, in fact, it can induce a lumbago syndrome.
HOW TO PREVENT LOW BACK PAIN?
How to prevent it? In addition to choosing a backpack with the characteristics listed above," says the doctor, "you must also remember that it should never be carried on one shoulder.
Then," continues Gigante, "you need good school organisation: teachers should tell you in advance what the lesson plan is so that children can limit their books to the ones they need for the day.
There should also be a multidisciplinary approach to the subject," hopes the orthopaedist, "in the sense that exercise science teachers could also be involved.
We know, in fact, that it is the slimmer boys, perhaps even with a muscularly asthenic profile, who are more prone to lumbar disorders, and we should work on them by improving muscle tone".
Finally, "we need to pay attention to the children and when the recurrence of low back pain is too frequent or extends to the nocturnal phases or is associated with other symptoms, then a paediatric orthopaedic examination may be appropriate", concludes Gigante.
Read Also:
Report USA Launches The Alarm: 2 Weeks After The Return To School Boom Of Infections
Lumbago: What It Is And How To Treat It
Earthquake Bag, The Essential Emergency Kit In Case Of Disasters: VIDEO
Source: