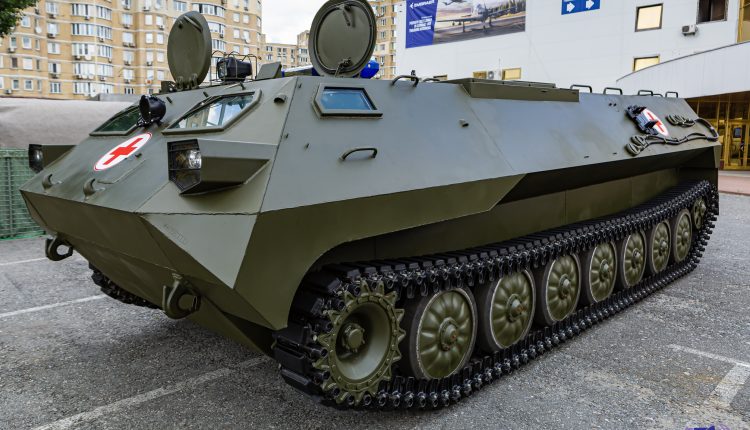 Kiev, VK System presented an 'amphibious ambulance' for Medevac operations
VK System, based in Vasylkiv (Ukraine) presented an amphibious armoured vehicle prepared for medical evacuation missions (Medevac) at the Arms and Security exhibition, held in Kiev from 15 to 18 June
Amphibious ambulance for medevac operations: features
The new vehicle appears to be an amphibious ambulance variant of the MT-LB family of multi-purpose, fully amphibious armoured vehicles.
The medevac vehicle is based on upgraded MT-LBu chassis and designed to transport up to four severely injured and eight lightly injured personnel, in addition to medical staff.
Based on the standard version of an MT-LBu, the rear seats of the vehicle normally used by troops were replaced with two or four stretchers along both sides. Medical equipment and supplies were transported in internal storage boxes.
The hull of the transporter was redesigned to speed up the loading and unloading of casualties and the comfort of medical personnel.
MEDEVAC OPERATIONS: ISOVAC BIOCONTAINMENT STRETCHERS AT EMERGENCY EXPO

Read Also:
Search And Rescue Operations And More: The 15th Wing Of The Italian Air Force Celebrates Its 90th Birthday
Asia – Performing Medical Evacuation In Vietnam
Italy, Main Complications And Treatments In Critical Patients Transport?
MEDEVAC With Italian Army Helicopters
The Origins Of Helicopter Rescue: From The War In Korea To The Present Day, The Long March Of HEMS Operations
Source: