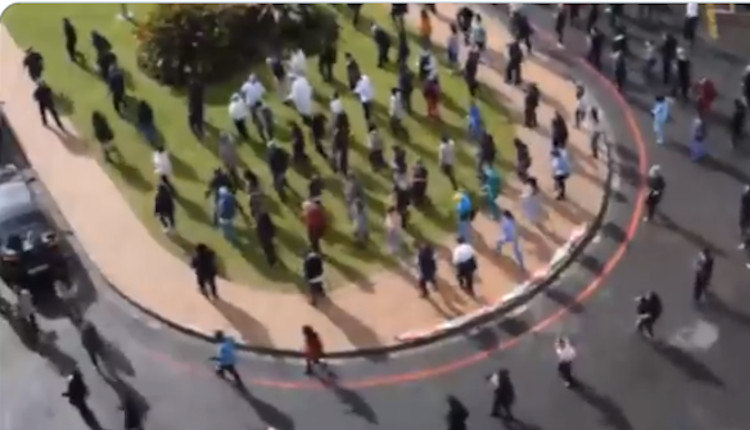 South Africa, Red Cross Children Hospital healthcare workers dance Jerusalema - VIDEOS
All the healthcare workers of the Red Cross Children Hospital get on street and dances Jerusalema, the pray-song of Master KG. And many other hospitals followed the example on the trend hashtag #JerusalemaDanceChallenge
Throughout South Africa, many hospitals joined the trend #JerusalemaDanceChallenge and the healthcare workers danced this famous anthem. It's a moment to enjoy life, to enjoy their own mission and share positivity.
Jerusalema has become the go-to song for overwhelmed South African healthcare workers as they try to maintain positivity amid the Covid-19 pandemic.
Staff from the Red Cross War Memorial Children's Hospital in the Western Cape joined the dance challenge and a video was shared by premier Alan Winde.
And it is not the only one who did this. Also, the Groote Schuur Hospital and the Steve Biko Academic Hospital joined the trend.
Healthcare workers have been showered with messages of gratitude for their hard work, while others have complimented their dance moves. Many say that only God knows where they get the strength from in the face of the challenges they face every day. God bless our front line workers and their families.
READ ALSO
Corticosteroids administration in children with Kawasaki disease may prevent blood vessels complications
Uganda, the health of mothers is a Constitutional Right
How Could COVID-19 Represent A Benefit To HIV And Tuberculosis Fight In South Africa?
HEALTHCARE WORKERS DANCE JERUSALEMA – SOME OF THE VIDEOS BELOW
[MUST WATCH] The team at the Red Cross War Memorial Childrens Hospital doing the #JerusalemaDanceChallenge! 👏🏼 @MasterKGsa @WesternCapeGov @WestCapeHealth pic.twitter.com/VNEINkfufR

— Premier Alan Winde (@alanwinde) August 19, 2020

King Award hospital❤️#JerusalemaDanceChallenge pic.twitter.com/mqzLO5VRkl

— Linda Mzizi (@LindaMzizi5) August 14, 2020
We had so much fun 💃🏽👌#JerusalemaDanceChallenge pic.twitter.com/QL4l5tpiVi

— Nthabi Moloi (@nthabimolointh1) August 16, 2020
Somerset Hospital 🌿💯Celebrating 159 Years💯🌿 Joined the Challenge…… #JerusalemaDanceChallenge #Jerusalemachallenge #Jerusalema @MasterKGsa pic.twitter.com/fH8vKt0RYR

— Noxolo Mase Melani (@CcMaseNoxy) August 20, 2020
UCT and Groote Schuur Hospital Healthcare workers joining the #JerusalemaDanceChallenge pic.twitter.com/4pxdjz74rh

— Naledi Star Hlalukana (@NalediMatshezi) August 19, 2020
#JerusalemaDanceChallenge @MasterKGsa Wilgers Hospital Pretoria pic.twitter.com/KkrQQBaChs

— #Zimbabweanlivesmatter (@Jamesmqadi) August 21, 2020
SOURCE