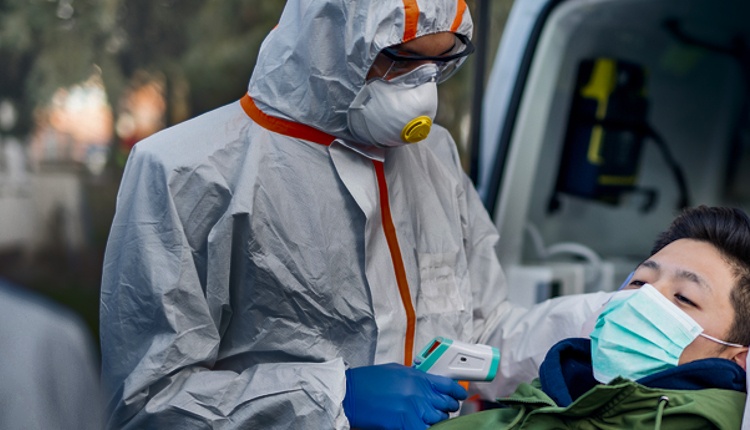 Top 5 paramedic and healthcare workers jobs in the United States, Mexico, Ireland and the UK
Our weekly top 5 most interesting paramedic and healthcare workers jobs proposal on Emergency Live. Our selection can help you to reach the life you want as an emergency operator.
Are you looking for a new job? Like many other jobs, even paramedics, healthcare workers, nurses and EMTs can find online new ideas for getting a better life, improving their jobs. But if you need some suggestions for keeping your skills in service for another kind of job, involved in the EMS or in the industrial business around the health sector, here we are!
Paramedic and healthcare workers jobs in UK
LOCATION: Walt Disney Studios, UK
POSITION: Safety and Health Manager
The Manager, Health & Safety will ensure that COVID-19 requirements are implemented on-set in conjunction with the UPM and other department heads. Depending on the complexity of the project, more than one supervisor may be needed. The individual will receive training and technical guidance from a Production Safety Specialist. The Manager, Health & Safety will report to Production Executives with a dotted line to Risk Management.

Please note, these positions will be located in London, Los Angeles, Atlanta, Sydney, Montreal, Ireland, Toronto and Vancouver.

Responsibilities:
Lead COVID-19 health and safety planning in the workplace according to legal guidelines. Determine the requirements needed for each department to comply with guidelines. Advice the production on best practices on health and safety-related to COVID-19. Evaluate practices, procedures and facilities to assess risk and adherence to the law. Ensure required health compliance training for all crew, talent, etc. is provided
Order and distribute supplies (PPE, disinfectants, etc.). Enforce Studio policies and protocols on-set in conjunction with production management. Manage staffing and supplies for cleaning and disinfecting including cleaning vendors. Provide reports to production management regarding concerns, violations, and compliance
Establish an on-set network of crew members to assist with the implementation and monitoring of the program
Work with all departments to ensure that staffing is in place to ensure key entry, egress and traffic flow areas are secure.

Review prep and shooting schedules to ensure required social distancing procedures (pods, teams, etc.) are in place. Work closely with Set Medic. Work with departments to implement social distancing protocols for office/workspaces. Ensure employee screening protocols are in place. Stay current on new developments in health and safety to improve the quality and efficacy of production processes
Paramedic and healthcare workers jobs in the US (California)
LOCATION: Van Nuys, CA, US
POSITION: COVID-19 Site Medical Screener
This position has been developed to assist clients with performing on-site medical screening specifically for COVID-19 as a means of prevention of spread within their facilities, vessels, job sites, and large living quarters.

This position has been developed to assist clients with performing on-site medical screening specifically for COVID-19 as a means of prevention of spread within their facilities, vessels, job sites, and large living quarters.

The Site Medical Screener is an unlicensed medical role specifically operating within the protocols established for screening humans for possible infection utilizing individual questionnaires, a brief exam consisting of a tympanic and/or oral temperature, and general appearance according to the protocols.

This position does not require the establishment of medical care and treatment for affirmative responses to the questions or temperature checks as the protocol specifically addresses these issues on a case by case basis, and via telemedicine with a licensed physician.

ESSENTIAL DUTIES AND RESPONSIBILITIES include the following:

Administering medical questionnaires directly to Client Staff;
Personnel entering job sites
Personnel departing job sites
Personnel embarking or disembarking from vessels
Administering and interpreting the temperature of an individual utilizing tympanic and/or oral thermometers according to the manufacturer's instructions and CDC guidance for personal protection.
Reporting cases of positive and negative responses according to established protocols while remaining cognizant of appropriate reporting requirements (State, Local and Federal) requirements (established per site).
Communicate findings directly to the Topside physicians as required and listed within each site plan as per protocol
Don and Doff PPE as required within the protocol for performing medical screening
Document findings and results of the Medical Screening with the RMI documentation system

Qualifications:
To perform this job successfully, an individual must be able to perform each essential duty satisfactorily. The requirements listed below are representative of the knowledge, skill and/or ability required. Reasonable accommodations may be made to enable individuals with disabilities to perform the essential functions.
Paramedic and healthcare workers jobs in Mexico
LOCATION: Mexico
POSITION: Paramedic
Paramedic offer for the GRUPO DE INTELIGENCIA ARMADO S. DE RL DE C.V.

Net Monthly Salary: $ 7,000.00

Location: Tabasco

Type of contract: Indefinite term contract

Validity of the Offer: May 30, 2020

Business days: from Monday to Friday

Working hours: 7:00 a.m. to 7:00 p.m.

Rolar shifts: No

Requirements: Requested studies, Bachelor of Nursing, Graduate

Experience: 6m – 1 year

Transversal Competences: Communication, Responsibility, Performance management, Building trust

Languages: Not required

The company offers:

Number of places: 2

Functions and activities to perform: Provide urgent medical attention, alcohol tests, toxicological tests. knowledge in first aid, sutures, prehospital medicine, medications. 12 for 12 hours. diploma in nursing, emergency medical technician or the like.

In order to apply you must provide an email account
Update your job profile
Paramedic and healthcare workers jobs in Ireland
LOCATION: Granard, Co. Longford, Ireland
POSITION: Home care worker
Family Carers Ireland is the National Voluntary Organisation for and of Family Carers in the home. Family Carers Ireland are currently seeking Homecare Workers in Granard, Co. Longford and surrounding areas.

The principal duties of the Home Care Workers may include the following tasks;

Assisting the Carer in his/her caring duties at home, including both personal and practical care tasks e.g. dressing, washing, toileting, light household work
To ensure the dignity, privacy and independence of the Carer and Cared for Person are maintained and respected at all times
Provide companionship
Completing accurate and weekly activity sheets and other mandatory records as assigned
Mindful of the ethics and culture of the organisation and the role played in supporting Carers
The Home Care Worker will be flexible in his/her approach to performing the duties of the post and maybe assigned additional duties from time to time in agreement with the Carer
The ideal candidate;

At least 1-year related experience providing quality care is essential
Must hold at least 2 QQI Healthcare modules – Care Skills & Care of the Older Person, and working towards achieving a full major award
Up to date patient moving & handling certificate
Excellent communication & interpersonal skills
Full driving licence and own transport
A confidential, calm, polite and professional individual who is well presented and has a kind and caring nature
Reliable, trustworthy individuals committed to providing quality person-centred care in a home environment
Garda Clearance. If you meet the criteria we are interested in hearing from you to fill upcoming vacancies for the day, evening and weekend work.
Paramedic and healthcare workers jobs in the US (California)
LOCATION: California, US
POSITION: Temporary emergency worker
The Position
Public Health of the Contra Costa Health Services Department is recruiting for Temporary Emergency Worker positions. This is a temporary classification established for the COVID-19 crisis. This particular recruitment is to provide Temporary Emergency Workers to the COVID19 Contact Tracing and Investigation project. Incumbents in this class are responsible for assisting with the existing or suspected cases of COVID19, some of the work will be done on-site and/or remotely.

Minimum Qualifications:

Possession of a valid California motor vehicle operator's license. Out of state, a valid motor vehicle operator's license will be accepted during the application process.
Education: Possession of a high school diploma or G.E.D. equivalency or high school proficiency certificate.
No experience is required, however, experience in the health care field which involved interviewing clients to obtain confidential or personal history information as the primary element of the duties performed is strongly desired.
Bilingual skills and home internet are strongly desired.

Specific Roles Currently Available:

Call Center:
Ideally, this will be 40-hour assignments, will consider PT, but require at least 32 hours/week.
Hours are 7:30-4:30.
Work location is in Concord.
Schedules will include 1 weekend day and 4 weekdays.
The Get Tested Call Center is open 7 days a week, we will have weekend shifts to cover.
Currently, this is not available as a remote assignment, due to the various software needed to perform the work.
Will be trained to use CCLink and Epic – due to the effort and time required to do the training, we are looking for a minimum of 1-2 month commitment.
Call takers will ask callers screening questions, and schedule appointments for community testing.

Contact Tracers:
Must be able to work a minimum of 20 hours a week.
Must be able to work a minimum of 4 hours a day (no split shift).
Contact Tracing work is 7 days a week, so weekend staffing is available.
Contact Tracer will need to come into an office for some of the training. Any training/orientation that can be done virtually will be.
Assignments will not start until after June 1st due to the limited availability of online and data platform training.
The position will need to be staffed for a minimum of 6-8 weeks after starting.
A Contact Tracer will be making calls to individuals in the public and must be able to keep the information obtained confidential.

Contact Tracing Coordinator:
One Full-time Schedule Coordinator needed to track, assign and coordinate schedules for Contact Tracing Unit for a 7-day a week operation
Strong excel and analytical skills
Assignment duration approximately 6 months
READ OTHER OFFERS