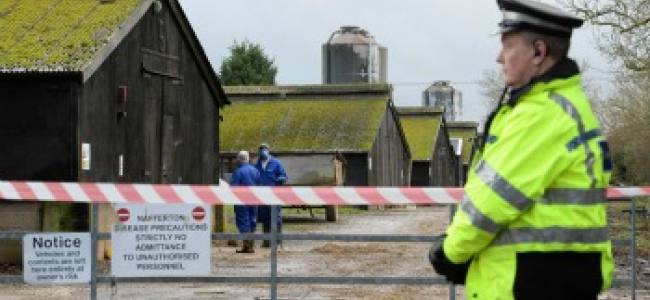 Bird Flu comes to Britain
Chief Veterinary Officer, Nigel Gibbens, warns wild birds are at threat from the disease as he asks people to be alert for symptoms in animals
Wild birds across the UK are now at threat from bird flu after an outbreak at a duck breeding farm in Yorkshire.
The Department for Environment, Food & Rural Affairs (Defra) said it has confirmed at least one case of the virus at the farm in the village of Nafferton, East Yorkshire.
But they insisted the risk to public health was "very low", and that a cull of all poultry would shortly be taking place at the stricken farm.
Chief Veterinary Officer Nigel Gibbens said the main focus now was to protect the wild bird population.
He said the outbreak in the UK was linked to outbreaks in the Netherlands and Germany.
What we know is their bio-security is good so this risk of spread from this farm is probably quite low," he told the BBC.
"When we find this disease we take quick action to remove the birds as a possible source of further infection and we also restrict all the farms with birds in an area around it of 10km to look for possible further spread or possible other infected farms so we can get on top of those early as well.
"In parallel with that we'll be looking for other possible sources of the disease, including any links to the disease that we're seeing in the Netherlands and Germany, and that will include looking at the risk from wild bird spread to our national flock."

Gary Lavis, chair of Nafferton Parish Council, said a problem was first noticed around a week ago when egg production began dropping and the number of birds dying increased.
He said the manager of the farm did not know how the virus had infected the birds.
Defra was first contacted about the situation on Friday by a private vet.
Mr Lavis said he did not think the culling of the ducks would be carried out until Tuesday.
"They noticed symptoms themselves about one week ago: a drop-off in egg production and slightly higher mortality rates. That alerted them to do some testing," he said.
"They're doing their normal routine with suits and masks and the disinfectant they are using is Defra-approved for all strains of bird flu."
Mr Lavis said he was particularly concerned about the potential effect on the local wild bird population, with a mere in Nafferton and an RSPB reserve nearby.
He said there were also two battery farms in the area and a number of hobby farmers who keep chickens.
"I came up here to see if there's anything as an organisation we can do and if anyone contacts me throughout the day I can reassure the public," he said.
"We're also concerned about the environmental impact. We have a large wildfowl population on the mere, which is a focal point of the village."
Mr Gibbens the strain was thought to be highly pathogenic to birds and so was a disease of poultry.
"The link to the disease that they found in Germany and the Netherlands is our most likely source and, on that basis, Public Health England has said with this strain there is not a risk to public health," he said.
"The people dealing with the birds directly, that's the highest risk, and we'll be working to make sure that they're protected with proper hygiene precautions as they're handling the birds.
"The main focus is to protect our bird flock rather than any risk to public health."
"We cannot rule out that there might be further cases; this is why we put premises under restriction to look for further spread.
"Because there's a wild bird risk we also need farmers and their vets all over the country to be alert to possible disease in their farm that they can't explain, draw those to our attention so we can investigate quickly, and, if there is any more disease, seek to nip that in the bud as well."
A Defra spokeswoman said: "We have confirmed a case of avian flu on a duck breeding farm in Yorkshire – the public health risk is very low and there is no risk to the food chain.
"We are taking immediate and robust action which includes introducing a 10km restriction zone and culling all poultry on the farm to prevent any potential spread of infection. A detailed investigation is ongoing.
"We have a strong track record of controlling and eliminating previous outbreaks of avian flu in the UK."
The strain of the illness has not been confirmed but officials insisted that the deadly H5N1 strain had been ruled out.
Bird flu, or avian flu, is an infectious viral illness that spreads among birds. In rare cases it can affect humans.
The NHS website states: "There are many types of bird flu, most of which are harmless to humans. However, two types have caused serious concern in recent years. These are the H5N1 and H7N9 viruses.
"Although these viruses don't infect people easily and are usually not transmitted from human to human, several people have been infected around the world, leading to a number of deaths.
"Other bird flu viruses (particularly H7N7 and H9N2) have also infected people, but these have rarely caused severe illness."