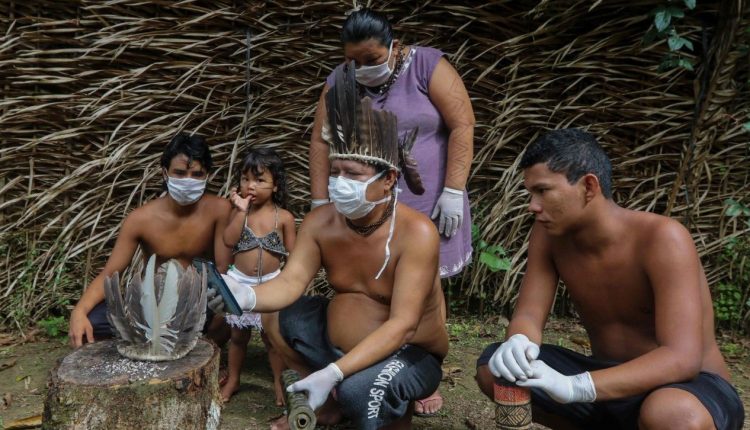 Brazil vaccinated 27.5% of indigenous against Covid-19
Sau Paolo (Brazil) – The number of indigenous who received the first dose of immunization against Covid-19 is 247,213, according to information released last Friday (26) on the Federal Government Portal.
Among the challenges encountered for vaccination of the Brazilian indigenous population is the dispute to define vaccinated groups in the first stage, misinformation in the villages and logistical difficulties.
The National Immunization Plan defined only indigenous villagers as a priority group, that is, those who live on demarcated indigenous lands and are served by the Department of Health, currently comprising 410,348 people in this situation.
However, according to data from IBGE (Brazilian Institute of Geography and Statistics), there are about 897 thousand indigenous in the country.
The first stage of vaccination Covid-19 excludes indigenous who live in urban areas and those who live in rural areas, but are not on lands recognized by the government
Another obstacle encountered by health workers was misinformation in the communities and some people refused to take a vaccine on the grounds that the immunizer changes the DNA or that the indigenous people were being used as "guinea pigs".
According to reports collected by the DW Brasil website, one of the sources of fake news are pastors and other evangelical leaders who work in the communities.
Access to some indigenous communities is also an obstacle, as is the lack of availability of immunizers.
To alleviate the problem, the Joint Commands (CCj – Comandos Conjuntos), made up of military personnel from the Navy, Army and Air Force, have been providing support in the North, Northeast and West regions of the country.
Read Also:
Covid-19 In Brazil, Intrepreneurs And Entities Unite To Solve Obstacles To Vaccination
Migration Crisis, Flood And Epidemics Put Acre (Brazil) In A State Of Emergency
Pandemic, Manaus Variant Spreads Across Brazil: P1 Present In 12 States
Source: