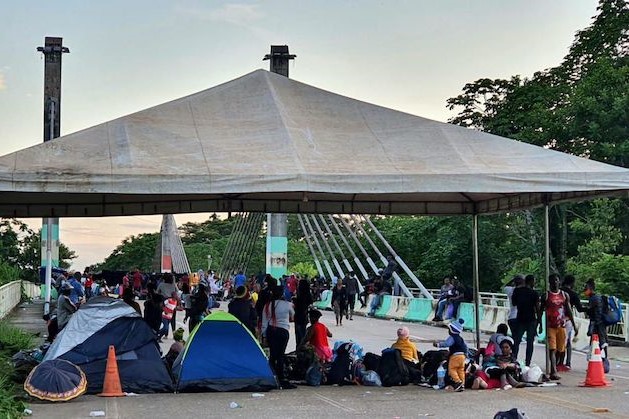 Migration crisis, flood and epidemics put Acre (Brazil) in a state of emergency
Brazil, a series of recent events has led the state of Acre to face an unprecedented situation.
Since the beginning of 2021, the number of dengue cases has exploded in the region, which already has more than 8,600 suspected cases.
In the last week, rains have caused rivers and streams to overflow, dislodged families in more than 10 cities.
Added to this, the second wave of Covid-19 affected the state, which suffers from a lack of ICU beds, and an unexpected humanitarian crisis involving hundreds of immigrants aggravates the scenario.
The governor of Acre (Brazil), Gladson Cameli, decreed an emergency situation and installed a temporary crisis office to manage the situation
Among the measures that the federal government announced to mitigate the floods is the release of R$ 450 million for several municipalities.
The Ministry of Justice, on the other hand, authorized the use of the National Security Force in the state, in "exceptional and temporary blocking activities of foreigners entering the country".
President Jair Bolsonaro said he intends to go to Rio Branco, capital of Acre, next Wednesday (24).
Immigrants trying to cross into Peru, whose borders are closed because of the pandemic, are increasing tensions in the city of Assis Brasil.
Right now, more than 400 immigrants, mostly Haitians, are in shelters or camped on the streets.
The possibility of increasing this migratory flow is worrying, since the city does not have the capacity to serve so many people and the agglomeration further increases the risk of contamination by coronavirus.
According to the State Department of Health (Sesacre), Acre has 54,743 covid-19 infected and 957 deaths. The ICU bed occupancy rate rose to 91%, and is concentrated in the two largest cities, Rio Branco and Cruzeiro do Sul.
Assis Brasil leads the ranking of covid contamination rate in the state, with 1,375 cases per 10,000 inhabitants.
Acre (Brazil): the state of emergency is expected to extend in the coming days due to rain forecast until February 25
Acre already has almost 130,000 people affected in some way by the flood of rivers in the capital and in the interior of the state. Residents affected by the floods were taken to shelters set up in schools, churches, gymnasiums, sports courts and boats.
Floods further increase the risk of dengue.
Read Also:
Pandemic, Manaus Variant Spreads Across Brazil: P1 Present In 12 States
Source: