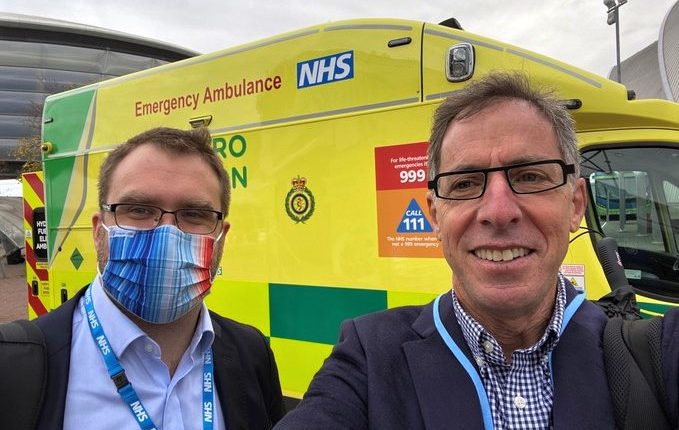 COP26: National Health Service (NHS) hydrogen ambulance unveiled
The hydrogen-powered ambulance that won UK government funding in January this year was unveiled at the COP26 Climate Summit
COP26, the National Health Service (NHS) unveils its hydrogen ambulance
The hydrogen ambulance is now a reality, travelling over 500 km on a single tank. The NHS wants to reduce pollutant emissions from health transport.
The target is set for 2032, when they want to cut CO2 emissions by 80%.
MEDICAL CONSULTANCY FOR EVENTS AND FIRST AID TRAINING: DMC DINAS MEDICAL CONSULTANTS AT EMERGENCY EXPO
The characteristics of the NHS hydrogen ambulance
The ambulance's engine is electrically powered by fuel cells.
The fuel cells are in turn powered by hydrogen, which according to the technical partner, the Scottish company Hydrogen Vehicle Systems, was chosen as the energy carrier to offer greater versatility to the vehicle.
By way of comparison, the battery-powered electric ambulance put into service in October, with a 96 kWh battery, can only travel 177 km.
It has been calculated that the English health service alone contributes 5.4% of the country's emissions, including buildings, and on the mobility front the NHS is responsible for 3.5% of national traffic.

The adoption of more than 1,000 such ambulances could help significantly.
A selfie with my climate/health hero ⁦@watts_nick⁩, pictured with his shiny new 100% EV ambulance. He & ⁦@NHSEngland⁩ are buying 1,200 more, and they are looking for partners interested in doing a bulk buy with them. ⁦@GCHAlliance⁩ ⁦@docsforclimate⁩ pic.twitter.com/Jwr3gF5lf8

— Ed Maibach (@MaibachEd) November 1, 2021
Read Also:
UK, H-powered Ambulance Wins Share Of Government Funding
Toyota Tests World's First Hydrogen Ambulance In Japan
E-Ambulance: ESprinter Presented In Germany, The Result Of Cooperation Between Mercedes-Benz Vans And Its Partner Ambulanz Mobile GmbH & Co. KG Of Schönebeck
COP26, UN: "Extreme Weather Events Are The New Normal. Record Greenhouse Gas Emissions"
Source: