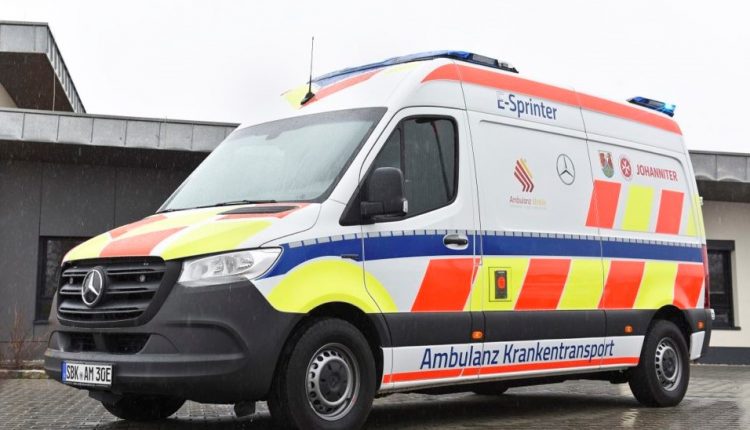 Electric ambulance: eSprinter presented in Germany, the result of cooperation between Mercedes-Benz Vans and its partner Ambulanz Mobile GmbH & Co. KG of Schönebeck
Electric ambulance – an important step forward for Mercedes-Benz, which has made one of the most widely used ambulance vehicles, the Sprinter, available for the development of a fully electric ambulance.
Electric ambulance, the note on the eSprinter
For decades, the field of special vehicles for the emergency, fire and police services has been of great importance to Mercedes-Benz. The Sprinter was first used as an ambulance back in 1995 and today accounts for a large market share in the medical services sector, being used as an emergency vehicle with different equipment variants.
In times of pandemic, the need for reliable vehicles to be used for first aid and patient transport is increasing dramatically. Mercedes-Benz Vans and its partner Ambulanz Mobile GmbH & Co. KG in Schönebeck, Saxony-Anhalt, are currently developing a fully-electric vehicle to serve the health sector on the basis of the eSprinter.
With a range of 120 kilometres and a top speed of 120 km/h, the electric vehicle for transporting patients can travel with zero local emissions not only in cities but also in metropolitan areas.
Despite the necessary components mounted in the patient compartment, the electric ambulance does not exceed a total weight of 3.5 t on the ground.
This means that even drivers with a passenger car driving licence can carry out the patient transport service.
To this end, materials of particularly low weight but still high quality were carefully chosen for the fitting-out work.
Thanks to the installation of two control units, the power supply of the superstructure is separate from that of the base vehicle.
This means that the availability of medical devices is independent of the vehicle battery.

eSprinter: The first customer-ready electric ambulance was delivered to Bindow, near Königs Wusterhausen, in mid-March
Since then it has been used as part of an experimental deployment by the evangelical relief organisation of the Order of St John, 'South Brandenburg Regional Association'.
The company Ambulanz Mobile GmbH is providing close support to the charity and is thus able to use the knowledge gained in everyday use in the further development of this vehicle, which is to be distributed throughout Europe.
Read Also:
EMS In Japan, Nissan Donates An Electric Ambulance To Tokyo Fire Department
First Electric Ambulance In The UK: The Launch Of The West Midlands Ambulance Service
Nissan RE-LEAF, The Electrical Response To The Consequences Of Natural Disasters / VIDEO
Germany, Hanover Fire Brigade Test Fully Electric Ambulance
The Future Of Emergency Medical Services Is Here! Falck Launches Unique Electric Ambulance
Source: