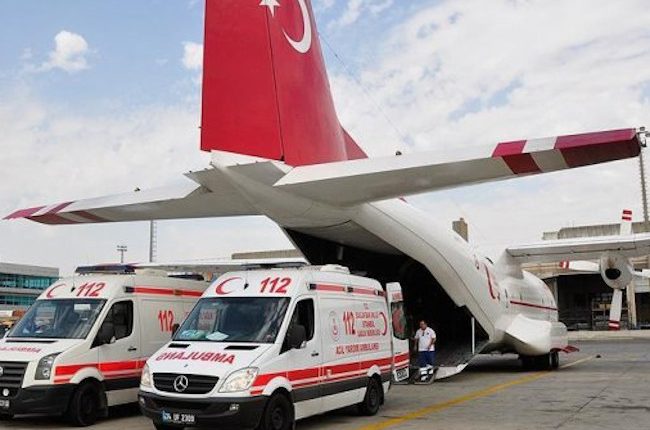 The repatriated Turkish citizen with COVID-19 by Air Ambulance has been discharged
After the discovering of being infected by COVID-19, a Turkish citizen who lived in Sweden with his family was repatriated by air ambulance after the treatments deny by Swedish authorities. Now he has been discharged.
As Daily Sabah reports, Emrullah Gülüşken, the Turkish citizen who was transported by air ambulance back in Turkey because of COVID-19, has recovered in the Ankara Şehir Hospital. In Sweden, where he contracted the disease, treatment was denied.
Turkish citizen affected by COVID-19 who's been transported by air ambulance – The story
Once he arrived in Turkey with air ambulance, he was admitted to an intensive care unit for COVID-19 and later moved to a regular ward. He has just been discharged from the hospital in the Turkish capital after making a complete recovery.
In Malmo, Sweden, Mr Gülüşken tested positive for COVID-19 but was denied treatment by authorities. Repatriation with air ambulance revealed necessary. In late April, his daughters, Leyla and Samira shared posts on social media, asking for help from Turkish authorities. After that call, the Turkey's Health Minister Fahrettin Koca replied soon with the following tweet.
"Dear Leyla, we heard your voice. Our ambulance airplane is taking off at 6 a.m. and we're coming to Sweden".
The mission of Turkish Government to repatriate the COVID-19 citizen by air ambulance
Minister Koca wrote also that daughters did something that would be an example to all. Our country took very swift action to the Turkish citizen affected by COVID-19. Our air ambulance brought the patient from Sweden this morning.
Air ambulances, in particular, started to become known after bringing Gülüşken from Sweden. Since 2008, Turkey is the only country in the world offering free air ambulance services to its citizens, according to the Health Ministry. As of the end of April, 664 Turkish citizens with various illnesses had been transported by the government.
READ ALSO