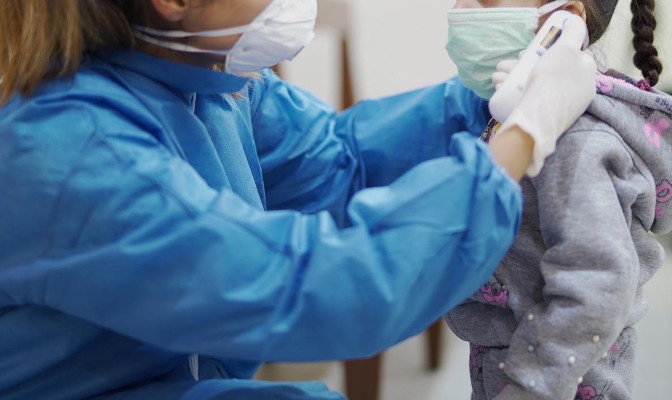 Acute hyperinflammatory shock found in British children. New Covid-19 pediatric illness symptoms?
An unprecedent cluster of 8 children with hyperinflammatory shock similar to the Kawasaki disease shock syndrome have been registered in London. Could they be new Covid-19 pediatric illness symptoms? Now, because of this cluster there is a national alert in the UK.
According to the reliable British journal, The Lancet, During a period of 10 days in mid-April, 2020, eight children with hyperinflammatory shock, have been noted. They were showing features similar to atypical Kawasaki disease. In particular, the South Thames Retrieval Service in London, UK, that provides paediatric intensive care support and retrieval to 2 million children in South East England, had the possibility to register those children. could it be considered as new Covid-19 pediatric illness symptoms?
Introduction – Hyperinflammatory shock symptoms and Covid-19 in children. A new pediatric illness cluster in London?
This phoenomenon is hitting previously healthy children. None of these symptoms have been ever registered. Six of them were of Afro-Caribbean descent, and five of them were boys. Except one, all children were above the 75th centile for weight, while four had known family exposure to coronavirus disease (Covid-19). The table of this study can be consulted HERE.
The cases – Children with hyperinflammatory shock. Could they have a new Covid-19 illness?
All children presented the same symptoms and their clinical presentations were similar. The cases showed unrelenting fever between 38–40°C, variable rash, conjunctivitis, peripheral oedema, and generalised extremity pain with significant gastrointestinal symptoms.
As Lancet continuous to report, "all progressed to warm, vasoplegic shock, refractory to volume resuscitation and eventually requiring noradrenaline and milrinone for haemodynamic support. Most of the children had no significant respiratory involvement, although seven of the children required mechanical ventilation for cardiovascular stabilisation. Other notable features (besides persistent fever and rash) included development of small pleural, pericardial, and ascitic effusions, suggestive of a diffuse inflammatory process."
However, all children tested negative for severe acute respiratory syndrome coronavirus 2 (SARS-CoV-2 or Covid-19) on broncho-alveolar lavage or nasopharyngeal aspirates. The report continues, "Despite being critically unwell, with laboratory evidence of infection or inflammation, including elevated concentrations of C-reactive protein, procalcitonin, ferritin, triglycerides, and D-dimers, no pathological organism was identified in seven of the children. Adenovirus and enterovirus were isolated in one child."
Conclusion – Clinical picture of hyperinflammatory shock could suggest a new Covid-19 infection
The Lancet suggests "that this clinical picture represents a new phenomenon affecting previously asymptomatic children with SARS-CoV-2 infection manifesting as a hyperinflammatory syndrome with multiorgan involvement similar to Kawasaki disease shock syndrome. The multifaceted nature of the disease course underlines the need for multispecialty input (intensive care, cardiology, infectious diseases, immunology, and rheumatology)."
READ ALSO