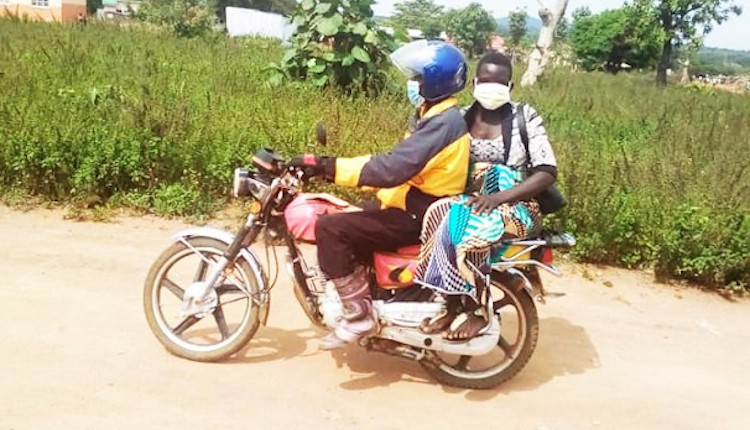 Uganda for pregnancy with boda-boda, motorcycle taxis used as motorcycle ambulances to save lives of women in labour
Many women in Africa suffer complications during labour. As reported by AVSI Foundation, every thousand women who are about to give birth to a baby 336 die. A very worrying data. That's why AVSI decided to take into consideration motorcycle ambulances.
Clelia Vegezzi, communication manager in Uganda for AVSI (official website link at the end of the article), reported that the popular motorcycle taxis are a perhaps uncomfortable but certainly indispensable resource when the time of delivery arrives. From here, the idea of motorcycle ambulances to give an extra service to women in labour.
Women in labour, fewer problems thanks to motorcycle ambulances in Uganda, now
"Thanks to our Boda-bodas, the number of births in medical facilities has tripled and this indicates that a higher percentage of women do not give birth to home. Plus, this data makes us understand that, what drives women to give birth at home, taking much greater risks, is the lack of time or means to reach the equipped centres", this is what Clelia Vegezzi reported.
She has been following the Alive 5 project, funded by Unicef, for five years. Now, she talks about a project in the West Nile region, on the border with South Sudan and the Democratic Republic of Congo. Here, dirt roads and remote areas have made Boda-bodas, popular motor-taxis, a resource certainly essential when it comes in time to give birth.
The 'Alive five' project to take women in labour to hospitals through motorcycle ambulances in Uganda
Mrs Vegezzi stated that, through the 'Alive five' project, AVSI has trained as many as 694 local Boda-bodas drivers to carry out this type of service. This is having a very positive impact on the health of women and children.
In 11 districts of the region of Kampala, small health facilities are scattered throughout the territory and are often too far. It is impossible for a woman in labour to reach them on foot. Of course, we do not have to consider rains that make the roads impassable even on foot.
Being able to move around, therefore, becomes essential and the driver plays a crucial role. AVSI also reports that taxi-drivers follow also a self-defence course, as it happens they are called at night. "They also receive first aid rudiments if the woman is not feeling well, like a BLS. Then, when they have to provide the service, they get paid on a monthly basis depending on the kilometers they have done".
Boda-bodas, the motorcycle taxis used as motorcycle ambulances in Uganda: discussions on social distancing
The government has banned the use of Boda-bodas due to the physical distancing measures to contain the COVID-19 epidemic. Clelia reports that is a big problem for pregnant women. However, the authorities have issued special permits with which motorcycle taxis, at least for pregnant women, can circulate.
Boda-bodas guaranteed 1,464 transfers to the healthcare facilities only in April, Clelia declared again. Without this service, women would not have been able to move, with serious health risks.
READ ALSO
Motorcycle ambulance or van-based ambulance – Why Piaggio Mp3?
RESOURCE
SOURCE