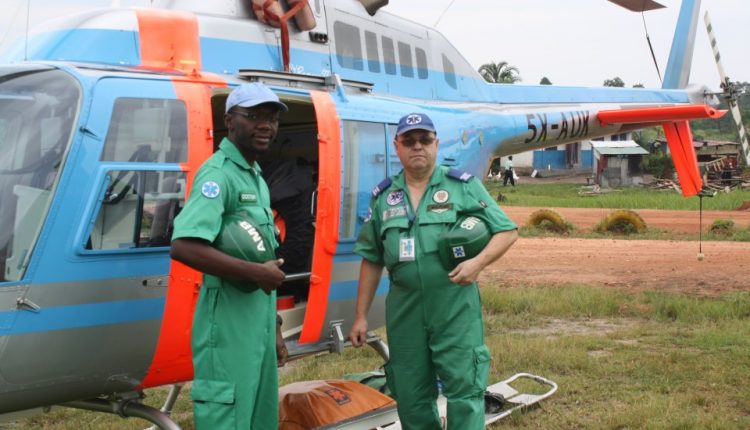 EMS in Uganda – Uganda Ambulance Service: When passion meets sacrifice
In Uganda, a paramedic decided to create an Ambulance Service where there was nothing similar. This prehospital care system is now a milestone and ambulance practitioners of the Uganda Ambulance Service serve also other countries in Africa.
Fifth chapter for our "EMS in Africa" section. This time we are going to speak about Uganda Ambulance Service. This is a pre-hospital care company located in Kampala, Uganda. We talked with the Head of EMS of Uganda Ambulance Service, Eric John Walford and he explains what they do every day to save lives.
How is Uganda Ambulance Service organized?
"In Uganda emergency field is managed by private companies who run ambulance services, and clinics which organize their own ambulances. Officially, if someone rings 112 or 999 to ask for an ambulance, this person reaches the police department. Indeed we still have our full number, at the moment. So you dial +256  782 55 68 78, we get your right position and we can send you the nearest ambulance we have. We have ambulances we can call on, specifically we can call 8 first line ambulances, 13 second line ambulances and 15 third line ambulances. Among them, only the 8 first line ambulances are fully equipped. The ambulance that we usually dispatch need a driver and at least a nurse to go out when an emergency occurs.
Indeed urban ambulances have trained staff who is always ready to be dispatched. In particular we are specialized in aeromedical service. Actually, because of the cost, we currently do not own helicopters, but in case there is a patient to pick up in a specific place, we contact the nearest airport and ask for a vehicle to reach the patient. Caravans in particular are the best of the category for our needs. To send an airplane to rescue someone is very expensive. Bear in mind that small helicopters cost about 6 000 dollars and big ones cost around 12 000 dollars."
What kind of practitioners are part of your team and what are the training?
"Many of our operators are nannies and they must attend 1-day introduction course without exam. On the other hand we have other 5-day courses which are more intense that include health and safety. We can also provide courses of firefighting through airport fire brigades. We can do also EMT courses but they are 12-week course. We have done one before here and it happens sometimes to do it, even if it not frequent. However we provide ATLS and pre-hospital care courses. We also do survival courses, especially for the pilots who often fly into Congo, how to survive in a bush, how to make shelters, how to get food and water. We can also provide driving and advanced driving courses. With all of this, we try to organize short courses, because we noticed that people are not so keen on spending money for long-lasting courses."
Which is the percentage of territory where the Uganda Ambulance Service provides medical assistance?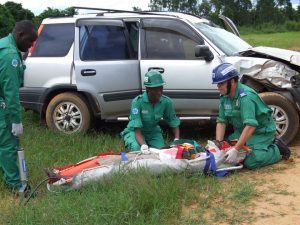 "We are not only dispatched in Uganda, we also fly into bordering countries, like DR Congo. Recently we picked up many patients from gold mines, which are much isolated. So it is usual that we are called to pick up some people from there and carry them to the nearest hospital in this country, in this case, in Kampala, generally. Then, we also fly in South Sudan, in particular from the borders. We are also dispatched in Somalia and Rwanda. Even if all of these nations have their own facilities, the war makes everything difficult and many times their own facilities are not enough."
Do you have some project for the future of the Uganda Ambulance Service?
"Yes I still have a dream since 1989. I hope to run an ambulance service which can dispose of 2 ambulance per town, one day. One ambulance would be in a village and one in the town, so they can support each other. In particular we would set a free way of payment for the service, so ones who cannot give money, they can give something they have, such as chickens or potatoes, for example.
I still work on ambulances and I remember that in the sixties when I was on city ambulances and we provided free service, we did our job, even with less equipment or even if it was more inadequate than now, for example we washed gloves to use them again. And I think that, for what we have, we did a good job. Now, if you are not insured, you go nowhere.
Indeed, now-a-days if someone calls and ask to pick them up because they need medical assistance, generally we go, because we trust they are insured. It is not a matter of money for us, but using a specific resources implicates some limit. However we can count on some dedicated people, maybe someone who we saved once or just simple donors who pay extra money to let us buy gloves, for example. Just think that people could die for an ordinary item like a pair of gloves.
Actually, running an ambulance service like the one I dream would require many financials. Currently we still growing, but not in the way we believed in."
READ THE COLUMN ARTICLES: