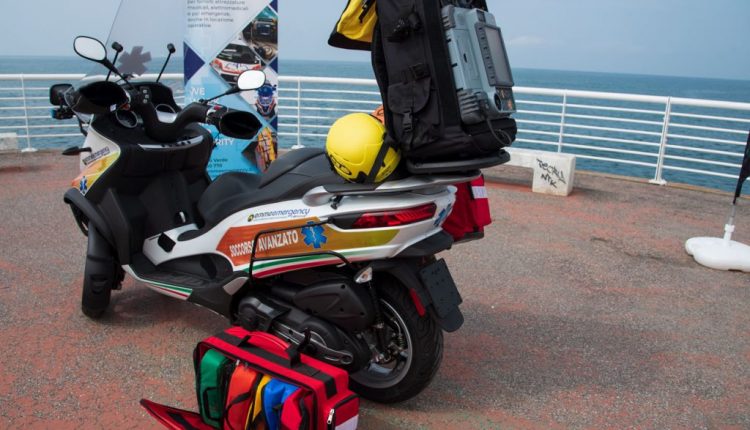 Motorcycle ambulance or van-based ambulance - Why Piaggio Mp3?
When is it useful to introduce a motorcycle ambulance unit response in the fleet? We look at the Piaggio project because it can meet the responders' needs in different areas of the world, with the three-wheeled Mp3 in the 500 hpe and 350 versions.
Balance, regulations and road traffic rules. These are the elements that make rescuers often afraid to move aboard a motorcycle ambulance. There are other three important aspects on which we must never compromise with when we provide emergency care.
The emergency vehicle must:
not cause accidents
protect emergency care responders
be easy to manage
When the situation requires a compact and agile vehicle in secondary services, motorcycles have been always used. Traditional motorcycles and scooters carry the risk of any two-wheeled vehicle: they do not have all the equipment available on a medical car, and they need the experience to be driven safely.
For some years, however, Italy, Australia, Israel, England and Singapore have begun testing an advanced solution that is much more effective in traffic and faster in extremely busy areas. This is the Piaggio Mp3, a three-wheeled scooter that suddenly solves several operational needs of pre-hospital care service.
Which advantages can a 3-wheeled motorcycle ambulance offer?
In the EMS world, it has been decided to test different vehicles, over time, to overcome the problems of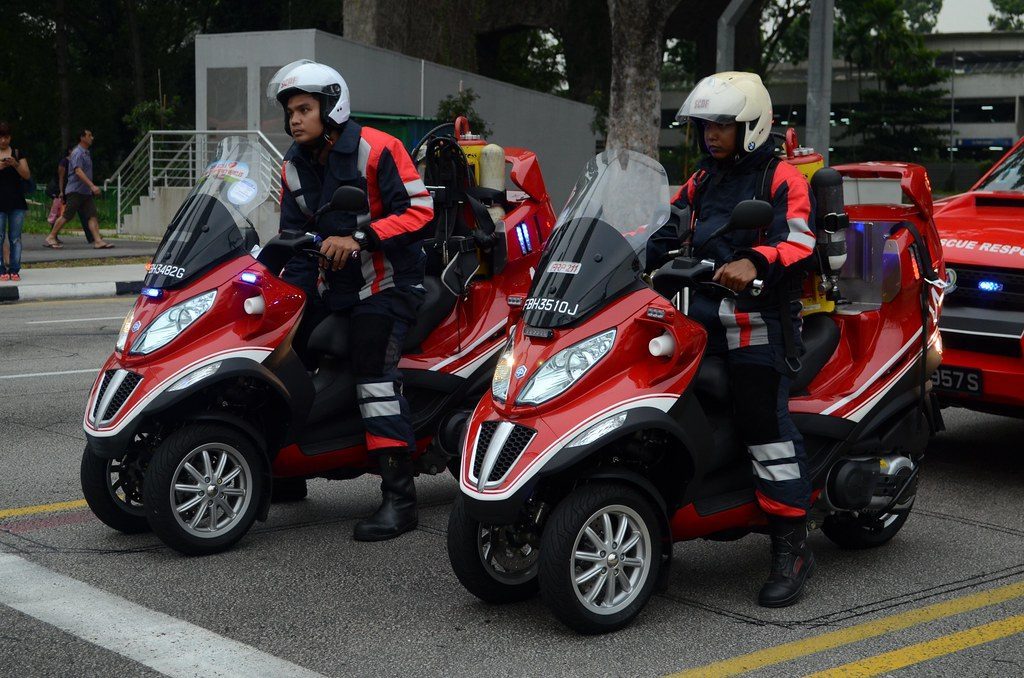 motorcycles while having speed and equipment to intervene correctly. In New York, they've tried the quads (but they still are too big, difficult to drive, and not always comfortable). In some old town centres and exhibition areas, they thought about electric golf cars. But they are slow, bulky, and their charging time is long.
Then, a new type of vehicle arrived on the market and redefined the concepts of safety and stability in the world of scooters, equipped with ASR and ABS, a good space for emergency medical devices storage and great autonomy. Piaggio Mp3 has immediately become a very interesting vehicle for first aid services. Smoothly ride, without too many hours of training, and a powerful engine enough even to ride on motorways.
Loadspace ensures smart weight distribution, which does not affect the dynamic qualities of the motorcycle. However, Piaggio did not leave anything to chance. Currently, the manufacturer located in Pontedera (Tuscany – Italy) is the only one in the world which registered its Mp3 vehicle as a "special vehicle" (read emergency vehicle or ambulance motorcycle), marketing it with emergency devices (sirens and flashing lights).
In particular, in Italy, in compliance with the Highway Code, the vehicle registration document shows the information on the presence of emergency equipment. This is a project started a few years ago, capable of collecting scientific evidence on the effectiveness of a first rapid health intervention in patients with time-dependent pathologies. Cardiac arrests, traumas, massive haemorrhages are treated by health professionals and first responders with intervention times of around 4 minutes. This means making the difference between life and death in a patient suffering from cardiac arrest.
As the most modern regulations report, treating and stabilizing a traumatic patient as soon as possible is the only way to be able to understand whether – in the hospital – it will be possible to save him/her. Even more so in cardiac arrest and mass-bleeding. Within 5 minutes the OHCA patient loses many chances of survival and risks permanent brain damage. Today, therefore, it is possible to include a Piaggio Mp3 medical bike with a BLSD kit in your pre-hospital service system to intervene quickly and stabilize a patient while awaiting the arrival of the ambulance or helicopter.
How to ride a motorcycle ambulance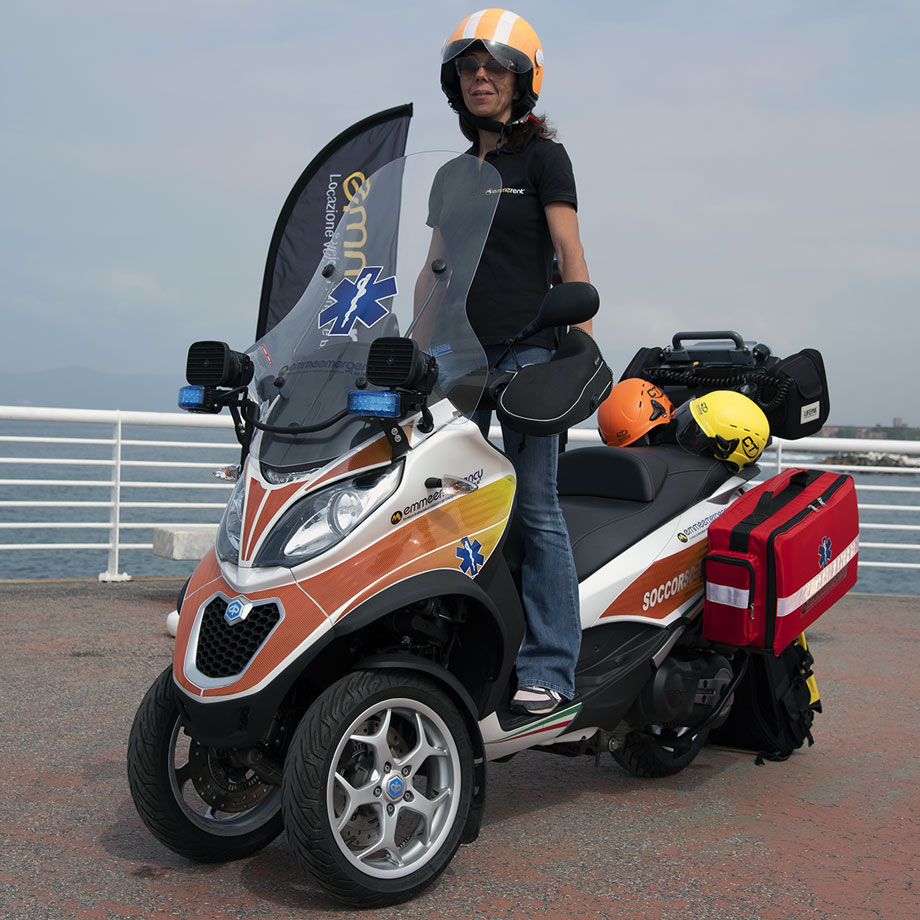 The second great advantage, which is the pride of Piaggio that realized this vehicle, is that Mp3 motorcycle does not require a motorcycle license to be ridden. In most EU and non-EU Countries, can be ridden with the car-driving license as it is approved as an L5 three-wheeled vehicle over 15kw. Obviously, the dynamics, the way of riding and the control of the vehicle are different from a "private" use (distress, presence of lights and acoustic devices).
That's why all the operators should attend a safe-driving course before to ride a motorcycle ambulance. In a few hours of the practical course, the management of a medical vehicle such as the Piaggio Mp3 can be easy to get and put on practice again. This three-wheeled motorcycle has a unique technology to guarantee stability in every situation. The problem related to the equipment is solved by Piaggio, which provides brackets and cases suitable for emergency medical equipment transportation.
How much does a motorcycle ambulance costs?
Today, Piaggio Mp3 guarantees a rapid response to maxi-events, first-aid casualties and advanced medical/nursing services. The attention on Piaggio's technologies is becoming higher and higher and many are asking for tests. Also because the total equipment cost of a motorcycle ambulance Piaggio Mp3 is almost 10 times lower than ambulance equipment and 5 times lower than a medical car one.
How much a healthcare response solution like this impacts on the budget?
Studies carried out in the Netherlands speak of a reduction of almost a minute (54s) in response time, and of dispatch decisions improvement because the timely presence of a healthcare professional on the scene guarantees a more appropriate assessment. In extreme situations, such as those in the 2014/2015 trial in Iran, they guarantee a reduction in intervention time and improvement in dispatch with 2 minutes of recovery and more precise hospitalization.
Mp3 500 motor ambulance by Piaggio presented in Lucca (Italy) during the Misericordie D'Italia Congress.
Prev
1 of 4
Next
The Magen David Adom, with more than 28 thousand volunteers, first responders and health professionals, on the other hand, has shown an improvement in the outcomes of cardiac arrest, thanks to more than 300,000 CPR carried out since 2010 by the response crew. Of course, we are talking about a magnificent reality: a thousand ambulances, 650 ambulance motorcycles, 147 intervention stations, thousands of volunteers, 400 ALS units and a first-rate dispatch centre.
WANT TO KNOW MORE ABOUT PIAGGIO MP3
MOTORCYCLE AMBULANCE?