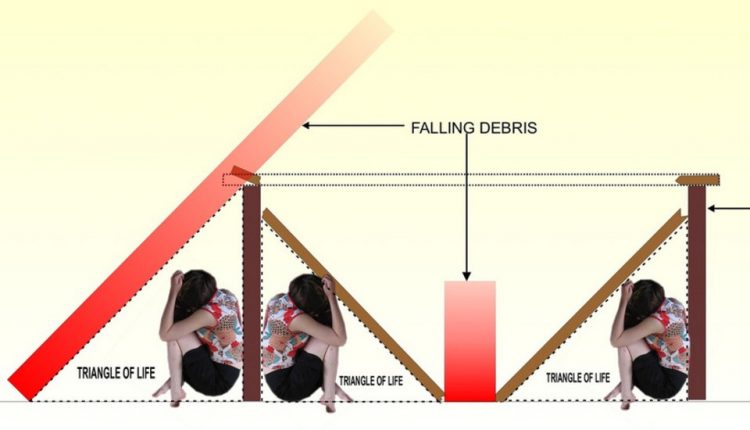 Earthquakes and natural disasters: what do we mean when we talk about the 'Triangle of Life'?
When we talk about the 'triangle of life' we are, of course, talking about the controversial theory of earthquake survival proposed by Doug Copp, founder of ARTI (American Rescue Team International)
Triangle of Life Theory
Doug Copp's methods reject the usual 'Dive, Cover, Cling' approach and focus on hiding next to heavy objects.
The theory holds that when a building collapses, voids remain next to larger objects that act as structural support.
According to Doug's website, this theory is supported by over 150 studies and 'millions' of images.
The website also claims that Doug has 30 different credentials to support his claims, although it does not list what they are.
The Triangle of Life theory made its way into the mainstream through a viral email.
It is perpetuated by Copp himself and like-minded people.
SETTING UP SPECIAL VEHICLES FOR FIREFIGHTERS: DISCOVER THE PROSPEED BOOTH AT THE EMERGENCY EXPO
The merits of the 'Triangle of Life' theory
Most of Copp's theories seem to be based on what he has witnessed during earthquakes around the world.
In many countries building regulations are less strict than in North America and buildings are often older or made of different materials.
These differences can lead to what is called a 'pancake collapse' in a major emergency.
A pancake collapse occurs when a building suffers a total structural failure.
This is a Hollywood-style collapse, with nothing left standing.
Studies have shown that the Triangle of Life theory is valid in situations where a total collapse is likely.
MANAGING MAJOR CIVIL PROTECTION EMERGENCIES: VISIT THE SERAMAN BOOTH AT EMERGENCY EXPO
Earthquakes in which the Triangle of Life theory lends itself to limits:
During an earthquake, most casualties are due to falling objects and not the collapse of structures.
Especially in Europe and North America, where building regulations and materials are robust, it is statistically more likely to be crushed by a filing cabinet than trapped in rubble.
For this reason, authorities are highly sceptical of any preparation advice that teaches one to move towards heavy and potentially unstable objects.
In addition to his personal observations, Doug Copp supports his theories with studies he has conducted.
The most important of these uses earthmoving technology to break down the supporting structures of schools and model homes.
Dummies are placed in the building in various positions and, according to Copp, they show a 100 per cent survival rate for 'Triangle of Life' users and only deaths for 'Duck and Cover' practitioners.
According to critics, these are rescue drills rather than experiments.
The lateral movement of an earthquake is left out, encouraging a pancake collapse instead of the damage more likely to occur in developed countries.

Both the Canadian and US governments still support the 'Drop, Cover, and Hold on' approach to earthquake preparedness.
Another of Doug's teachings has become an urban legend over the years, even though he was not the original source.
This persistent advice is to stand in a doorway if there is an earthquake.
Under scrutiny, however, this lesson does not hold up.
The door is not structurally stronger than the rest of the wall and will not protect victims from falling furniture or other objects.
The Shakeout BC specifically mentions the myth of the door and the triangle of life in the section 'What not to do'.
SPECIAL VEHICLES FOR FIREFIGHTERS: VISIT THE ALLISON BOOTH AT EMERGENCY EXPO
Triangle of Life at a glance
If you travel to a developing country and spend time in buildings that you consider structurally weak, consider using the triangle of life survival method.
If you are in a developed country with modern building codes, remember that a total structural collapse is very unlikely and stick to the 'Duck, Cover, Hold on' survival method.
Don't forget your emergency kit for when the shaking stops!
References:
Read Also:
Emergency Live Even More…Live: Download The New Free App Of Your Newspaper For IOS And Android
How Unprepared Are You For An Earthquake?
Earthquake and How Jordanian hotels manage safety and security
PTSD: First responders find themselves into Daniel artworks
Earthquakes And Ruins: How Does An USAR Rescuer Operates? – Brief Interview To Nicola Bortoli
Los Angeles County Fire SAR Dogs Assisting In Nepal Earthquake Response
Surviving An Earthquake: The "Triangle Of Life" Theory
Source: