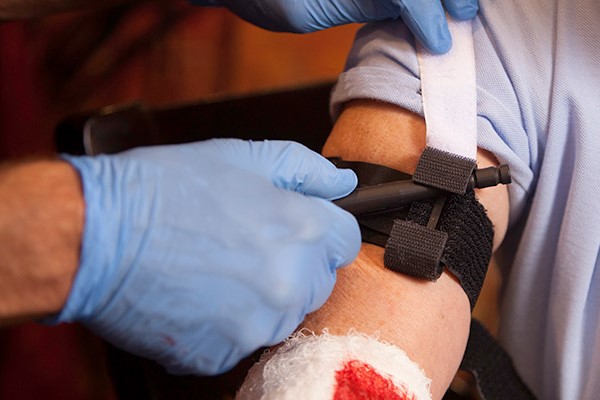 Tourniquet, a study in Los Angeles: 'tourniquet is effective and safe'
The tourniquet is essentially an arterial tourniquet. It has long been the subject of debate as to its actual usefulness: an interesting study from Los Angeles is sure to be worth reading
Tourniquet, the study published in the Journal of The American College of Surgeons
A study recently published in the Journal of The American College of Surgeons entitled "Increasing Prehospital Tourniquet Use and Patient Survival: Los Angeles County Wide Study" showed that arterial tourniquets are safe and effective in reducing blood pressure, mortality and the need for blood replacement in patients to whom they are applied.
The study showed that an increase in tourniquet use over time was matched by a fall in deaths in patients with blood loss
The study reported a mortality rate of 8.9%, which dropped to 1% in patients who had an arterial device applied.
In addition, patients with device required haemotransfusion in a very small percentage of cases, compared to those patients who did not.
Standard patients had to transfuse about 3.5 litres of blood in 24 hours compared to device patients who only had to transfuse 1.5 litres in the same time period.

Regarding one of the major risks perceived by healthcare professionals when placing a tourniquet, amputation, the study showed that this technique did not cause more amputations in the patients to whom it was applied, confirming the safety of the technique.
RESCUERS' RADIO IN THE WORLD? VISIT THE EMS RADIO STAND AT EMERGENCY EXPO
Read Also:
T. Or No T.? Two Expert Orthopaedics Speak On The Total Knee Replacement
T. And Intraosseous Access: Massive Bleeding Management
Source: