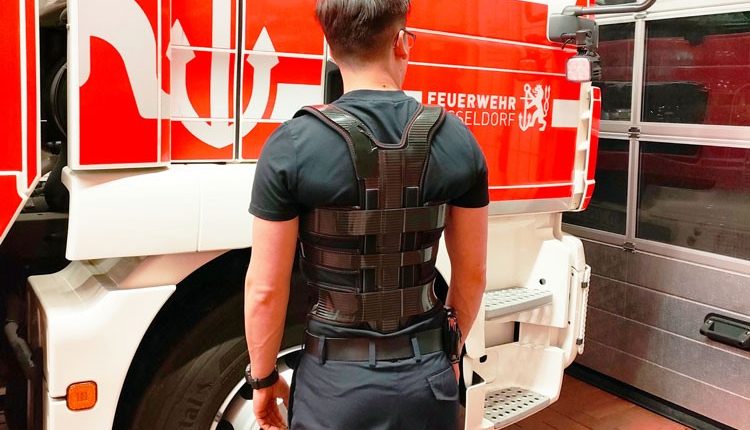 Exoskeletons (SSM) aim to relieve rescuers' spines: the choice of fire brigades in Germany
In order to offer emergency services the best possible protection during back fatigue activities, the fire brigade in Düsseldorf, Germany, is now using the so-called Spine Support Module (SSM)
WOULD YOU LIKE TO KNOW MORE ABOUT THE ACOUSTIC AND VISUAL SIGNALLING DEVICES SIRENA DEDICATES TO AMBULANCES, FIRE BRIGADES AND CIVIL PROTECTION? VISIT OUR BOOTH AT EMERGENCY EXPO
The exoskeletons, originally designed for the military sector, have been adapted to the needs of the rescue service
The corset, which weighs approximately one kilogram, supports the stabilisation of spinal column rotation through the functional structure between the trunk brace and the pelvic ring.
This prevents both hyperlordosis (hollow back) when bending or lifting heavy objects and hyperflexion (curved back) when sitting in the wrong position or working in a bent posture.
In addition, the spine is protected in the event of a fall and during rapid turning and bending movements.
A slight extension of the spinal column prevents excessive pressure on the intervertebral disc.
According to the manufacturer, the optimisation of the transport load exceeds 40 per cent, explains Simon Janßen, occupational safety specialist.
Already in January, two employees of the Düsseldorf fire brigade from the safety and exchange service tested the extent to which the SSM is suitable for the daily work of the rescue services.
FITTING OUT SPECIAL VEHICLES FOR FIRE BRIGADES: DISCOVER THE PROSPEED BOOTH AT THE EMERGENCY EXPO

Thanks to the exoskeletons a significant facilitation during lifting and transport has been noticed
The exoskeleton has been tested by a larger group of people since April.

During the six-month test phase, six of the exoskeletons are to be checked for operational limits, transport comfort and usage time by the fire brigade and rescue service, as well as daily safety.
The test phase is accompanied by the company medical service.
After the evaluation, a decision will be made on the nationwide use of the MVU.
SPECIAL VEHICLES FOR FIREFIGHTERS: VISIT THE ALLISON BOOTH AT EMERGENCY EXPO
Read Also:
Emergency Live Even More…Live: Download The New Free App Of Your Newspaper For IOS And Android
Anxiety: A Feeling Of Nervousness, Worry Or Restlessness
Firefighters / Pyromania And Obsession With Fire: Profile And Diagnosis Of Those With This Disorder
Hesitation When Driving: We Talk About Amaxophobia, The Fear Of Driving
Rescuer Safety: Rates Of PTSD (Post-Traumatic Stress Disorder) In Firefighters
Firefighters' Risk Of Irregular Heartbeat Linked To Number Of On-The-Job Fire Exposures
Ambulance Professional Back Pain War: Technology, May You Help Me?
Source: