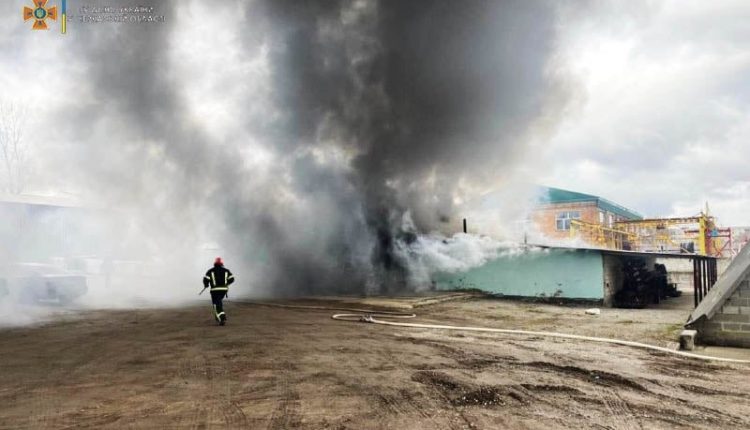 Ukraine crisis, firefighters working across Kiev to put out bombing fires
The crisis in Ukraine has also resulted in great pressure on ambulance and firefighters rescuers, who are forced to deal with the consequences of the bombings: injuries and fires
Kirovograd region. Near the village.
Bogdanovka of the Kropyvnytskyi district on the territory of the military unit there was a fire in two warehouses.
Firefighters and Armed Forces engaged in the extinguishing of bombing fires
22 people and 4 units were involved, in bogdanovka.
It was decided, in order to relieve the pressure on the military and the fire brigade, that the units of the State Emergency Service of Ukraine in the Kiev region would be involved in the suppression of fires in structures in the region that were hit by airstrikes.

Ukraine, Cherkasy region in flames after Russian invasion: Firefighters at work
As of 13:30 on 24 February, a series of fires broke out in Uman, in the Cherkasy region, after an attack by a Russian enemy.
The operational situation in the city has worsened.
At least four fires are known to have broken out, the press centre of the State Emergency Service said.
"At 10:05 a.m. in Derevyanka Street there was a fire in a warehouse for storage of finished products – plastic products.
The area of the fire was about 3 thousand square meters.
The fire was extinguished.
At 10:45 in the street.
Vinnytsia highway near the village of Rozsishky, a fire broke out in the warehouse of one of the enterprises as a result of a bullet strike.

The area of the fire was 500 square metres.
The fire was extinguished.
At the same time, the fire in the warehouse in the railway station street", – reads the message.
The fire in the warehouse with car goods is currently being extinguished.
The area of the fire is 500 sqm. m.
Read Also:
Emergency Live Even More…Live: Download The New Free App Of Your Newspaper For IOS And Android
Ukraine, A Brochure On What To Do In Case Of Emergency Or War: Advice For Citizens
Russia, The International Red Cross And Red Crescent And The Ministry Of Emergencies Discussed Cooperation
Ukraine, A Course For Women On How To Survive In The City In Case Of War And Emergencies
Ukraine, Red Cross Concerned About The Fate Of Civilians
Ukraine, Russian Bombardment Hits Hospital: Four Dead And Ten Wounded. Martial Law In Force
Ukraine, Volunteers At The Border With Romania: "We Are Preparing For Refugees"
Source: