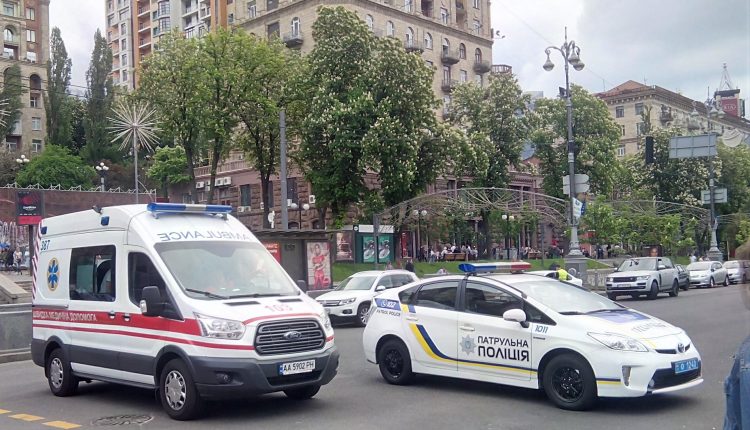 Ukraine, a brochure on what to do in case of emergency or war: advice for citizens
Tension in Ukraine is rising, and the whole world of emergency relief is preparing for a dangerous and difficult time
The Centre for Strategic Communications and Information Security of Ukraine has presented a booklet 'In case of emergency or war'
The pamphlet contains practical advice taking into account Ukrainian and foreign experience and recommendations on information security: tips for preparation at home; what to do in an emergency situation or in a combat zone; how not to fall victim to misinformation; what to do after receiving the signal "ATTENTION TO ALL"; how to prepare a "Rescue Backpack".
The brochure was developed at the initiative of the Centre together with the State Emergency Service, the Ministry of Defence, the Office of the Commander-in-Chief of the Ukrainian Armed Forces and public organisations.
Brochure issued by the government of Ukraine on what to do in case of emergency or fighting
The leaflet disseminated by the Government of Ukraine on what to do in case of emergency or combat
Some questions should be considered in advance in order to best equip your home in case of an emergency and protect yourself and your loved ones:
if possible, find out where the nearest shelters are located and check the state of the basement;
check for the presence of an emergency exit;
stock up on drinking water and technical, long-life products;
check the availability of first-aid kits in the first-aid kit and think about which medicines might be needed for a long time;
prepare fire extinguishers;
arrange alternative means of lighting the room in case of power failure (torches, candles);
prepare means of cooking in the absence of gas and electricity;
collecting the most necessary belongings and documents in case of urgent evacuation or transfer to storage;
take care of the correct status of private transport and fuel for timely evacuation from the danger zone;
in the cold season, think about alternative heating of the house in case of disconnection of the central heating.
HOW TO PREPARE A RESCUE BAG
In case of evacuation or transfer to a safer area, you will need the essentials.
Prepare the most important things in advance:
passport and copies of all necessary documents (birth certificate, military ID card, education certificate, workbook or pension certificate, property titles);
money (cash and bank cards);
mobile phone charger;
radio, torch, alarm devices, compass, watch, compact set of tools (multitool), knife, rubbish bags, notebook, pencil, thread, needles, matches, lighters;
warm clothes (if possible, also prepare a thermal blanket), underwear, comfortable and reliable shoes;
hygienic means;
first-aid kit (for details, see Appendix), including medicines taken daily, as well as prescriptions utensils for cooking, heating and storing food;
water and food for 3 days, which are stored for a long time and do not require additional and do not require additional cooking;
Put things in a spacious and comfortable backpack and keep it ready. In case of an emergency, this will reduce assembly time.
DURING SMALL ARMS FIGHTS:
– When shooting, it is best to hide in a protected room (e.g. in the bathroom or even in the bathtub itself). When this is not possible, you should lie down, covered with objects that can protect you from debris and bullets.
– If you are shot in the open, it is best to fall to the ground and cover your head with your hands. Effective protection will be any ledge, even a pavement, a deepening in the ground or a ditch. Even a concrete rubbish can or porch steps can be a shelter. Don't try to hide behind cars or kiosks: they often become targets. Often become targets.
– Wherever you are, your body should be in the safest position. Group, lie in the embryo position. Turn your feet in the direction of the shot, covering your head with your hands and opening your mouth so that a close blast will not damage your eardrums. Wait until the shooting dies down and there are no shots for at least 5 minutes.
– If your house is in an area of regular armed conflict, you should reinforce the windows (e.g. adhesive film) – this will help to prevent the spread of broken glass. It is preferable to close the windows, e.g. sandbags or solid furniture.

UKRAINE, WHAT TO DO DURING ARTILLERY FIRE:
– Do not stand in porches, arches or stairways during artillery, mortar or air raids . It is also dangerous to hide in the basements of prefabricated houses, near vehicles, petrol stations and under the walls of light construction houses. Such objects are fragile, and you could be trapped or injured.
– If you are caught in artillery fire, mortar shells or aerial bombardment on the way, lie down immediately on the ground, where there is a ledge or at least a small depression. Protection can be provided by concrete structures (except those that may collapse or catch fire), trenches, shallow underground shafts, wide gutters and ditches.
– Cover your ears with the palms of your hands and open your mouth – it will save you from contusion, save you from barotrauma.
– Do not start the dismantling analysis yourself, wait for the demining specialists and emergency service representatives.
RESCUE TELEPHONES AND EMERGENCY SERVICES IN UKRAINE
112 is the only telephone number of all emergency services. After calling this number, the dispatcher will call the required service team;
101 – Fire Service;
102 – Police;
103 – Ambulance;
104 – Gas network emergency service.
The leaflet is distributed to the citizens of Ukraine:
Брошура _У разі надзвичайної ситуації або війни_

Read Also:
Emergency Live Even More…Live: Download The New Free App Of Your Newspaper For IOS And Android
Disaster Emergency Kit: how to realize it
Emergency Bag, The Essential Emergency Kit In Case Of Disasters: VIDEO
No Longer Just Ambulance Drivers: EU And UNDP Join Forces To Train Paramedics In Eastern Ukraine
Source: