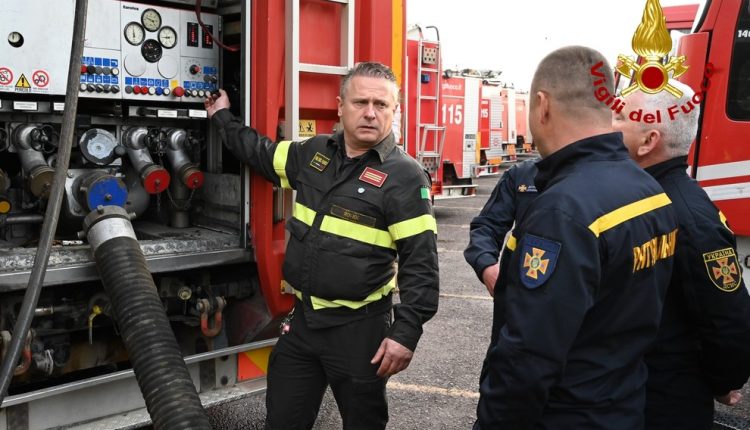 Ukraine emergency: ceremony to hand over vehicles donated by Italian fire brigade to Ukrainian colleagues / VIDEO
The convoy of vehicles donated by the fire brigade to Ukraine arrived at its destination on the afternoon of 3 May
SPECIAL VEHICLES FOR FIRE BRIGADES: DISCOVER THE PROSPEED BOOTH AT EMERGENCY EXPO
Italian Firefighters trained their Ukrainian colleagues in the operation of firefighting vehicles
During the day the arrival of the Italian Ambassador to Slovakia and the signing of the donation documents took place.
A message from the Head of the Corps, Guido Parisi, was read out, confirming the closeness to our Ukrainian colleagues in these difficult times.
Also present at the ceremony was the representative of the European Commission's delegation in Slovakia in charge of managing aid for Ukraine.
The Ambassador wanted to find out about the vehicles and watched some explanatory films while the Fire Brigade's Head of Mission Christian Cianfarini and the Civil Protection's contact person Andrea Mazo explained the details of the operation.
SPECIAL VEHICLES FOR FIREFIGHTERS: VISIT THE ALLISON BOOTH AT EMERGENCY EXPO
See the gallery on the day of delivery of the Italian fire brigade's vehicles to their Ukrainian colleagues:
WOULD YOU LIKE TO KNOW MORE ABOUT THE ACOUSTIC AND VISUAL SIGNALLING DEVICES THAT SIRENA DEDICATES TO AMBULANCES, FIRE BRIGADES AND CIVIL PROTECTION? VISIT THE BOOTH AT EMERGENCY EXPO

Watch the video of the delivery of the Italian fire brigade's vehicles to Ukraine:
Read Also:
Emergency Live Even More…Live: Download The New Free App Of Your Newspaper For IOS And Android
Israel Delivers Armoured Ambulances To Ukraine: Video
Ukrainian Crisis: Kharkiv, Rescue Driver Saves Two People From The Rubble Of A House
Ukrainian Crisis: Falck Donates 30 Ambulances To Support In Ukraine, Moldova, And Poland
Ukraine, Fire Brigade Receives 27 Special Vehicles And Humanitarian Aid From France
Italian Fire Brigades Donates 50 Vehicles To Moldova And Ukraine To Support People Fleeing The War
Source: