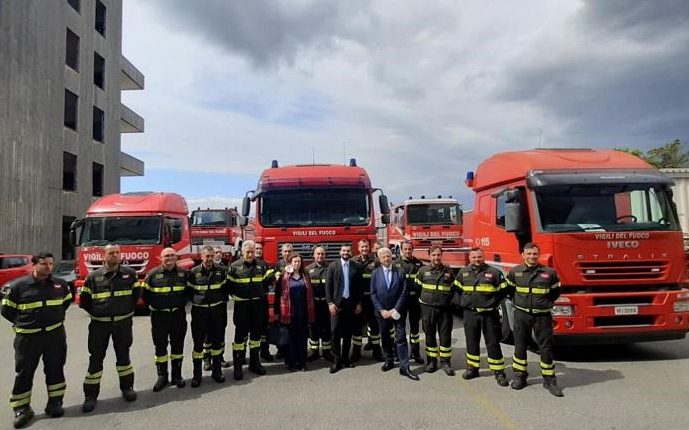 Italian fire brigades donates 50 vehicles to Moldova and Ukraine to support people fleeing the war
In the next few hours, the first 4 of 50 fire brigade vehicles that the Fire Brigades will donate to Moldova and Ukraine will leave Trieste
The fire trucks, tanks and tankers have already been loaded onto larger vehicles which the fire brigade will deliver to the Moldovan authorities after travelling approximately 1,500 kilometres to replace the 4 vehicles that the latter gave to Ukraine.
SPECIAL VEHICLES FOR FIREFIGHTERS: VISIT THE ALLISON BOOTH AT EMERGENCY EXPO
Fire brigades vehicles: subsequent deliveries will go directly to Ukraine
Moldova is strongly committed to assisting the people fleeing the war in neighbouring Ukraine.
For this reason, through the Moldovan Embassy in Italy, a request for assistance has been made by the authorities in Chisinau to the Department of Fire, Public Rescue and Civil Defence in order to receive goods and support equipment.
SPECIAL VEHICLES FOR THE FIRE BRIGADE: DISCOVER THE PROSPEED BOOTH AT THE EMERGENCY EXPO
Special vehicles of the Italian Fire Brigades in Moldova and Ukraine, the official note
The official note reads: "The Fire Brigade Department, in agreement with the competent Civil Protection Department, has activated the necessary procedures for the supply of four fire-fighting vehicles owned by the National Fire Brigade Corps to the Moldovan Ministry of the Interior, within the framework of the European Civil Protection Mechanism.
The vehicles, a tanker truck and three pump trucks, came from the Fire Brigade Commands of Turin, Alessandria, La Spezia and Monza.
The entire management of the expedition was coordinated and supervised by Fire Brigade personnel.
On 9 April, in Trieste, the Undersecretary of the Interior, Mr. Sibilia, presented the important operation accompanied by the Deputy Head of the Fire Department, Prefect Guercio, and the Director of the Emergency, Mr. Ghimenti.
The Prefect of Trieste and the Commander of the Fire Brigade were also present.
"This is an operation of solidarity and generosity on the part of the CNVVF," explained Sibilia, "on the part of these wonderful people who are behind me and who will be driving about 1,500 km from Trieste to Chisinau the vehicles that will be able to give support to the civilian population of Moldova and Ukraine.

These are the first four vehicles of 50," added the Undersecretary, "that we are providing to these populations in cooperation with the Union Mechanism and the Italian Civil Protection.
We are doing all this to give material support to the people in difficulty in those territories today."
The donated fire-fighting equipment will be transported by a special convoy of the National Corps, escorted by a car with two firefighters from the TAST module on board, which will leave Trieste on 10 April for Chisinau.
The delivery will take place on 13 April through the Italian Embassy in Moldova".
Read Also:
Emergency Live Even More…Live: Download The New Free App Of Your Newspaper For IOS And Android
US Sends 150 Tonnes Of Medicines, Equipment And An Ambulance To Ukraine
Ukraine, Ukrainians From Reggio Emilia And Parma Donate Two Ambulances To The Kamyanets-Podilsky Community
Lviv, A Tonne Of Humanitarian Aid And Ambulances From Spain For Ukraine
From Italy Three Ambulances And Two Truckloads Of Medicines Donated To Ukraine Thanks To DomaniZavtra
Ukraine: Khmelnytsky City Hospital Receives Two Ambulances From Poland
A Train Leaves Prato With Humanitarian Aid From The Italian Civil Protection For Ukraine
Source: