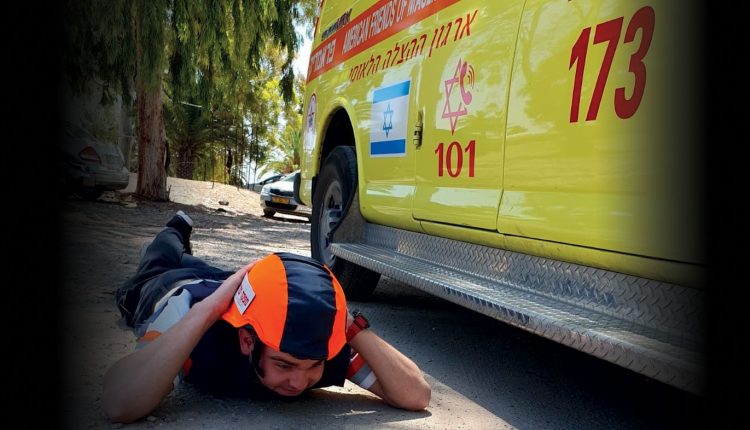 EMS in War: Rescue Services during a Rockets Attack on Israel
How to coordinate EMS in war? The official report of the 4/5/19 Barrel Rockets on Israel from the Magen David Adom shows how it is hard to create a rescue network that works in the hardest conditions.
Magen David Adom explains how they coordinate rescue operations during the massive terroristic attack on May 4, 2019. The EMS activity during the Rain Barrel Rockets Day on Israel shows how it is hard to create a rescue network that perfectly works in the hardest condition, like in war.
May 4, 2019: the terroristic attack on Israel
Everything starts on the Shabbat, Saturday, May 4, 2019, at 09:58. Red alerts sound blared all over Southern Israel. It was the day before the Memorial Day, a National Holiday for the Israeli citizen.
The residents are used to such occurrences and understand that they are in for a long day of rockets. Over the next hour, over 100 missiles would be shot into Israel. This number would triple over the day and unfortunately cause injuries and damaged property in the area.
The first alerts were heard in the morning. Residents were still enjoying the Shabbat in their homes with their families and friends. From this moment onwards they heard explosions and sirens. MDA raised the alert level following an assessment of the situation with the relevant security personnel such that when the first sirens sounded, MDA teams were protected and ready to respond.
EMS in war: limitation and safety protocols among the rescuers
MDA Director-General Eli Bin instructed all regions under fire and those neighbouring: "Following consultation with security forces, it was determined to increase the alert level to the highest level in the Negev and Lachish Regions and raised in the Ayalon, Yarkon, Sharon and Jerusalem Regions.
The managers were instructed to instruct the Dispatch and field teams in relevant protocols. MDA Youth Volunteers are forbidden from volunteering at stations within 40km of the Gaza Border area, and additional MICUs and ambulances are being staffed with volunteer teams."
MDA's Negev Regional Dispatch Center moved to operate from a backup center protected from rockets. The Lachish Regional Dispatch Center, instead, continued operations, thanks to the generous donors who made it possible to fortify the Center.
MDA Stations are now fully staffed with both employees and volunteers who immediately reported to save lives even on Shabbat.
There were many reports of property damage, panicked residents, and several wounded. MDA teams treated three people who were wounded while running to protected areas including a 15-year-old in Sderot, and others with stress symptoms, including an 11-year-old.
"We were called to treat a 15-year-old with minor injuries in the Sderot area. Furthermore, we treat an 11-year-old girl with stress symptoms. Both of them refused transport following first aid treatment.
Besides, our teams treated a 30-year-old man in Ashkelon and a 40-year-old woman in Gan Yavne, both of whom suffered from stress symptoms" MDA Paramedic Yaniv Shamis reports to the official Magazine of the MDA.
EMS in war: high risk for paramedics, intervention during the barrel raining of rockets
At 10:30, the rockets made their way north to Ashdod and Rechovot, and in the afternoon to Beit Shemesh and Kiryat Gat. MDA teams in the Negev and Lachish Regions spent the afternoon running from scene to scene, keeping track of the rocket alerts, and providing treatment to the citizens who called 101.
The entire country was on their toes, praying that there would be no loss of life. However, the afternoon brought with it five different scenes in Kiryat Gat alone.
"Immediately after the rocket siren, we responded to reports of an injured woman as a result of the rocket attack," MDA Senior EMT Karl Reifman said. "Upon arriving on the scene, we found an 80-year-old woman with severe injuries to her head and hand.
We provided emergency treatment and transferred her to Barzilai Hospital in severe, yet stable condition."
Not 30 minutes later at 15:51, MDA teams were called to treat a victim with shrapnel injuries in the Ashkelon area." Following the rocket alert, we received reports of a man injured by shrapnel" MDA Paramedic Moti Shuv and EMT Ben Tet report to the MDA Official Magazine.
"Upon arriving on the scene, we provided treatment to a 50-year-old man with moderate injuries to his limbs in stable condition." MDA's senior management conducted an additional assessment of the situation with the relevant security personnel and the IDF. MDA teams are working in full cooperation with the IDF and security forces.
EMS in war: when instructions save lives
"MDA teams were on high alert, ready and available to provide medical treatment," MDA Director-General Eli Bin said. "We are experienced and able to handle incidents of this nature.
We are in constant contact with the relevant security forces and are continually assessing the situation. The days' events have proved the importance of following the Home Front Command's instructions.
"Following the instructions saves lives, and as a result, many have been saved. I want to praise the MDA volunteers and employees who leave their families in the protected areas and go to save lives during the rocket sirens.
MDA will continue to be on high alert and will provide services at any time, anywhere. I want to take the opportunity to remind the public to download the MyMDA application, which allows them to call MDA with the touch of a button and automatically transmits their location."
As of 20:00, after Shabbat, over 300 rockets have been shot into Israel.  The IDF has taken out terror targets and rocket launch sites in an attempt to curb the onslaught of rockets.
The Israeli Government convened, and MDA continued to maintain a high level of alert until May 5. Once Shabbat was over, even more, volunteers flooded the stations and are available to provide care and respond to incidents.
While hoping for quieter days ahead, MDA remains able to assist the IDF with any request. Simultaneously, MDA has continued the preparations for Memorial Day and Independence Days, and to respond to medical calls.
At 02:35 a report was received at MDA 101 Lachish region about a rocket hit in a building in the Ashkelon area. MDA medics and paramedics provided medical treatment and evacuated to Barzilai Hospital, a 60-year-old man in a critical condition with shrapnel injuries to the chest and abdomen.
MDA Paramedic Moti Shuv, and MDA medics Ben Tetro and Israel Lugasi went there. " Immediately after we heard the siren, we were taken to a private house that was hit by a rocket. We saw a man in the sixties lying unconscious after being hit in the chest by shrapnel".
EMS in war: consequences of the attack
During the night MDA provided medical treatment and evacuated 24 injured (6 from shrapnel, two from running to the protected area and 16 with stress symptoms).
One 60-year-old man who was critically injured by shrapnel in his chest (in Ashkelon).
Five people were mildly injured by shrapnel (Ashkelon area)
Two people were injured on their way to the protected area.
Sixteen people suffered from stress symptoms attack.
From Saturday at 10:00 AM until tonight at 4:30 AM MDA medics and paramedics provided medical treatment to 83 injured (4 shrapnel, 12 injured on the way to the protected area, 62 who suffered stress symptoms).
Nine wounded by shrapnel, a 60-year-old man who was evacuated in critical condition (in Ashkelon), a woman of about 80 (in Kiryat Gat) who was left in serious condition with shrapnel wounds to her face and limbs.
A man of about 50 (in the Ashqelon area) in moderate condition with shrapnel injuries to his arms evacuated to Barzilai and six minor injured in Ashkelon and northern Negev areas.
Also, the MDA teams treated 12 mildly people who were injured while running to the protected area, 62 patients who suffered from stress symptoms.
Summary of the rocket fire from Gaza to Israel as of May 4 and onwards
IDF detect 492 launches towards Israeli territory, 21 to populated areas. Iron Dome has successfully intercepted 119 rockets. As a consequence of the rocket fire, a 57-year-old man died.
An 80-year-old woman was seriously wounded. Another civilian was moderately wounded, and 21 others were lightly injured. During the night, MDA teams provided medical assistance to 24 wounded. Six injured by shrapnel, 2 injured and 16 treated for panic attacks.
READ ALSO
Source: MDA Weekly Report
TO SUPPORT THE MAGEN DAVID ADOM IN ISRAEL CLICK HERE