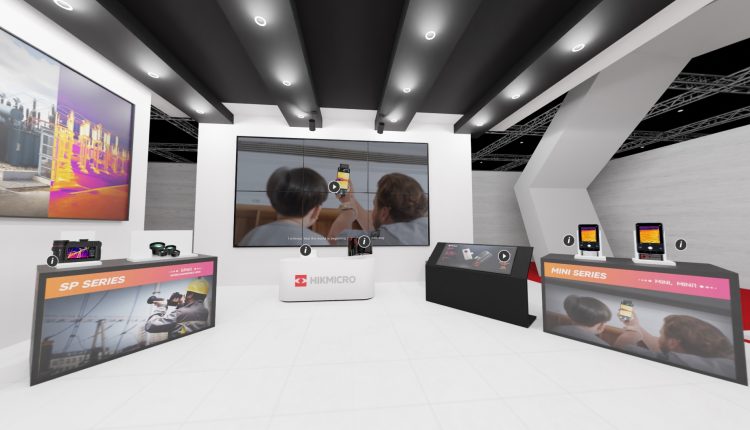 HIKMICRO cameras: thermal imaging for public safety and fire prevention
HIKMICRO aids fire prevention and public safety and security: thermal imaging cameras on the Emergency Expo booth
As a leading supplier of thermal imaging equipment and solutions, and therefore also active in the world of security, safety and fire prevention, HIKMICRO boasts an extensive production of thermographic cameras.
And presents them, to our great pleasure, on the stand of Emergency Expo, the 3D virtual exhibition dedicated to emergency, by Roberts.
HIKMICRO offers thermal detectors, cores, modules, cameras and complete solutions to the global market, serving customers in over a hundred countries and regions
Specialising in the design, development and manufacture of SoC (integrated circuit system) and MEMS (Micro Electro-Mechanical Systems), the company produces different types of thermal imaging cameras, each suitable for specific situations and targets.
Of different size and resolution, HIKMICRO thermal imaging cameras can be used to measure human body or room temperature, detect hot spots and possible faults, prevent fires (both indoor and forest) and reduce the risk of spontaneous combustion.
The HIKMICRO professional handheld thermographic camera on the Emergency Expo stand helps, through thermal and visible display, to quickly detect hot spots and hidden faults on electrical systems.
The Smartphone Module is designed to inspect electrical equipment and troubleshoot HVAC (Heating, Ventilation & Air Conditioning) problems.
THERMAL IMAGING CAMERAS FOR SAFE FIRE MANAGEMENT: VISIT THE HIKMICRO BOOTH AT EMERGENCY EXPO
Equipped with a functional thermal Smartphone App, the HIKMICRO Smartphone Module allows you to get thermography directly on your phone
By constantly monitoring the temperature and detecting the risk of fire, HIKMICRO thermographic cameras are also valuable tools for rescuers and firefighters.
In fact, the innovative technology developed by HIKMICRO allows you to connect to mobile devices via integrated WI-FI, remotely control the camera and quickly share images and videos via the micro viewer app.
It is also possible, thanks to the included software, to analyse the thermographic information of the images captured and generate reports.
A way of having immediate information always at hand.

HIKMICRO, through its emphasis on research and development, has reinforced its continuous progress in thermal technology, becoming a benchmark for public, private and home security.
In fact, the company obtained ISO9001 certification in 2018, demonstrating its quality philosophy from the outset.
Through continuous innovation, HIKMICRO's products and solutions consistently meet the diverse needs of individual, commercial, industrial and utility customers worldwide.
With the goal of building a safer, smarter and more efficient world, the company will continue to provide professional software and hardware products for its expanding list of business partners.
Read Also:
Emergency Live Even More…Live: Download The New Free App Of Your Newspaper For IOS And Android
Firefighting Drones, Fire Drill In A High-Rise Building Of The Laixi Fire Department (Qingdao, China)
Firefighters: Scotland Commissions First Electric Fire Engine
Ireland: 'Ambulance Staff May Have To Wear Stab Vests', NIAS Chief Says
Drones And Firefighters: Fotokite Partners With ITURRI Group To Bring Easy Aerial Situational Awareness To Firefighters In Spain And Portugal
UK, Smartphone Cameras Helping To Treat Ambulance Patients
Source: