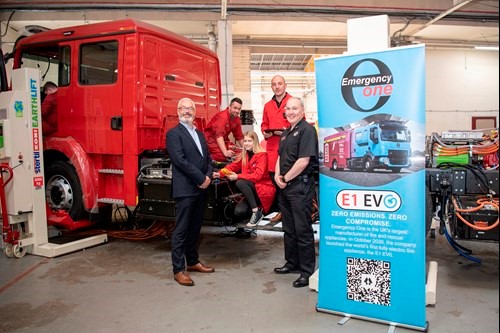 Firefighters: Scotland commissions first electric fire engine
Scotland's fire brigade: the fire and rescue service has received around £500,000 in funding from Transport Scotland to put into production the prototype of the country's first electric fire engine
The contract to build the low carbon vehicle was awarded recently to Emergency One in Ayrshire.
Scotland, first electric fire engine for fire brigades: The features of the E1 EV0™ (Electric Vehicle, Zero Emissions) are world-class
The design and manufacturing of the appliance will fully comply with British Standards for firefighting and rescue service vehicles.
It will have the same capability and equipment as a diesel model and it will be able to assist at emergencies:
It has a range of approximately 220 miles with an 80% charge, which is the equivalent of driving from Dunbar to Dundee and back again
It has a range extender for pumping water at a prolonged incident as well as ensuring it can return to the fire station
The Scottish Fire and Rescue Service's Deputy Assistant Chief Officer Stewart Nicholson said:
"We are excited to commission our first electric powered appliance with support from Transport Scotland.
"This innovative project is the first step in a long journey to discover how we can potentially move away from fossil fuel powered appliances.
"The Service has set out its environmental goals and we are committed to reducing carbon emissions from our fleet.
"There are already more than 100 electric cars within our light fleet, however this is our first venture into low carbon heavy duty vehicles."
SPECIAL VEHICLES FOR FIREFIGHTERS: VISIT THE ALLISON BOOTH AT EMERGENCY EXPO
Scotland, Minister for Transport, Jenny Gilruth said:
"This is a really exciting, innovative development and I'm pleased to be funding it through our partnership with Scottish Enterprise which is supporting the decarbonisation of Heavy Duty Vehicles across Scotland.
"The public sector should be seen to lead the way on this type of work, which demonstrates that tough operational requirements for service vehicles, often working in challenging conditions, can indeed be met without the sole reliance of fossil fuels.
"I look forward to seeing the electric fire appliance deployed in communities as a beacon not only for the journey that the fire service is on – but for Scotland's wider transition to a net zero society."
The prototype is due to be delivered to the Scottish Fire and Rescue Service (SFRS) later this year and is expected to go on the run with a crew early 2023
The host station of Scotland is still to be confirmed
Suitable locations for housing the charging infrastructure for the electric appliance are being scoped out.
SETTING UP SPECIAL VEHICLES FOR FIRE BRIGADES: DISCOVER THE PROSPEED BOOTH AT THE EMERGENCY EXPO
Michael Madsen, Managing Director of Emergency One, said:
"We are proud that the Emergency One E1 EV0™ (Electric Vehicle, Zero Emissions) is the world's first all-electric pumping appliance fully certified to BS EN1846 standard.
"The EV0 exceeds the standard's requirements for driving range and pumping performance at zero emissions, whilst the optional onboard smart charger provides resilience at protracted incidents.
"The EV0 as specified for SFRS carries the same inventory as a traditional pumping appliance, is one of the first of its kind in the UK, and the first to feature an innovative all-electric rear drive axle installation.
"Some of our staff who also work locally as retained firefighters have been able to work on this project and it's great to get their practical operational insights throughout the design process."
DO YOU WANT TO KNOW ABOUT THE ACOUSTIC AND VISUAL SIGNALLING DEVICES THAT SIREN DEDICATES TO AMBULANCES, FIRE BRIGADES AND CIVIL PROTECTION? VISIT OUR BOOTH AT EMERGENCY EXPO

Scotland, SFRS has pledged to reduce its carbon footprint by six percent each year until 2030.
This project is part of the long-term goal to be carbon neutral by 2045:
It is estimated that an electric appliance will reduce emissions by 66% compared with a diesel appliance
A diesel engine appliance will omit around 10.79KgCO2e over a typical distance of six miles
 An equivalent electric powered appliance will omit 3.46KgCO2e over the same journey
Head of low carbon transition at Scottish Enterprise Andy McDonald said:
"Scottish Enterprise has worked with Transport Scotland and the Scottish Fire and Rescue Service over a number of years through our Can Do innovation approach supporting collaboration with industry through the procurement process.
It is fantastic to see the project come to fruition and the fire service begin the journey towards the development and deployment of its first electric fire appliance.
"Emergency One is manufacturing this in Scotland and Scottish Enterprise has also supported this innovative company to develop its world leading technology.
Our vision is to help more public sector fleet owners to develop similar approaches as the decarbonisation of heavy duty vehicles is a key area of focus for Scottish Enterprise as we work to deliver a net zero economy."
Read Also:
Emergency Live Even More…Live: Download The New Free App Of Your Newspaper For IOS And Android
Magirus Supplies The World's First Tactical Response Robot, The Wolf R1: It Will Go To The Fire Brigade In Ehrwald, Austria
War In Ukraine, Draganfly's Drones Will Bring Medical Supplies To Unreachable Areas
Russia, EMERCOM Tests Floating Crawler For Firefighters And Rescuers
Ambulance Professional Back Pain War: Technology, May You Help Me?
Exoskeletons (SSM) Aim To Relieve Rescuers' Spines: The Choice Of Fire Brigades In Germany
UK, South Central Ambulance Service Unveils First Fully Electric Ambulances
First Electric Ambulance In The UK: The Launch Of The West Midlands Ambulance Service
Firefighters / Pyromania And Obsession With Fire: Profile And Diagnosis Of Those With This Disorder
Hesitation When Driving: We Talk About Amaxophobia, The Fear Of Driving
Rescuer Safety: Rates Of PTSD (Post-Traumatic Stress Disorder) In Firefighters
Firefighters' Risk Of Irregular Heartbeat Linked To Number Of On-The-Job Fire Exposures
Ambulance Professional Back Pain War: Technology, May You Help Me?
Exoskeletons (SSM) Aim To Relieve Rescuers' Spines: The Choice Of Fire Brigades In Germany
Firefighters: USA's 1st All-Electric Fire Engine Arrives In Los Angeles
Emergency One Secures Export Of Electric Fire Appliance To France
Source: