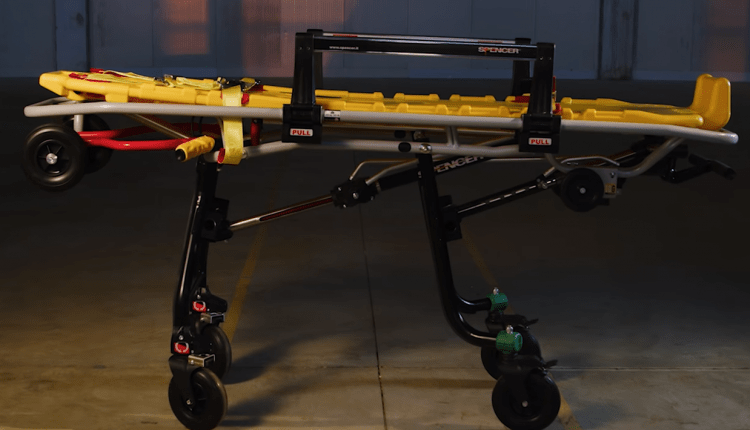 Self-loading stretcher Cinco Mas: when Spencer decides to improve perfection
The stretcher: when you talk about this essential instrument you are going to touch the exposed nerve of every rescuer. It is a cross and delight for those who live fully in an ambulance.
That's because stretcher is not only something for moving patient within a medical transport. It's also what makes the difference between a safety rescue and operations that leaves on rescue people's body day by day scars.
Osteo-muscular pathologies that become disabling.
Real professional illnesses with wich operators have to deal, especially in a hard work moment like Covid's emergency. And also we have to talk about patient's conditions, its safe handling.
Spencer's Cinco Mas self-loading stretcher: The bearable lightness of being, his five levels of  lift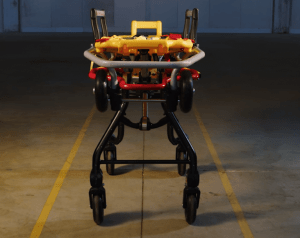 Spencer's Cinco Mas self-loading stretcher is the best you can think about: extremely light, it allows an easy patient's handling with its five levels of lift.
A real goodbye kiss to backache, rips and twists. The dream of every rescuer.
On the design level, the new Cinco embodies perfeclty the concept of a "cutting-edge research". A brilliant symbiosis of research and comfort.
Let's talk whisper, Spencer has has managed to improve perfection!
The features?
° Five variable heights
°Better maneuverability
°Sharp sensor lock
°Safety and robust
°Easy to use
°Self-positioning rear wheels
°Passive suspensions with SCS System (Spencer Compliance Suspension)
°Crash Assist, for improving shock absorption zones
Folder_Cinco_2020_EN

Cinco Mas by Spencer, the new self-loading stretcher and its innovative features:
New Cinco Mas by Spencer, the interview with the designer who has rethought the top level Spencer's strecher
We've been lucky to make some qustions to Michael Riggs, Cinco Mas' designer.
The designer Michael Riggs talks about the unique character of Cinqo Mas, as a dad talking about his last son.
Designer Michael Riggs talks about the unique character of the new Cinco.
"We wanted the Cinco Mas to have a lot of character," Michael explains. "And I'm proud of what we achieved."

What was your inspiration?
I was inspired by water … what's more adaptable than water? It flows relentlessly over obstacles choosing the most rapid path.
It doesn't stop, it continues to flow on and on, gaining vigor and taking shape around objects and events.
Now consider fascinating natural processes that create and model sinuous shapes around solutions offered by the engineering innovation of materials and functional dynamics.
What was your challenge as a designer?
A stretcher isn't just some­thing to get from A to B … It's an extremely complex, ingenious world, the perfect mix of evolving technology and design.
Challenges are the scientific and concrete el­ements for any designer but today, I need to cross new boundaries and bathe in the
How is a quality stretcher conceived?
Instinct inspires the pur­suit of perfection … experi­ence amplifies the percep­tion of need and sets the target … creativity brings life to shapes that become pure comfort.
A fresh im­mersion in the harmony of shapes and proportions where any unnecessary el­ement is absent.
Perfection down to the tiniest de­tail, the source for renew­al and a timeless creation.
Why is this stretcher so special?
Each interactive element of CINCO is characterized by specific surfaces inge­niously designed to stimu­late and focus the senses of those operating it.
The inspi­rational energy of colour is incisive and refined to high­light focal points of interac­tion.
Not only outstanding technology. It's the perfect sensorial alchemy where you listen and feel at a level where mind and body instinctive­ly understand the machine.
"A good design is timeless… and when I look at CINCO in twenty years' time, I know I'll say: what a stretcher!"
Cinco Mas by Spencer, the video presentation:
Read Also:
COVID-19 Blew All The Ambulance Services And Rescue Exhibitions Away. Don't Panic, Spencer Experience Centre Is Here For You!
Ambulance Chair, A Lightweight And Easy To Handle Solution From Spencer
Spencer Tango, The Double Spinal Board That Ease Up Immobilization
Rescue And Ambulance Service Network Of SAMU: A Piece Of Italy In Chile
Source: