Spencer Tango, the double spinal board that ease up immobilization
A smart solution in EMS is not the one that fit for every kind of needs, but the one who can be perfect for your patient. The double spinal board Tango is one of the most innovative medical devices in that field.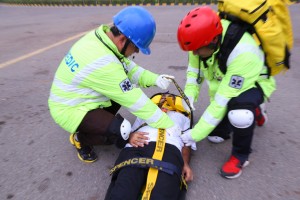 If you need to immobilise a patient to prevent the risk of spinal injuries, you need a spine board. But which one? The head of a child is proportionally bigger than that of an adult and the dorsal muscles are less developed; placing a paediatric patient on a standard spine board could cause dangerous flexion of the head. The Spencer Baby Go is a paediatric spine board that offers a complete rapid immobilisation system for children of any height. Baby Go is a tailor-made immobilizing solution featuring four different profiles, which can be adjusted in depth to avoid hyperextension of the child's head and guarantee the correct and safe neutral position of the spinal column. At the same time, Baby Go maintains the ideal alignment of the airways.
Each of the four profiles indicates the height of the patient and matches the colour code of the corresponding RSP paediatric fixing system. Thanks to the printed colour-coded metric scale, precise height determination of the child is now a rapid operation and you can choose the most accurate solution for immobilising the patient.
The Spencer Tango offers the rescuer the possibility of two innovative spine boards in one device as rescuers can use the Tango to immobilise both adults and children, reducing costs and saving space in the ambulance. Professional first responders worldwide have described the board as 'by far the most advanced and versatile spine board ever seen'.

Antonio Ciardella, Sales Director of Spencer, says, "We spend most of our assets on research, and that is why our new fastener systems improve safety and simplify the control of the devices. We trust in the opinion of professionals, their passion and competence guide us in creating new products that make the EMS world more simple and safe every day."