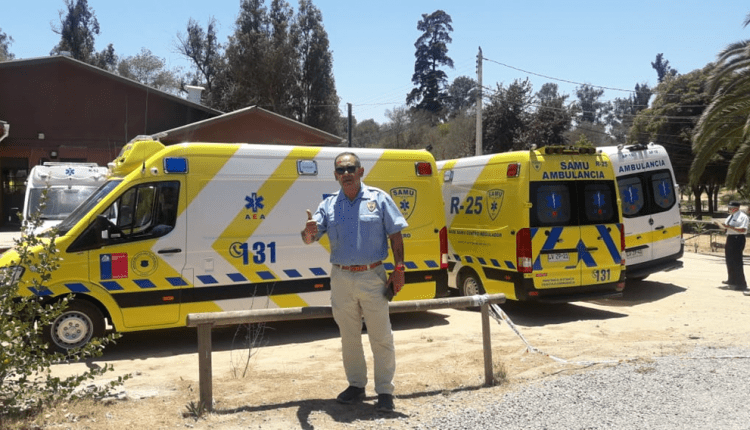 Rescue And Ambulance Service Network Of SAMU: A Piece Of Italy In Chile
Ambulance service and rescue: dedication and professionalism of SAMU emergency care network. Like other countries in the world, Chile has been called to face a terrifying shock: coronavirus global pandemic.
The SAMU network in Chile and COVID-19 emergency pandemic
The latest data by the WHO report almost 361,000 COVID-19 infections from the beginning of March until today (compared to a population of about 18 million inhabitants) with 9,700 deaths.
Credits go to the medical personnel and to the emergency medical care service (SAMU) in Chile, who have hardly worked during the months of the pandemic.
SAMU, how is organized the emergency network in Chile?
The Servicio de Atención Médica de Urgencias (SAMU) is an institution under the Ministry of Health, present in all regions of Chile. It disposes of a regional regulatory center and intervention bases distributed throughout the different locations in the regions of Chile.
Chile is a country with more than 19 million inhabitants in an area of approximately 736,000 km2, divided into 16 regions. The Emergency Medical Care Service (SAMU) is responsible for ensuring that the patient is informed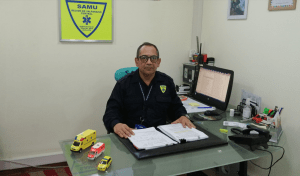 that an emergency situation is underway until the same patient is admitted to a facility which capacity to resolve the situation is appropriate.
SAMU has a hard job to do in caring for the population in Chile, and every day SAMU teams provide a job worthy of note.
To know more about the peculiarities of SAMU, we had the pleasure to ask some questions to Christian Gatica Lagos, of Red Samu, Servicio de Salud Viña del Mar Quillota (Samu network, Viña del Mar Quillota Health Service).
THE INTERVIEW ABOUT SAMU NETWORK IN CHILE
What kind of assistance does the Viña del Mar – Quillota healthcare service provide?
"The healthcare service in Viña del Mar Quillota provides public hospital and prehospital services for the entire community including territorial jurisdiction. In the prehospital setting, we work through this network of emergency medical assistance services (SAMU), against disasters and/or emergencies.
Thanks to our staff and ambulance fleet capacity, we are able to assist nationally and internationally if the situation requires."
Which are the parts of this healthcare and ambulance service in Chile?
"The healthcare service of Viña del Mar Quillota, in particular, is part of the 29 healthcare services that cover the entire nation of Chile. In the Valparaíso Region, there are 3 health services that have defined areas.
The jurisdiction of the health service of Viña del Mar Quillota covers an area of 7,504 square kilometers and serves a population of 1,119,052 inhabitants.
To provide coverage and care for the area and the above-mentioned inhabitants, we have 11 hospitals with different types of classification, plus 4 Samu bases and 1 Samu Regulatory Center focused on the pre-hospital environment.
It is very important to underline that our Health Service is equipped with 50 ambulances: 30 of these units are distributed in the 11 hospitals that make up the network.
A further 20 ambulances are located in SAMU Centres, whose locations are strategic for performing all prehospital emergency care and/or critical medical transfers that are the responsibility of the SAMU network, as we have staff trained in this type of transfer."
What do these new ambulances mean for SAMU service in Chile?
"Our health service has been favoured with a project to renew the ambulance fleet which was financed with public funds allocated to SAMU in 2019 by the Ministerio de Salud de Chile (Ministry of Health of Chile).
This allocation meant renewing 21 ambulances. Although this choice dates back to 2018, to be precise. From that year onwards we were able to set up a multidisciplinary team, which worked in the technical, operational and clinical fields.
We, therefore, focused primarily on the execution of our ambulance project in Chile, which focused on the operational ergonomics of the officials who carry out their clinical work to assist patients. We also wanted to give a technical-operational approach in relation to having units that could be used by basic ambulances, passing through advanced ambulances, becoming 'medicalized ambulances'.
The only difference between these three types of ambulances is the personnel who manage them, which is the most important element because the functional ergonomic design of the vehicle is practically the same.
In the design, comfort has also prevailed, but above all, its stability in patient transfer, focusing mainly on the implementation of ambulances with clinical accessories that adhere to the Chilean Standard 2426, Technical Standard No. 17 but also incorporated the European Standard 1789, which allowed us to raise our parameters of safety and assistance in patient transfer throughout Chile."
What does it mean being part of the SAMU network of the healthcare service in Viña del Mar Quillota (Chile)?
"Being part of the SAMU network of the Viña del Mar Quillota Health Service is a pride. The confidence that our SAMU Network Director, Dr Jorge del Campo H., placed in me giving the possibility of becoming the Operating Chief of SAMU network's ambulance fleet is a real professional challenge.
However, I took this challenge with great responsibility, knowing that our function is to transfer patients without social or economic distinctions. We contribute to the spread of knowledge of a developing and a multifunctional ambulance that provides a public service for everyone in Chile.
For me, this is my personal contribution to our country. On a personal level, it has also had its advantages because we have formed a team that works with the sole purpose 'So that Others May Live': they are professionals, but above all, they are excellent people, and I must be loyal to them.
All my recognition goes to Mrs Schulze D., a registered nurse who trained in Germany, and to Mr Christofer Febre C., ambulance driver, for the great contribution they have given to us, which is essential for the realization of the project related to these new ambulances."
What are the differences or challenges that make Viña del Mar-Quillota service different from the ones in other cities in Chile?
"It is the structure of our territory, which is long and narrow, and I am convinced that each healthcare service has its own geographical difficulties in carrying out a project related to ambulance activities.
Therefore, I do not wish to make a difference between one healthcare service and another, but rather to make our experience in the field of design available. A sharing of skilled individuals can lead to an ambulance that meets the technical conditions suitable for patient care, which is what we all seek to achieve.
In terms of challenges, many have been looking for a way to develop projects that serve as operational support in the clinical field and this is crucial. It is a hard challenge: our goal is the design and the implementation of an RRV (rapid response vehicle).
The purpose of such a vehicle is to transport the medical and support staff of the SAMU Regulatory Centre to the intervention site for an initial patient assessment, especially in case of road accidents, medical emergencies or natural disasters.
Their early arrival enables strategic patients' classification (triage). The achievement of this objective also has a second implication: operational planning in the management and distribution of ambulances with specific medical equipment and prepared medical staff adapted to the needs and criticism of the patients' conditions.
In this way, an efficient referral of injured patients will be managed Hospital facilities. As SAMU network, we also intend to promote the logistics component of the advanced medical point, which is no less important, in the management of a natural disaster emergency.
We should bear in mind that Chile is a country characterized by natural disasters, especially earthquakes. We have the ambition to organize a SAMU network that is always ready to be sent anywhere in the country.
That is why we need a versatile and suitable emergency vehicle in which we can storage ambulance equipment, medical devices and even food rations."
Why did you choose Spencer products?
"We need to make it clear that in our country we are governed by a public purchasing law. Therefore it is our duty to present absolutely clear technical specifications, which try to meet our professional needs in patient care.
Under these regulations, we are prohibited from making publications that indicate specific brands and models, compared to what we are looking for.
Spencer brand has met the technical conditions that our organization was looking for. For this reason, I would like to point out that its products have been certified according to the European standard and with 10G tests, which served us well since we have stretchers, stretcher supports and evacuation chairs (which allow us excellent movements on the stairs), sphygmomanometers and suction units.
Suction units, in particular, allowed us to obtain a double result: we use it both inside the ambulance and inside patient's house, as they are portable and ergonomic for any situation.
We also have the possibility to have a preventive maintenance plan that supports us with the duration of the equipment purchased."
SAMU Viña del Mar-Quillota emergency service
Prev
1 of 7
Next
EXPLORE